Applebee's Honey Pepper Grill (Giveaway)
A huge thank you to Applebee's for providing me with a gift card in order to conduct this delicious review of the new Honey Pepper Grill menu. As always opinions, photos, and words are my own!
They say opposites attract, and I can't say that my Husband and I are opposites, we're so much alike, too much alike really. When it comes to my best friend, Mary, we're definitely opposites, heck our states teams are even rivals in every sport (The Packers and Brewers will always be better than the Bears and Cubs of course.) We have a lot more ways in which we're opposite, Mary's a vegetarian and I eat meat with almost every meal and think bacon is a food group. She also takes so long to get ready, seriously it could take over two hours for her to get ready and I'm fine going out with a ponytail and minimal makeup. She's also a terrible shopper, and spends way too much on clothing (I'm always shopping the sales and scoring the best deals.) Ok, I better stop roasting Mary, because in the end opposites attract and I probably wouldn't trade her as a best friend.
Applebee's knows all about opposites attracting which is why they created the Honey Pepper Grill menu! I wasn't sure if honey and pepper would be a good match, but it's delicious!

Here's why it tastes so great,

"
The soothing appeal of warm honey with the earthy bite of cracked black pepper created the perfect blending of flavors.  Each dish has a distinct crunchy element to it.  The Honey Pepper Sirloin has crispy jalapenos and onion straws, the Honey Pepper Chicken and Shrimp has Panko breaded shrimp and fresh green beans and the 4-Cheese Mac and Cheese with Honey Pepper Chicken Tenders gets its crunch from bacon strips and chicken tenders.  These specific ingredients really benefit from the sauce we created because of the way it easily coats and enhances each item."
- 
Applebee's Executive Chef Michael Slavin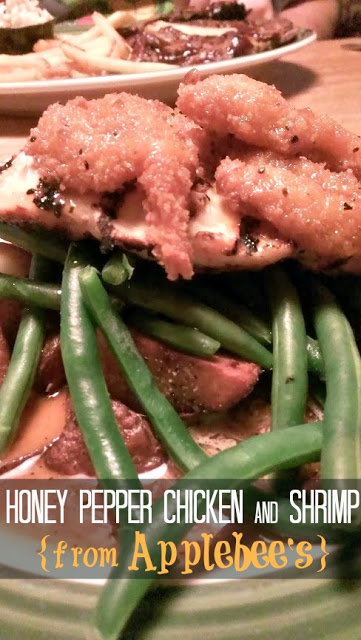 I ordered the Honey Pepper Chicken & Shrimp. It comes served over a bed of red potatoes and green beans. The shrimp had a great batter and the honey added a great sweet taste. The potatoes were seasoned very well and the honey complimented them very well. The chicken was my favorite part, the bottom was blackened the perfect amount with the black pepper, which gave it a nice kick that you could mellow down with the honey. 
I would definitely order this dish again, and I can't wait to try the other dishes on the new Honey Pepper Grill menu. Which include:
A 7oz. sirloin served on a bed of potatoes and topped with fried onions and jalapenos, with the honey pepper sauce adding even more flavor. 
Indulgence in every bite. Honey Pepper balances the richness of the dish by giving a sweet and savory flavor to our breaded chicken tenders, served atop a mound of our 4-Cheese Mac & Cheese loaded with Applewood smoked bacon. 

Is your budget tight? These dishes are even included on two inexpensive menus!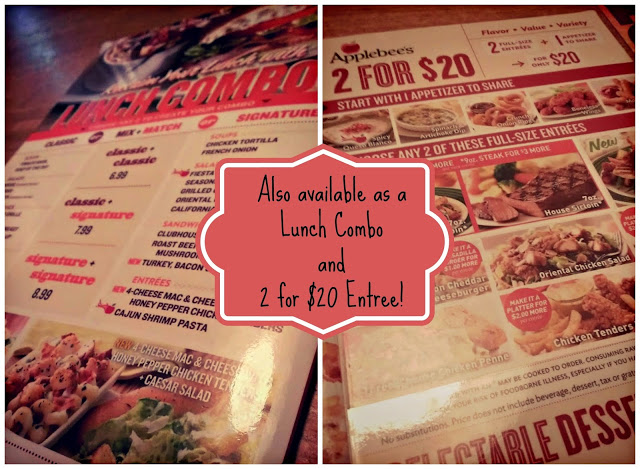 That's right, you can taste this great flavor combination as a lunch combo as well as on the 2 for $20 menu! 

My favorite part about the 2 for $20 is the included appetizer.  
(I always make sure we pick mozzarella sticks.)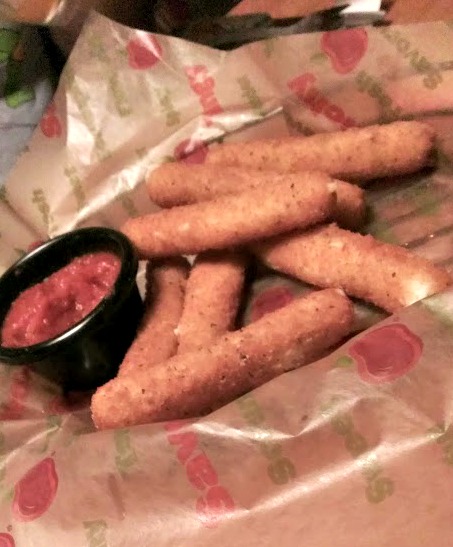 Are you anxious to try these now? Well, I've teamed up with Applebee's to give one lucky reader a $50 Applebee's giftcard!
Which Honey Pepper Grill menu item do you want to try?