Chicken & Cheddar Casserole with Savory Biscuit Crumble
September is here, that means Fall is upon us, I can't believe how fast Summer went by! Fall is easily my favorite season. There's nothing better than seeing the leaves changing color. 
The other part I love about Fall? It's officially casserole season! 
In honor of casserole season I put together a casserole better than any I've ever had before, it's definitely going to become a staple in our meal plan this Fall and Winter.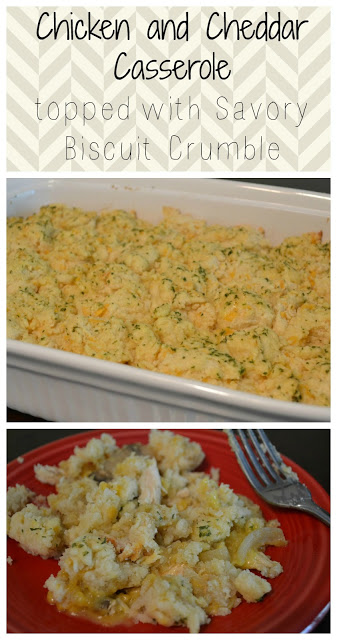 What makes this recipe so special is the biscuit crumbled topping, a savory combination of cheddar cheese and garlic. You can't go wrong with cheese and garlic!
I know school is back in session and getting dinner to the table is becoming quite the task, but I promise you'll have this recipe made in a snap. I used
Country Crock
Original Spread in lieu of butter to cut down the cooking time, this spread is so easy to measure out for cooking, melts great, and you don't have to wait for it to soften like you do with butter. I wasn't sure if it would work to "cut in" to the biscuits, but it actually was much easier to cut in the biscuit mix and they turned out really great and flaky. 
I'm sorry, do you have drool on your keyboard from my excessive descriptions of the delicious biscuit topping?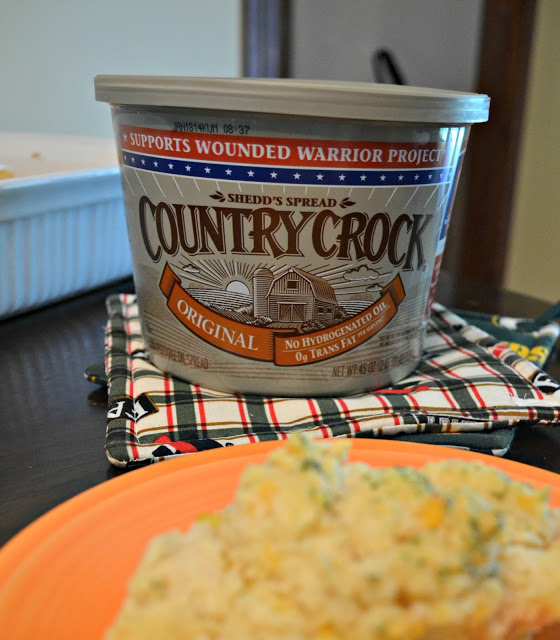 Not only was
Country Crock
a great substitute to use to cut down my cooking time, it also has great benefits. Did you know
Country Crock
has no partially hydrogenated oils, no cholesterol, 0g tarns fat, 70% less fat than butter, and 30% fewer calories than butter per serving!? That definitely helps me feel a lot better about putting this casserole on my family's dinner table!
This casserole has the perfect 
Chicken & Cheddar Casserole with Savory Biscuit Crumble
Ingredients
2-3 chicken breasts, fully cooked and shredded (I slow cook the breasts in a crock pot all day with a clove of minced garlic to get moist shredded chicken)
4 Tablespoons Country Crock Original Spread
8 ounces sliced mushrooms
1 medium onion, sliced
cheddar cheese condensed soup
¼ cup milk
Biscuit ingredients
2 ½ cups biscuit mix
¾ cups cold milk
4 Tablespoons Country Crock Original Spread
¼ teaspoon garlic powder
1 cup grated cheese
Garlic & parsley topping
2 Tablespoons melted Country Crock Original Spread
¼ teaspoon parsley flakes
½ teaspoon garlic powder
pinch of salt
Directions
1. Preheat oven 425 degrees, use Country Crock Original Spread to grease the casserole dish. Layer shredded chicken in bottom of casserole dish.
2. Melt 4 tablespoons of Country Crock Original Spread in frying pan, sauté mushrooms and onions about 6 minutes or until mushrooms have browned.  
3. In a medium mixing bowl combine Condensed Cheddar Cheese soup with milk.
4. Layer sautéed vegetables on top of shredded chicken, then pour cheddar cheese soup mixture over the top. 
5. Prepare biscuits by combining 4 Tablespoons Country Crock Original Spread with biscuit mix. Add milk, ¼ teaspoon garlic powder, and 1 cup grated cheese. Mix by hand, be careful not to 
over mix
.

6. Spoon biscuit mixture over the top of your casserole dish. Bake for 30 minutes, or until biscuits are golden brown. 

7. Meanwhile, mix together ingredients for garlic & parsley topping in a small bowl. When casserole is removed brush all of the mixture over the top of the biscuits. 
If you're a visual learner here's a few photos of the process! 

A great variation would be substituting the onions and mushrooms for your other favorite vegetables. You can also cut this recipe in half and make it in a square pan, you probably won't want to though as this casserole tastes just as delicious warmed up the next day! I was shocked that it was never soggy.  
I was selected for this opportunity as a member of Clever Girls Collective and the content and opinions expressed here are all my own.