Date Night {a gift for him}
My husband and I happen to have our birthdays fall three days apart. This year we decided not to exchange presents. Of course a few days before my birthday I figured out that he bought me gifts (and he had been giving me little gifts through out the week, like a new vase, a bottle of wine from our favorite winery, etc.)
So I had to come up with something awesome and inexpensive. Aliceana and I went to the always trusty Target to rescue us from our present dilemma. (You'll see what she made for him on Thursday.)
I found a DVD of a movie that he loves that we don't own, and naturally movies mean date night. I ended up spending almost exactly $20 on this gift.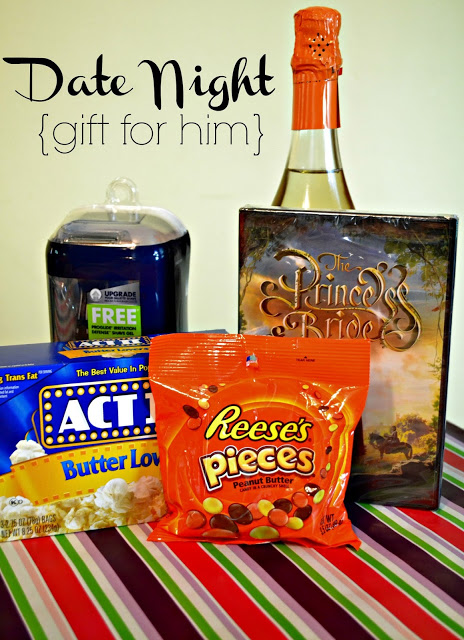 The gift included:
Razors, more as a nagging wife gift than anything. He desperately needs to swap out his razor handle, and I figured if he liked the disposable version of the razor he likes I won't have to worry about him hoarding the razor handle for years, right? I had him open the razors first so his expectations for the gift were low, and he would hopefully be impressed as he kept going. See what I did there? Yep, I'm clever sometimes.
Reeses Pieces, Reeses are his favorite and you need candy for movie viewing!
Popcorn, fits in with the movie watching theme.
The Princess Bride on DVD. Yes, this is a guy movie, my mom thought it was girly based on the title. Nope, it's definitely an epic geeky movie with fighting and castles and stuff.
Bubbly Wine, is there anything better than a wine/champagne hybrid? Plus it has a cork so it's perfect for celebrating! It was delicious, I did an excellent job picking if I don't say so myself!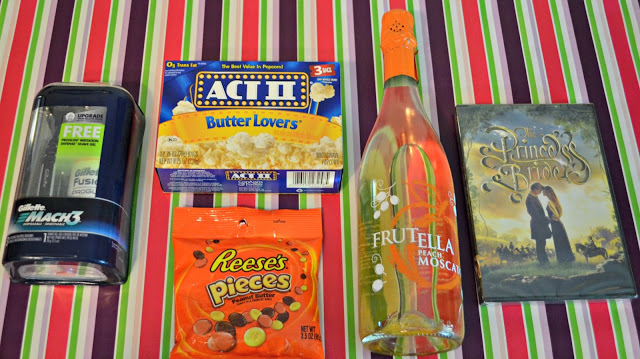 I wrapped each item individually and labeled them with a number in the order I wanted him to unwrap them in. Except I mixed up two of the numbers, so for the sake of this gift we have a new way of counting… 1-2-4-3-5.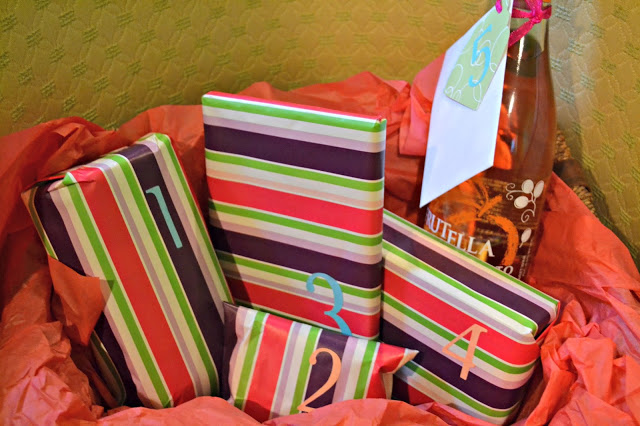 I left cute notes on each item too, such as "To get ready" "To share" "To celebrate."
Then I attached a card on the sparkling moscato.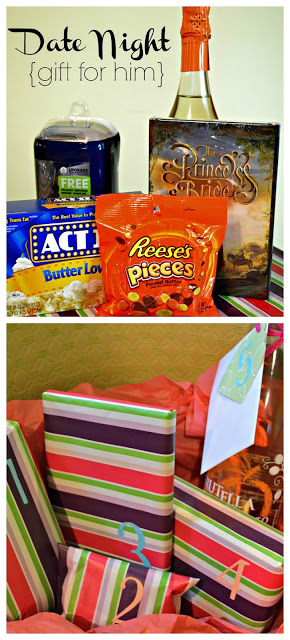 He loved it! I gave it to him a couple days early as I wasn't sure if he'd be home on his actual birthday (which happens to be today!) He will be home, we just don't know how late it will be when he gets back. Oh the glamorous life of a truck driver.  
Happy birthday AJ! I will have your favorite chocolate cake waiting for you when you get home!!