Give a shot at Walgreens

When you think immunizations, you think about your children. What about 
you
? Are 
you
 up to date on your immunizations? 
Of course a lot of adults make the decision on whether or not to receive a seasonal influenza shot, but what about the bigger ones? Could you use a TDAP (Tetanus, diphtheria, and pertusis) which could protect you from the whooping cough among other things. Maybe you could use a travel immunization so you can leave the country without a hitch! Immunizations are not something that adults think about, but it's extremely important.
Senior vaccines are also very important! Maybe you're not a senior yet, but you should check to make sure your parents or grandparents are up to date on their vaccinations. After you reach the age of 60 there are quite a few important vaccinations including those to prevent shingles and pneumonia. 
Well, now you don't even have to visit your doctor's office to receive vaccinations! You can get them at your local Walgreen's. I was shocked to find out that this was a service offered even in my extremely small town's Walgreens! See a recap of our trip here, Aliceana and I actually had fun (having fun is something that definitely wouldn't have happened in the doctor's office!)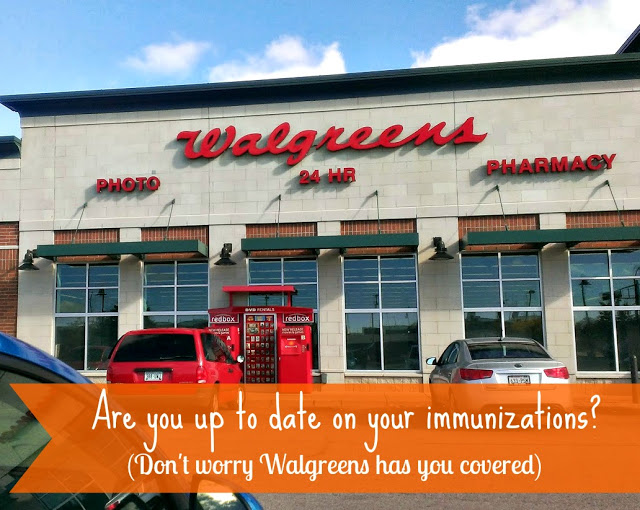 They have signage as you enter the store and grab a cart, you can't miss it! I love that these signs let you know which immunizations they carry. I otherwise might not have known!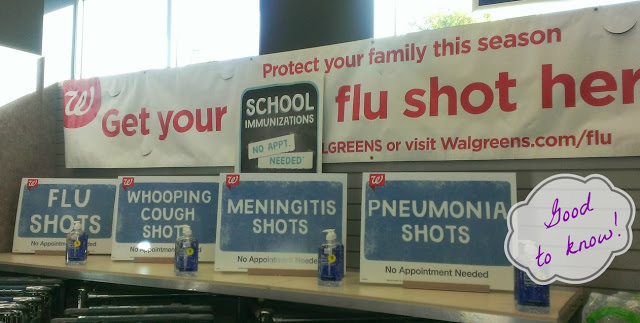 The convenience of being able to get an immunization at Walgreens is so great! I can get caught up on all of my shots and get some shopping done. There's no appointment needed, so I don't have to worry about scheduling around Aliceana's nap time or getting a sitter like I would if I had to visit my doctor's office.
Are you wondering exactly where you go in the store to get your immunization? Right back to the pharmacy. Your Walgreens 

pharmacist will make personalized vaccine recommendations, bill your insurance company directly and work with your primary care provider to obtain all the necessary forms and updates to your file. 
The best part about getting your immunizations through Walgreens, now when you get a shot, you're giving a shot too!
Walgreens has partnered with the United Nations Foundation's Shot@Life Campaign. Now through October 14th when you receive a vaccine you;ll be helping to provide a life-saving vaccine to a child in need. Together we can supply up to 3 million vaccines to children who need it most. Simply, visit your Walgreens get a shot and give a shot!
United Nations Foundation's mission is to educate, connect, and empower Americans to help protect children in developing countries from vaccine preventable diseases.
How does this help? 1 in 5 children lack access to lifesaving immunizations, that the children of the U.S. have readily available. Coordinated worldwide vaccinations efforts have made significant progress, particularly in reducing cases of measles and polio. You can play a part in the increased success of these efforts, by receiving your vaccinations at Walgreens!
I myself, know exactly what it's like to have a sick child in the hospital. It's the worst feeling in the world. So getting an immunization that's more convenient for my schedule and helping a child by giving them a shot at a healthy life is definitely the best option!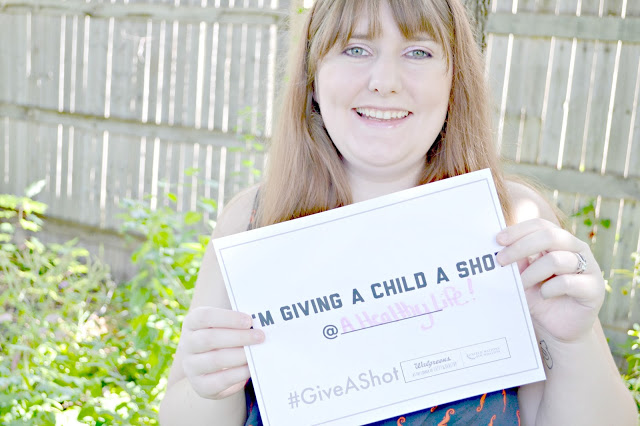 Fond out more about the Shot@Life campaign here on the Walgreens website, and of course make sure to follow Walgreens on Facebook and Twitter! 
What would you give a child a shot at?