I love my grandmother like crazy, if we were a mob family, she would be the one that everyone would be afraid of. Actually, we're not a mob family, and I'm still pretty sure everyone fears my grandma. Ever since Aliceana was little Grandma has been trying to steal her firsts, you know, those little monumental moments that parents get with their littles. Those first steps, first words, or first bike ride.
I remember the day that I found out that my grandma took Aliceana to Build-A-Bear for the first time, it's a silly thing to be mad about, but it's how AJ and I were planning on spending Aliceana's first birthday. She loved puppies, and I knew she would love making her own puppy stuffed animal, but the moment was stolen from out under me by the fiery matriarch of our family and I was outraged at the time. Thanks grandma.
It took me awhile to realize, but those firsts have shifted dramatically since I grew up in the 90's, and going to Build-A-Bear was something that I didn't mind missing in the long run. Just think, that first bike ride, it's exciting, but it's not the big right of passage it used to be. Getting a bike used to be this big symbol for, Now that you have a bike you can go ride to the gas station to get ice cream with your friends, or get into trouble like those 80's kids from Stranger Things. 
Today a bike has really lost it's symbolism, it's more like, here's this thing that you can't use unless you have an adult hovering like your own personal body guard.
Parenting has changed a lot since the 80's and 90's, and us Millennial parents are going through an entirely new set of firsts.
We have first tablets, first cell phones, first ride in an Uber, first time at a brewpub and first time discovering your kids regular Starbucks order. It's an entirely different world to navigate and those firsts that meant the world to us in the 80's or 90's are not the magnificent milestones they used to be.
Our family, we're your typical Millennials. We're tech savvy, we're unschooling, we avoid chemicals in our food, we love traveling to big cities, a family day out often includes an educational trip to a museum and a quick bite at a brewpub. AJ even has the beard that basically screams, we're the young cool parents that you want to be. Our basic family motto is, let's get out there and have fun and really enjoy spending quality family time together.
Technology is a huge part of Aliceana's life at the age of 4. Her tablet is one of our favorite learning tools, words like selfies and snapchat are in her every day vocabulary. This Christmas she's getting a couple of robots, as a kid in the 21st century, I'm sure she'll have more functional robots by the time she lives on her own. Maybe even robots that help you get dressed and do your hair and makeup? I'm still holding out for a life straight out of the Jetson's.
It doesn't stop at technology though, I feel like a lot of Millennial's are more interested in discovering new things than other generations. We love traveling, we live in a pretty quiet little city, so we travel to bigger cities to explore on a weekly basis. Here we are at one of our favorite stops the Milwaukee Art Museum, Naturally we took a family selfie in Michelangelo Pistoletto's Ragazzo which happens to be displayed next to Aliceana's all-time favorite painting, Crying Girl. You see, she's 4 and she has a favorite painting at the art museum. I probably didn't even have a favorite ice cream flavor at the age of 4.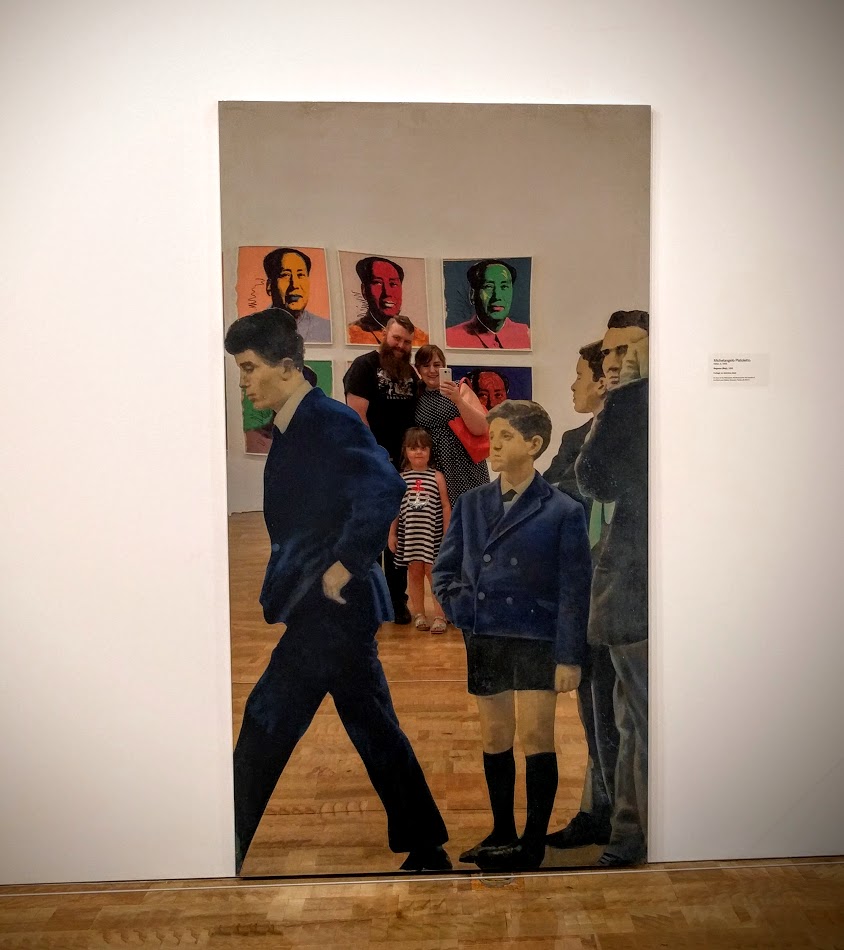 Last year we took Aliceana on her first trip to Chicago. She experienced so many firsts, first time at Cloudgate, first Chicago style pizza, first time riding in an Uber and many more. It was hilarious to watch just how quickly she adapted to city life, and the modern technology that comes with it, that weekend. She was so ready to order a car and watch it get closer to our location on my phone. She was so used to the swanky Virgin Hotel being our home base for the weekend, escalators and revolving doors were the norm, walking everywhere that was close enough not to Uber, no big deal for her. It was remarkable to watch back when she was 3, in the next couple weeks we're going on a few more city adventures and I can't wait to experience more firsts.
These are our new 21st century firsts as very Millennial parents. Build-A-Bears and bike rides just don't seem as important anymore.