I received a little bit of a discount at the Virgin Hotel in order to facilitate this review, but I'm sold. AJ is sold. Aliceana, our 3 1/2 year old, desperately wants to go back. We've officially found the only hotel we'll ever be staying at when we're in the Windy city.
Virgin Hotels are setting the bar for hotel standards remarkably high. I've stayed in a lot of hotels in the past few years, and they're not much more than a place where you sleep. Virgin Hotels have created a place that's hard to leave.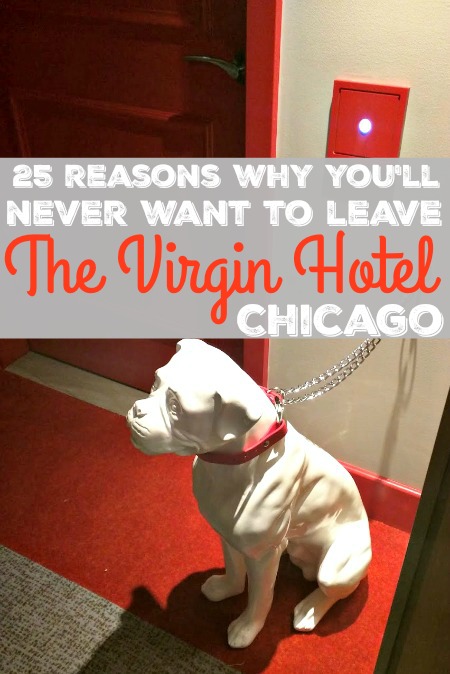 Other hotel chains, you need to listen up and take notes, seriously.
1. They're not rooms, but chambers.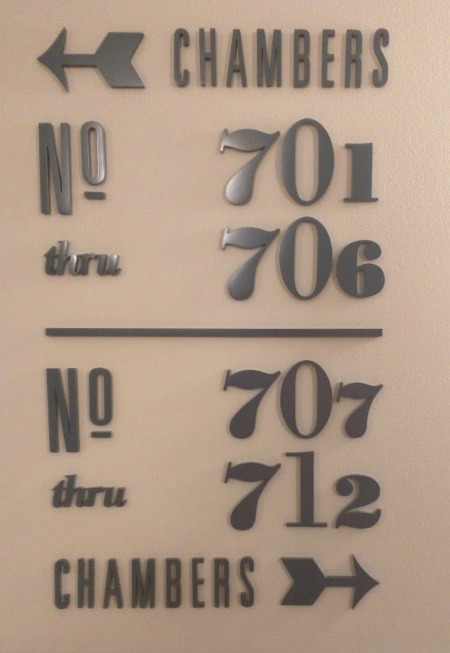 Your chambers consists of two areas. Your sleeping chambers that can be closed off with a sliding door and the entrance area with a huge closet, makeup table, and bathroom. This means privacy when someone gets up earlier than the rest of your room mates. We watched Netflix on the makeup table while Aliceana watched a kids show on TV to unwind on our first night in the city.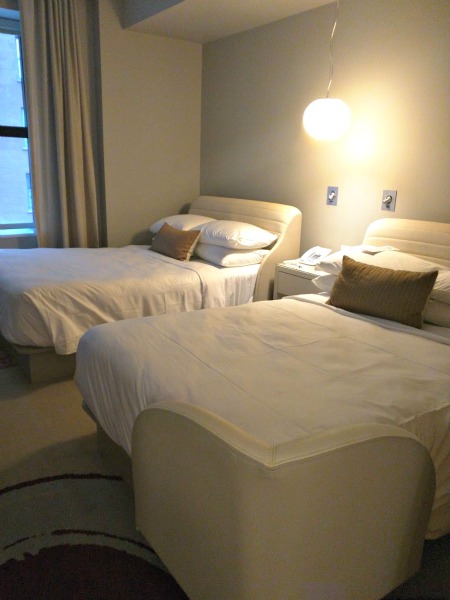 2 & 3. Ridiculous amount of closet space & included umbrella and yoga mat to use during your stay.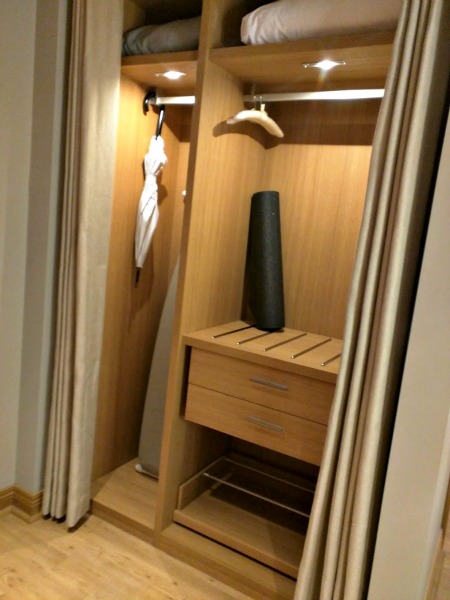 We easily unpacked our family of 3 for a full weekend in the closets. There are drawers everywhere too!
4. A fully stocked mini bar, that you shouldn't be afraid of using.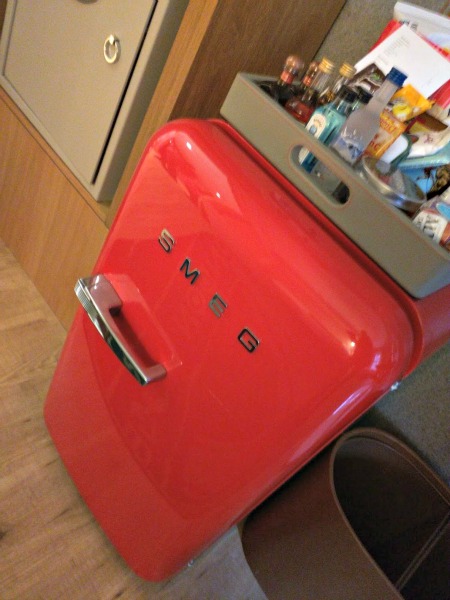 The prices are normal! $1.75 for candy bars, $3 for a cold craft beer, and the list goes on. Plus, no sensors. I was able to pick up and inspect ingredients on things without worrying. We didn't even fret at the idea of spending $3 on an apple juice for Aliceana for a quick breakfast drink.
5. The bathroom that you wish you had in your house.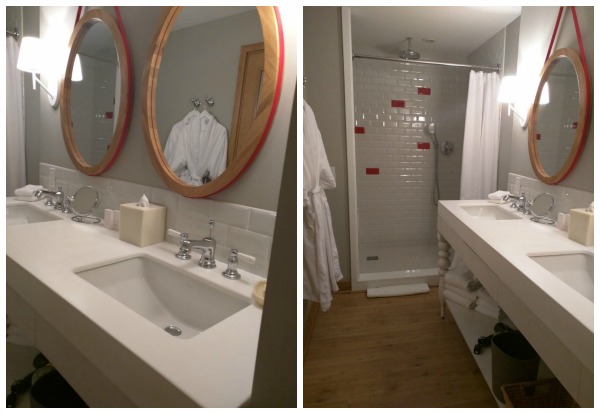 Double sinks and mirrors in the double bed chambers. They even have little amenities like cotton balls, cotton swabs, shower caps, and scrunchies. Plus a basket for dirty towels, an awesome detail that hotels overlook.
6. Plus, a private, lockable toilet area. Not that parents could ever want that..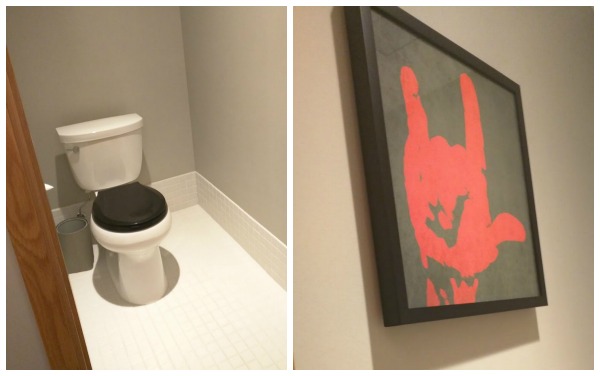 The Virgin hotel is all about a little bit of privacy. Making a family vacation feel more like a vacation.
7 & 8 & 9 & 10. Incredibly thoughtful amenities!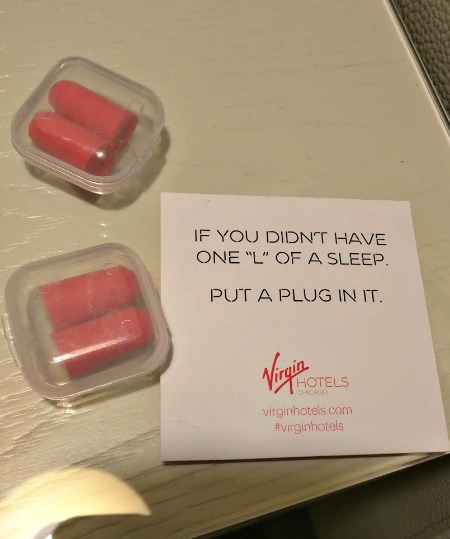 The "L train" is right next to the Virgin Hotel, you can watch it pass by at all times of day from your window. It actually isn't loud enough to disturb you, (I'm a light sleeper and never noticed!) but they leave earplugs just in case.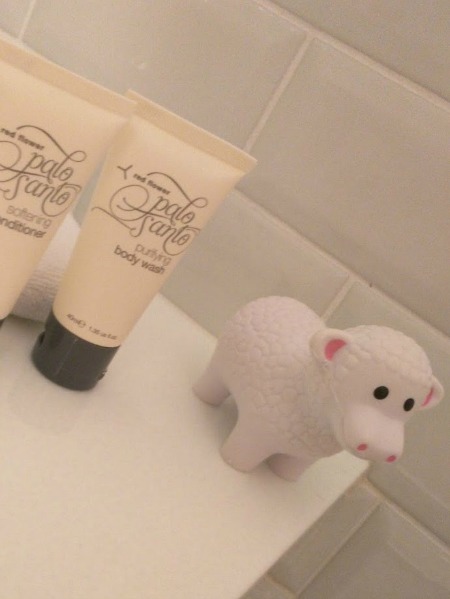 A stress ball sheep in the shower. Which Aliceana instantly claimed.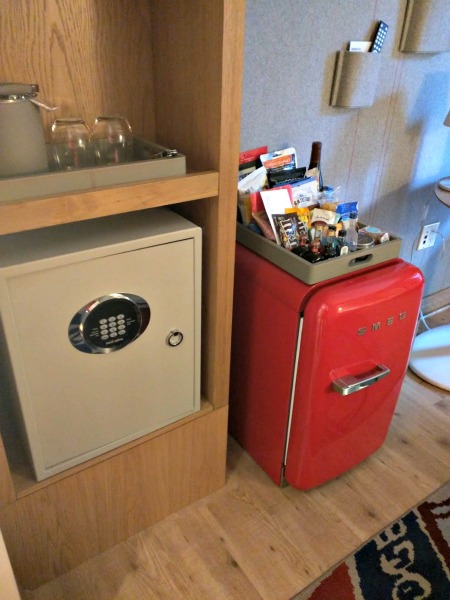 Wine glasses and a corkscrew. Not having a cork screw or bottle opener can be brutal! #Wisconsiniteproblems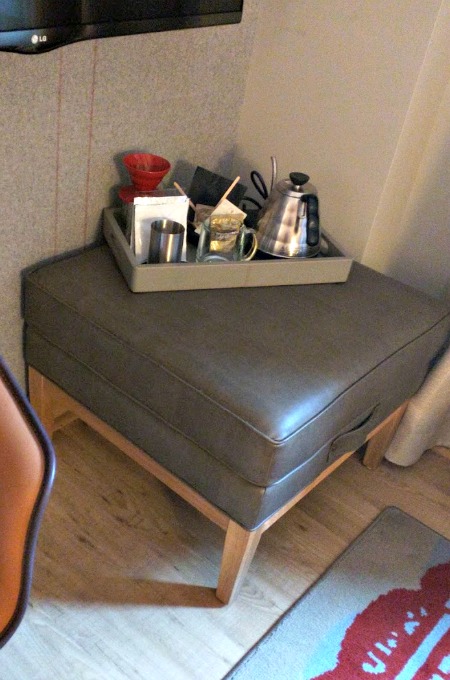 A great little set up of drip coffee on a tray, so you can make it anywhere you need to in your chambers. That is, if Two Zero Three isn't open yet..
11. The makeup table.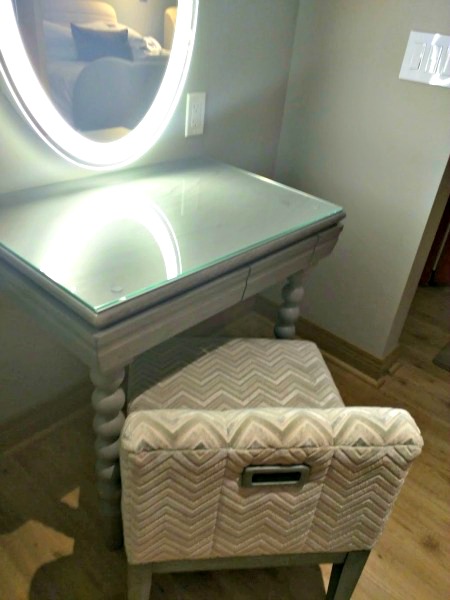 Sitting in front of an extremely well lit mirror and putting on makeup and fixing your hair, it's therapeutic, and the best darn way to start the morning.
12 & 13. Free and fast Wifi in room, and great coffee is just an elevator ride away.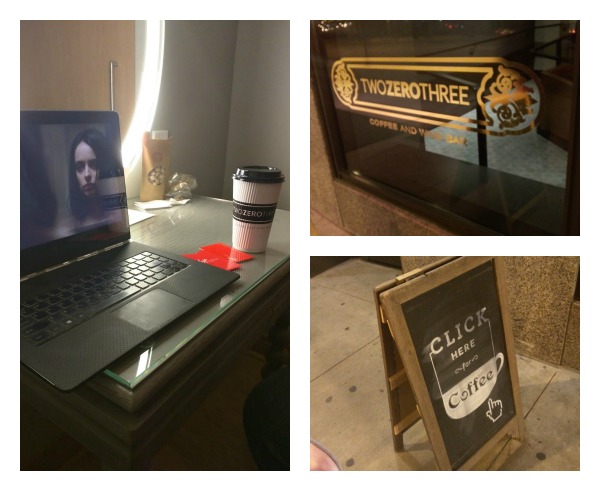 Aliceana was napping, and we took advantage and watched Jessica Jones on the makeup desk in the other room while sipping on coffees from Two Zero Three, Virgin's own coffee and wine bar. I had a Basic Batch coffee (salted caramel mocha) while AJ had a Hot and Bothered (chili chocolate mocha.) They were both amazing, and your typically coffee prices.
14. The ice vending area is concealed behind a whisper-quiet sliding red door in the hallways.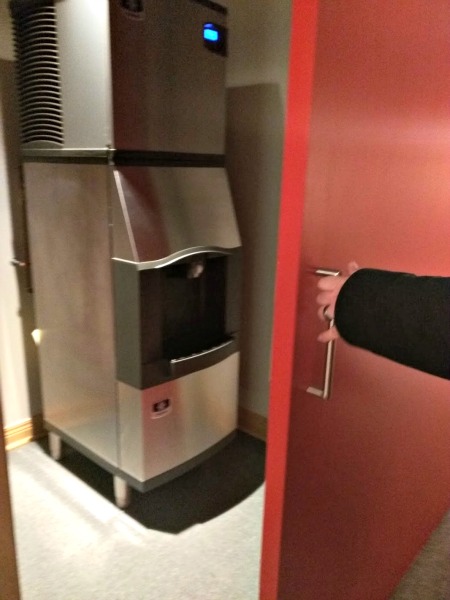 A tiny detail, but still so great. They thought of everything.
15 & 16 & 17 & 18 & 19. Doggies in the hallway, doorbells, inviting red doors, do-not-disturb buttons, and peep holes. Oh my.
Pet friendly rooms are marked with dog statues, they have pull out doggy beds under the human beds, because of course. Doorbells are in place, instead of knocking. The red doors are so inviting.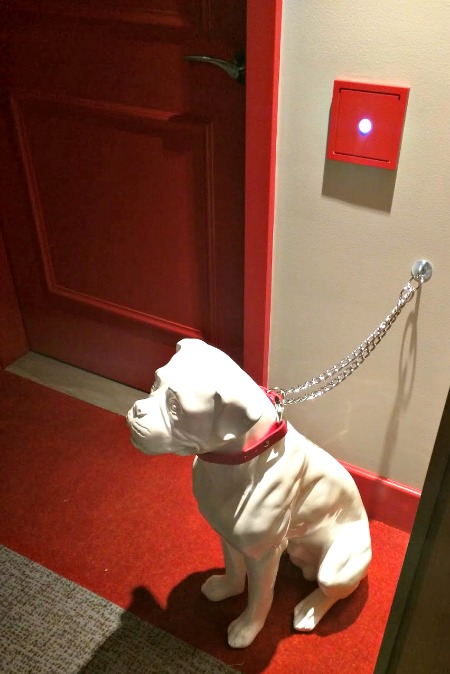 Inside the rooms is a do-not-disturb button. It turns the doorbell light red and let's visitors and housekeeping know that you're not to be bothered. There's a second peep hole in the sliding door, so you can see housekeeping, or spy on your husband while he messes with his beard for 20 minutes.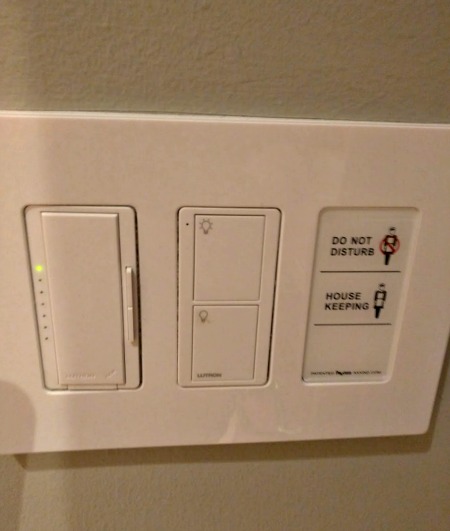 20. Comfort food, all day long.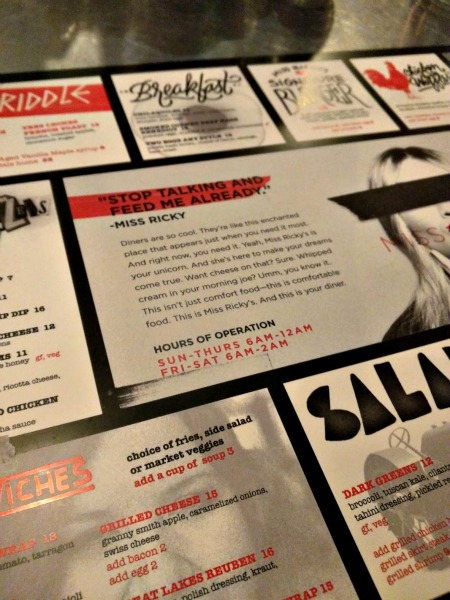 Miss Ricky's serves good ol' comfort food all day long. We had some late night breakfast and it was delicious.
21. The drinks are so not virgin, plus free drinks nightly at the social hour.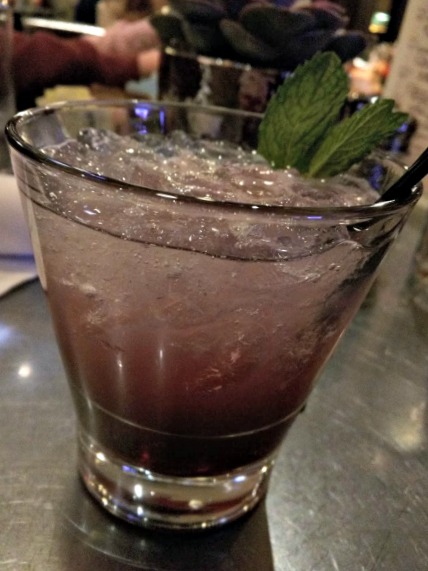 Guests of the hotel are treated to a full bar of nightly cocktails hosted on us from 7-8PM. I didn't get to attend, but drinks at Miss Ricky's were darn good too! Plus, you know..they have a wine bar.
22. The app!
Control the room temperature, order room service, make dinner reservations, all with the Virgin hotels app. Just an additional layer of personal.
23. Amazing customer service.
The service was wonderful. So were the fellow guests. We met a game creator in our elevator and had a great conversation, we ended up talking Star Wars with another guest in the lobby one of the nights.
24. The best sandwich boards ever.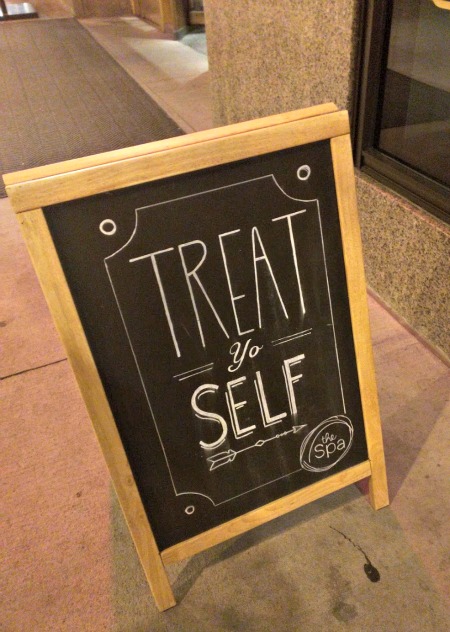 Parks and Rec much?
25. Location. Location. Location.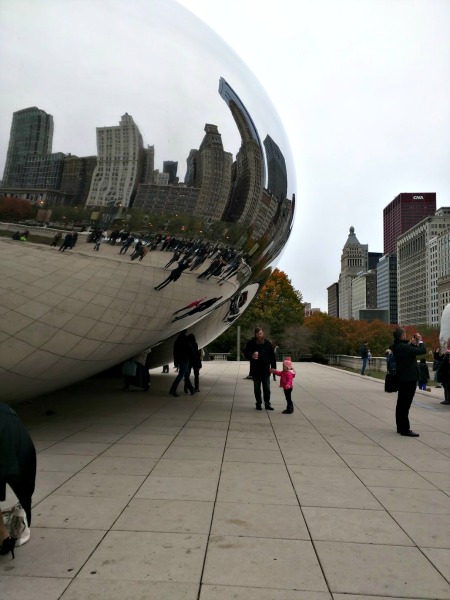 You'll find yourself in the Chicago loop with plenty to do! You can easily walk to Millennium park, great shopping on Michigan Ave, Macy's or Block 37, you're definitely close to great dining. Check out Giordano's for the best Chicago deep dish, and oh, you need to get the garlic cheese bread!
What are you waiting for? Book your next trip today!