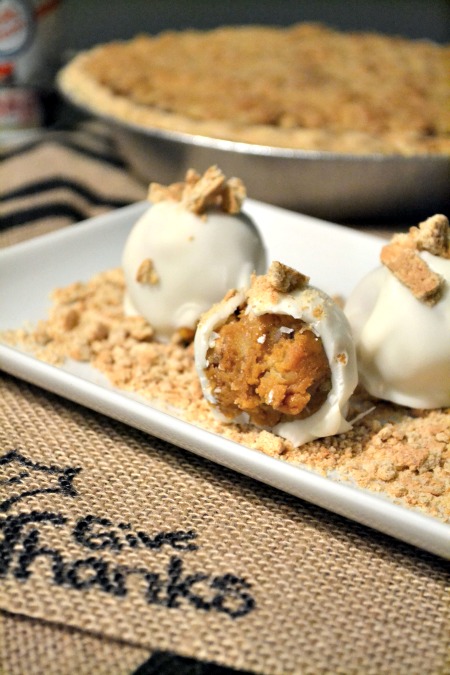 It's pie time! Pie is officially the unofficial Thanksgiving dessert, don't you think? I made a recipe that takes an already delicious Pumpkin Pecan Streusel Marie Callender's Pie and made it into the perfect bite sized portions. Covered with white chocolate of course.
It's ridiculously simple. First, Just bake the pie according to instructions.
After the pie is baked to golden perfection, just flip it upside down in a large mixing bowl and start smashing the crust in with a fork. Keep smashing and mixing the pie together until you have most of the larger chunks out of the delicious mixture of pumpkin pie filling, crust, and pecan streusel.
Form into bite sized balls, and place on a wax paper or aluminum foil lined baking sheet. Freeze for at least 30 minutes.
Once pie bites are stiff enough to work with, simply roll them in white chocolate. You can even top them with graham cracker bits.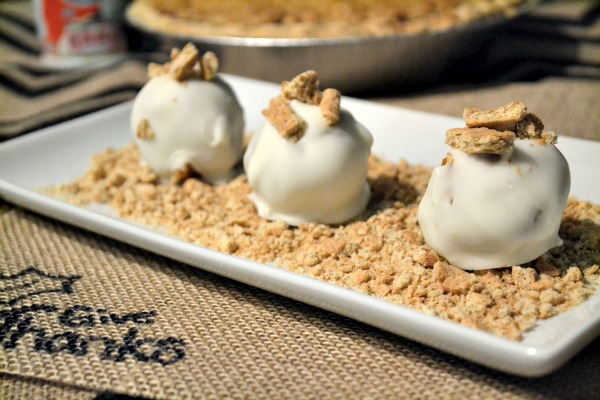 We love the added crunch of the pecan streusel, but you can use a regular pumpkin pie for this recipe if you have a pickier crowd.
| | | |
| --- | --- | --- |
| Pumpkin Pecan Streusel Pie Bites | | Print |
Ingredients
Pumpkin Pecan Streusel Marie Callender's® Dessert Pie, fully cooked according to package instructions.
1 pound white chocolate
(optional) crushed graham crackers
Instructions
Once your pie is baked according to the package instructions and has cooled enough to work with, flip it upside down in a large mixing bowl.
Use a fork to help smash the crust into the filling, until as smooth as possible.
Form bite sized balls with the mixture and place on parchemnt sheet paper lined baking sheet.
Freeze for 30 minutes.
Melt white chocolate, remove pie bites from freezer and coat in white chocolate.
If desired, sprinkle crushed graham crackers on top of white chocolate before it cools.
Written by, Brittany, the geek behind the blog. I share lots of recipes, my thoughts on the latest tech gadgets, my favorite geeky games, and snippets of life as a Work-at-home mom.