Our spice cabinet is overflowing, we love using spices in our kitchen. So why in the world was I buying and using premade spice packets for years? I made my own taco seasoning recently and it is absolutely amazing. I seriously want to use it in everything I make, it just tastes so good.
It also doesn't include the gross additives that the packets in store use. I didn't think that the taste would differ that greatly from the packets, but oh it does.
When it comes to seasoning, we love to add a little bit of heat. I didn't want the seasoning to be too spicy though. A little bit of hot paprika gave the seasoning a great spicy kick. I couldn't come up with a great name for taco seasoning with a little bit of a kick, but I think Almost Spicy Taco Seasoning is pretty fitting.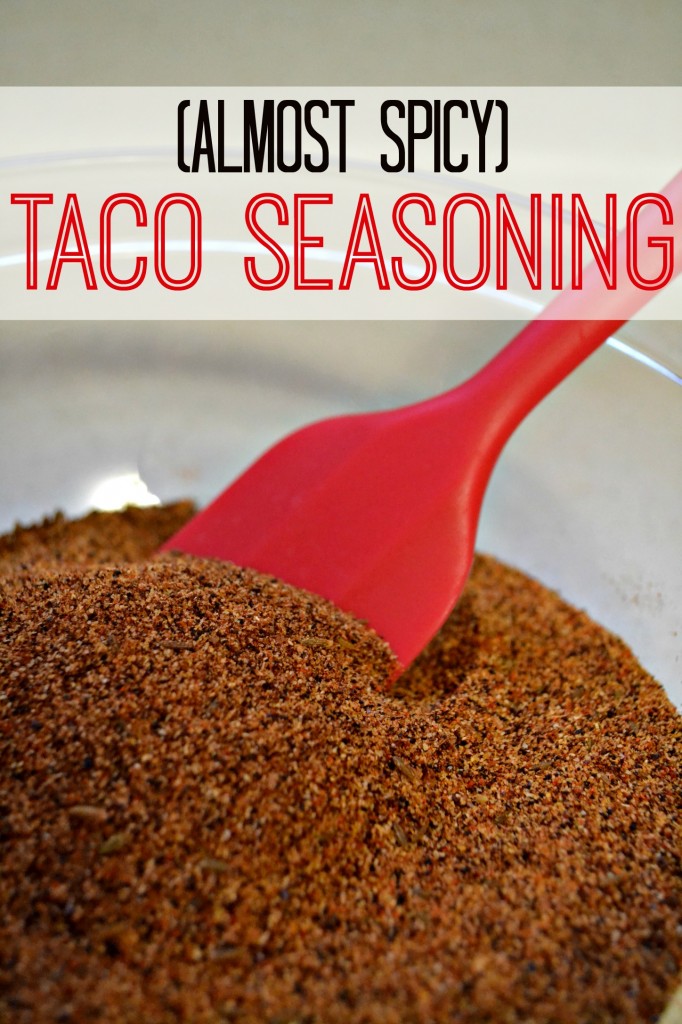 This is a taco seasoning recipe with just enough spice so it's not boring, yet not overpowering. Perfectly acceptable for your little ones to eat, mine loves it!
If you want a really hot seasoning you could experiment with crushed red peppers or cayenne pepper. You could also just add a dash when you're cooking if you don't want the whole batch to be spicy.
I've used this taco seasoning in quite a few recipes already. My favorite was a good ol' taco dip (recipe coming soon.) It was most definitely the tastiest taco dip I've ever had and this seasoning really added to the flavor.
Just try it for yourself. I guarantee you'll never go back to those little packets again.
| | | |
| --- | --- | --- |
| Almost Spicy Taco Seasoning | | Print |
Ingredients
5 Tablespoons chili powder
1 Tablespoon sea salt
½ Tablespoon hot paprika
½ Tablespoon paprika
1 Tablespoon garlic powder
1½ Tablespoon cumin
3 Tablespoons onion powder
Instructions
Combine all ingredients in food processor, pulse until well blended.
Store in an airtight container.
Use 3 Tablespoons seasoning per 1 pound of meat for tacos.
 Tell me your favorite dish that uses taco seasoning in the comments below! 
Written by, Brittany, the geek behind the blog. I share lots of recipes, my thoughts on the latest tech gadgets, my favorite geeky games, and snippets of life as a Work-at-home mom.