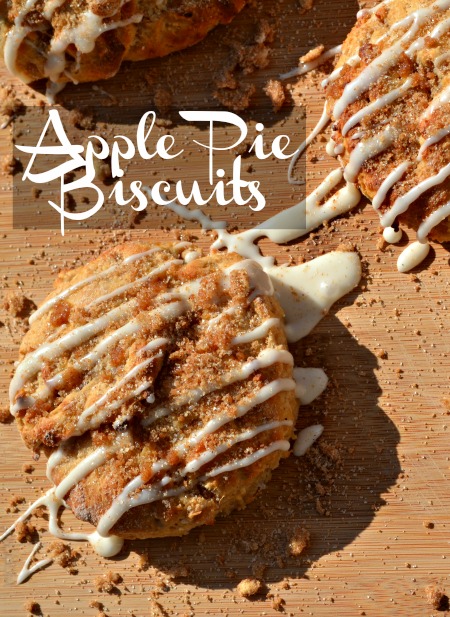 I have been in such an apple mood lately, and we have a whole lot of apple pie filling around the house. It's actually a lot harder than I thought to find great recipes that use apple pie filling, so I made up my own.

Warm biscuits straight out of the oven is one of the greatest things ever if you love carbs like I do. Now try adding apple pie filling into that warm biscuit recipe, and then topping those biscuits with a drizzle of sweet vanilla glaze and topping that with a simple brown sugar cinnamon crumble. Yes, they're just as delicious as they look and sound.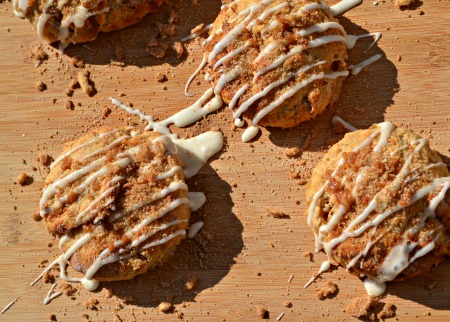 This has to be one of the tastiest treats to enjoy during breakfast. Seriously, how perfect are these for Sunday morning brunch?
If you don't have a sweet tooth in the morning, or you're not a morning person in general you can always just serve these for a delicious dessert.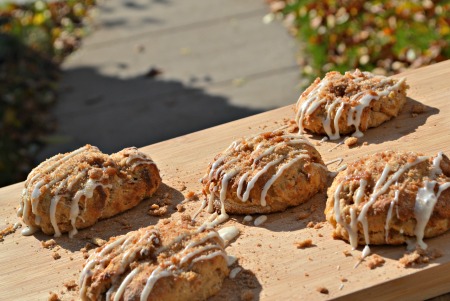 These were really simple to make, but definitely a little messy to knead in the apple pie filling. The dough is quite sticky until you work more flour into it, but I do promise it's completely worth the mess and sticky fingers. You can always pretend like you're a kid that likes playing with ooey gooey messes. Or maybe you can get your kids in on this sticky dough kneading action.
Ok ok, now that I'm off on a tangent… Do you remember all of those slimy toys, generally marketed at boys? When we had some friends over awhile ago and we were discussing all of the fun toys that boys got to play with when we were younger. One of those items we were discussing was the oh-so-cool Creepy Crawlers. It was unanimous that all of us girls wanted to have creepy crawlers, and every guy at our house had their own set when they were growing up. Which of course led to use searching for Creepy Crawlers on the internet and that temptation to click that "buy now" button, but then we remembered that we're adults and we can probably use our hard earned cash on something better than Creepy Crawlers.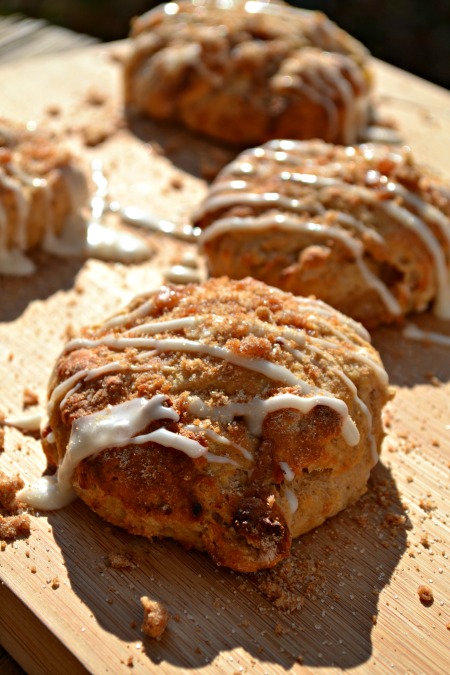 I hope you enjoy these apple pie biscuits as much as we did, and maybe you'll love them just as much as you loved Creepy Crawlers or that other other coveted toy of your generation.
Ingredients
Biscuits
3 cups white whole wheat flour
1 Tablespoon baking powder
1 teaspoon salt
2 Tablespoon sugar
1 teaspoon cinnamon
⅓ cup butter, cold
1 cup milk
7 ounces apple pie filling

Icing
1 cup powdered sugar
½ teaspoon vanilla
1-2 Tablespoons milk

Crumble
¼ cup sugar
¼ cup brown sugar
1 teaspoon cinnamon
3 tablespoons
Instructions
Preheat oven to 425*, open pie filling and dredge a knife through jar to chop the apples into bite sized pieces. Grease a cookie sheet.
Mix together flour, baking powder, salt, sugar, and cinnamon.
Cut in cold butter to flour mixture using a pastry cutter.
Gently Stir in milk using a silicone spatula, add in apple pie filling. Continue stirring until a firm dough forms.
Turn out dough onto floured surface and knead. If the dough is too sticky to work with you can add more flour.
Use a biscuit cutter or a drinking glass to cut out 6-8 biscuits, place on a greased cookie sheet.
Bake for 10-12 minutes or until the tops start to brown.
Mix icing ingredients, gradually adding milk until an icing consistency is reached.
In a separate bowl mix together the dry crumble ingredients, cut butter into dry ingredients using a fork until a chunky mixture forms.
Drizzle icing on top of warm biscuits and add a pinch or two of crumble to the tops.
Written by, Brittany, the geek behind the blog. I share lots of recipes, my thoughts on the latest tech gadgets, my favorite geeky games, and snippets of life as a Work-at-home mom.