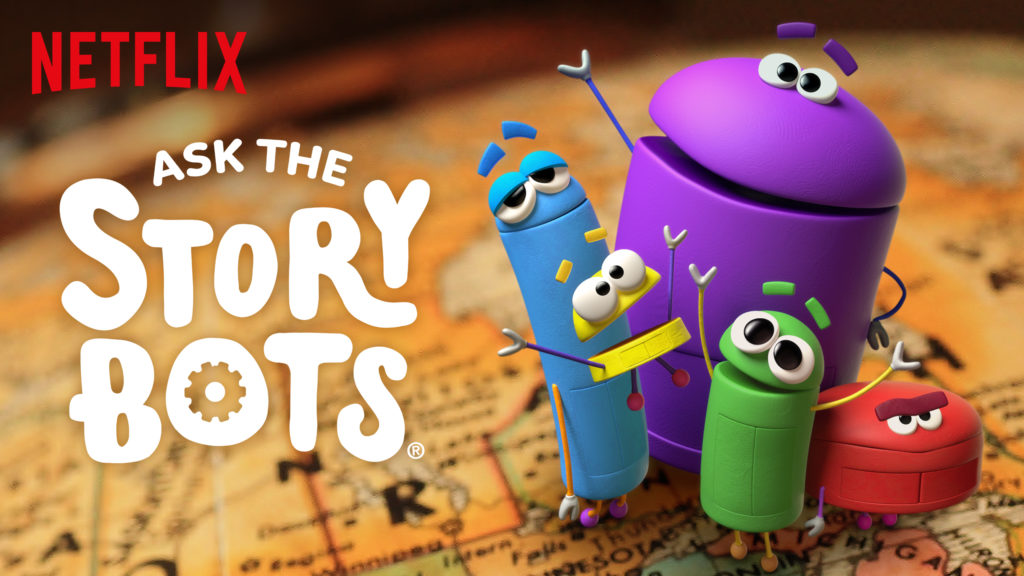 We love watching Netflix as a family, we're always looking for new shows to watch. The other night we wanted to watch something that wasn't Beat Bugs for the millionth time, so we tried Ask the Story Bots. It looked cute, so why not? I'm part of the Netflix #StreamTeam the obsession is real all words and opinions are my own.
Story Bots is a show about super adorable bots that are the inner-workings of the computer, or tablet, or smartphone. When you ask your device a question (ahem, unofficially Googling it,) they're the ones that answer it for you. Adorable, concept, right? It's the perfect kids show that teaches your kids some really awesome and advanced science, like how airplanes fly. I honestly did not know how airplanes worked until watching the episode, don't judge. It's a really fun and great way for your the family to learn and laugh together.
So we were watching episode one, where they're wondering where the sun goes at night. Naturally the confused Story Bots go to investigate this tough question in the real world, by asking a knight. The knight takes his helm off, and uh…it's Jay Leno. What is this sorcery? We were laughing hysterically at the cameo that kids obviously wouldn't understand. Some of the other guest stars include, Kevin Smith and Weird Al. It's seriously amazing. There are so many fun references that only us older kids would get, but nothing inappropriate.
The show has hilarious songs too, like the best ever, most entertaining, will even make a grown man laugh kind of music video. They're amazing like the Big Brown Boogie-in' Bear! Pictured below, he's cute and makes the cutest grumbling noises.
Oh, and a quick Google search showed me that Story Bots is this really great brand that has a ton of educational stories and videos, that you can put your kids picture into. Super adorable, I just put Aliceana in a book with a pet monster and the interactions were hilarious. I think I'll have to download and subscribe to it on Aliceana's Christmas iPad, shhh don't tell her she's getting a new iPad for Christmas. For $20/year it looks like something that will definitely be worth it to add to her iPad.
Here she is dancing in the Big Brown Boogie-in' Bear video. How adorable is that? Take my money Story Bots membership.