It's that time of the year, it's fair season! We just went to our local state fair a few weeks ago, and now the Wisconsin State Fair is in full swing until August 10th! I'm a foodie, so for me the State Fair is all about food. The common themes for fair food in Wisconsin is definitely lots of deep frying, lots of cheese, and bacon wrapped everything! I was at a breakfast the other week with other Midwestern bloggers and we all agreed that State Fairs in the Midwest know how to do it right. Some of us have visited fairs in other states and you just can't find the deep fried cheesy goodness or foods on a stick that you can here in the Midwest.
Deep fried everything isn't necessarily good for you. Bummer, right? So instead of deep frying I whipped up baked mozzarella sticks…with bacon. Of course. All that's missing is an ice cold beer to enjoy these with.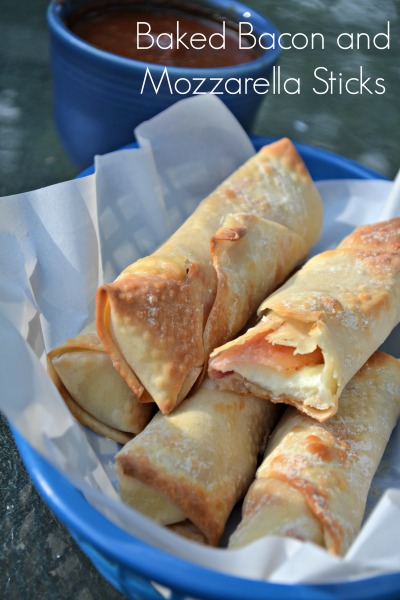 These were delicious, and incredibly easy to make. Aliceana gobbled up two by herself in record time.  These are made with local string cheese and bacon wrapped in egg roll wrappers, sprayed with a little bit of extra virgin olive oil and baked to golden brown perfection.
This was my first time using egg roll wrappers, and I can't wait to try them out for new recipes. It was incredibly easy. I researched a few ways to bake egg roll wrappers, and chose to use water to seal them, it worked out perfectly. I promise this recipe is basically fool proof.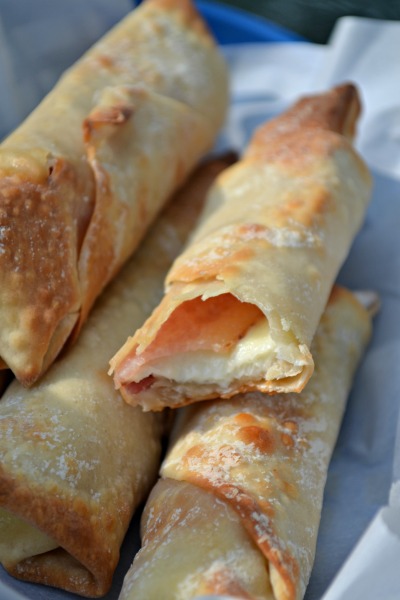 Of course you can't have mozzarella sticks without marinara sauce, I served these with my very own marinara sauce recipe for dipping.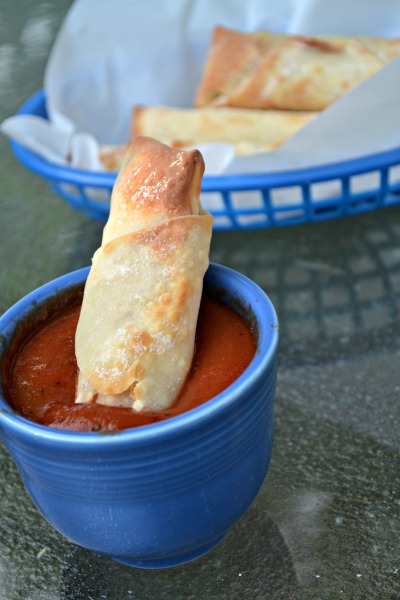 | | | |
| --- | --- | --- |
| Baked Bacon and Mozzarella Sticks: Pick 'n Save Recipes | | Print |
Ingredients
4 slices of bacon, cooked
8 egg roll wrappers
8 pieces of string cheese
extra virgin olive oil (works best in sprayer)
Water for brushing the tops
Instructions
Preheat oven to 425*.
On a clean surface set out an egg roll wrapper.
Dip your fingers into glass of water and wet all 4 edges of wrapper.
Place 1 piece of string cheese and half a slice of cooked bacon in one side of egg roll wrapper.
Roll wrapper tightly, folding in sides as you go.
Spray or brush outside of egg roll wrapper with olive oil and place on a baking sheet.
Bake for 10-15 minutes, or until edges start to turn golden brown in color.
Allow to cool slightly, and serve with marinara sauce.
Written by, Brittany, the geek behind the blog. I share lots of recipes, my thoughts on the latest tech gadgets, my favorite geeky games, and snippets of life as a Work-at-home mom.