Today I'm sharing one of my all-time favorite family recipes. Banana Bars with cream cheese frosting. I can't count how many times I've eaten this at family gatherings or at my Aunt's house when I would spend the night. My weekly sleepovers at my Aunt's house are most likely the reason why I love to bake. She's always been amazing at baking cookies, but now she's into baking cakes. She's so great at decorating cakes that she made our wedding cake, it was amazing! Seriously, everyone needs an Aunt like her.
We love to serve these banana bars cold, it's a really dense but moist bar. I can definitely tell you that this recipe is simple. I made these by myself for the first time a couple weeks ago, and they turned out perfectly (even though I made it into a banana cake instead of banana bars, I seriously need to invest in a good jelly roll pan for bars.) Bonus for you, now you get directions for making this into a cake or bars! This recipe has me hoping that we'll forget about our bananas so they're over ripen and I can use them to make this again in the very very near future.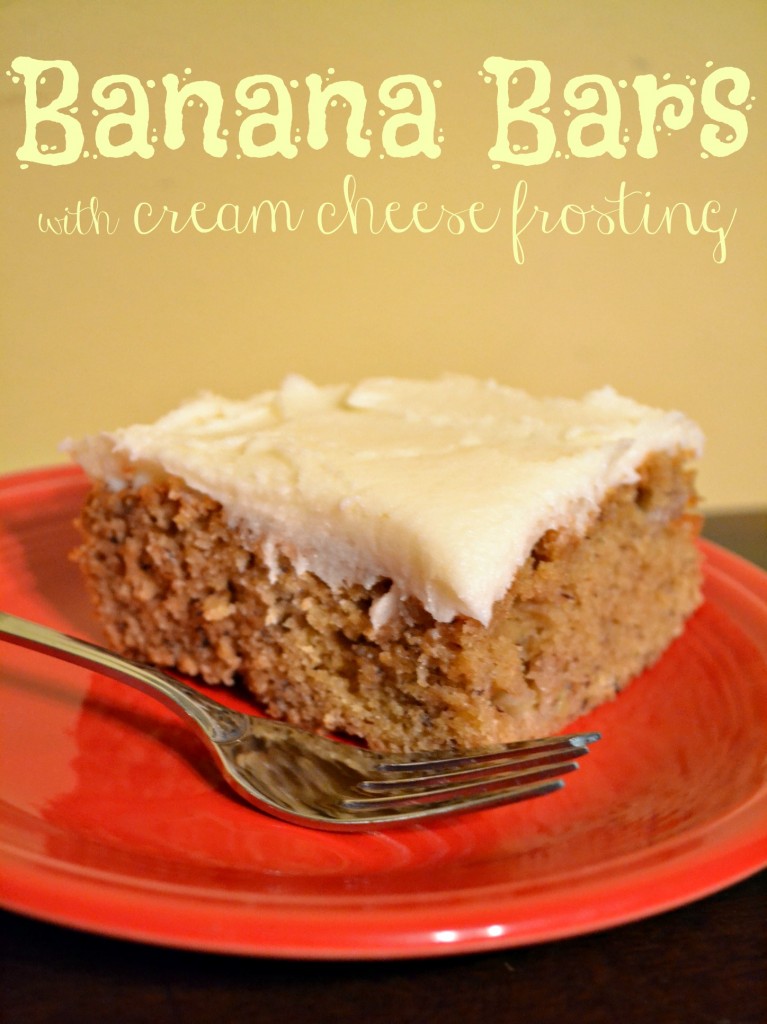 Do you want to know how good these really are? There so good that Aliceana couldn't wait for me to cut a piece for us to share. Every time I brought the cake out she would grab a play fork, spoon, or knife so you could try to sneak some frosting. It worked too, the little thief! I don't think children under the age of 2 should be able to reach counter tops, I'm pretty sure she's going to be taller than me by the time she's in first grade.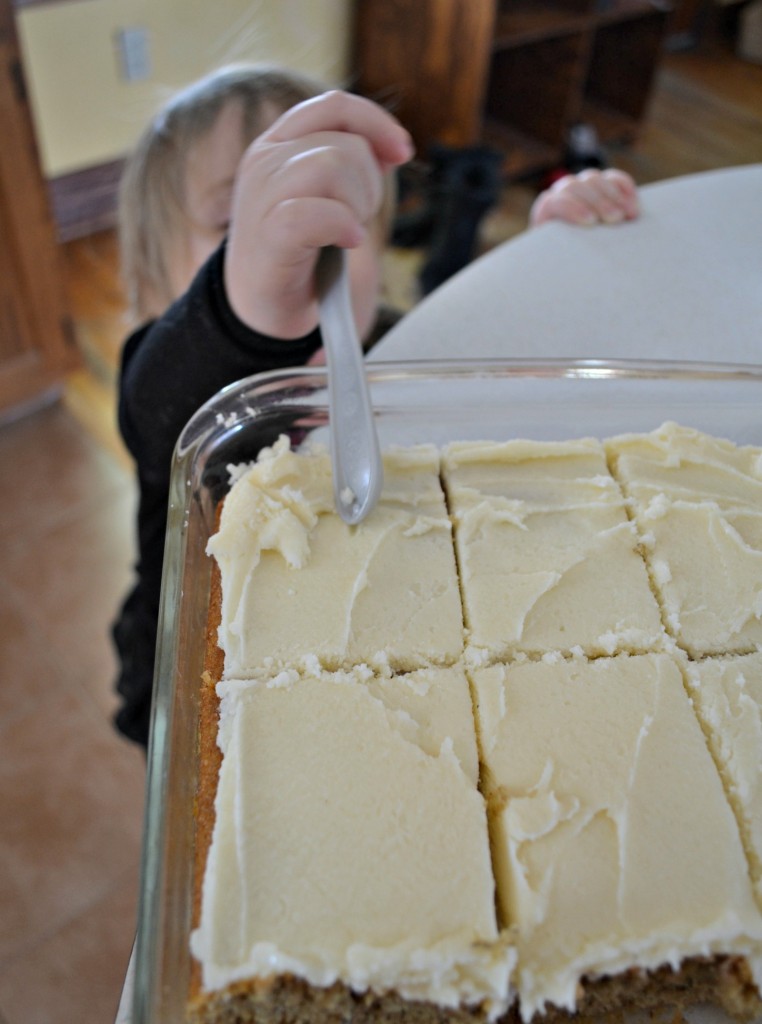 By the way, baking has been getting me through the last couple weeks. AJ has been working a lot more on the weekends, which means I'm home alone with miss cranky pants who just wants her dad. Not only is baking kind of relaxing, I can bribe her with sweets when she's really feeling down. I don't feel as bad because I use white whole wheat flour and hey, this cake has bananas and dairy in it. Win-win, right?
Ingredients
½ cup butter, softened
1 ½ cups sugar
2 eggs
1 cup sour cream
1 teaspoon vanilla
2 cups flour
1 teaspoon baking soda
¼ teaspoon salt
2 ripe bananas, mashed
Cream Cheese Frosting (recipe below)
Instructions
Preheat oven to 350* grease a cake pan or 15×10 inch bar pan.
In a large mixing bowl, cream sugar and and butter.
Add eggs, sour cream, and vanilla to the mixture, mix well.
Next, add flour, baking soda, and salt combine.
Fold mashed bananas in by hand. Pour mixture into prepared pan.
If using a bar pan bake for 20-25 minutes, bake for 55-60 minutes or until knife comes out clean if using a cake pan.
Let cool, then frost with cream cheese frosting.
Store cake in the refrigerator, it's delicious cold!
Here are the easy instructions for the cream cheese frosting that we always put on top, after all these are banana bars with cream cheese frosting!
| | | |
| --- | --- | --- |
| Cream Cheese Frosting | | Print |
Ingredients
8 ounces cream cheese
½ cup butter
2 teaspoons vanilla
about 4 cups powdered sugar
Instructions
Whip 8 ounces of softened cream cheese until fluffy in texture.
Add ½ cup butter and 2 teaspoons vanilla then cream the mixture together.
Gradually add powdered sugar until frosting is desired sweetness and consistency.
Let me know what you think! I'm sure this will be a family favorite for you too!
Written by, Brittany, the geek behind the blog. I share lots of recipes, my thoughts on the latest tech gadgets, my favorite geeky games, and snippets of life as a Work-at-home mom.