AJ and I are obsessed with anything that has barbeque sauce on it, which is tough, since there are zero barbeque restaurants in our area. So we have to make it ourselves.
I've always been a fan of barbeque pizza, and I'm not sure why. Every barbeque pizza I've had used really awful quality chicken, and don't get me started on how crappy the barbeque sauce is. I mean I get it, pizza chains don't exactly specialize in BBQ pizzas.
So that's why I had to take matters into my own hands. I made my own BBQ chicken pizza and it was amazing! I think I could eat this every day and not get sick of it.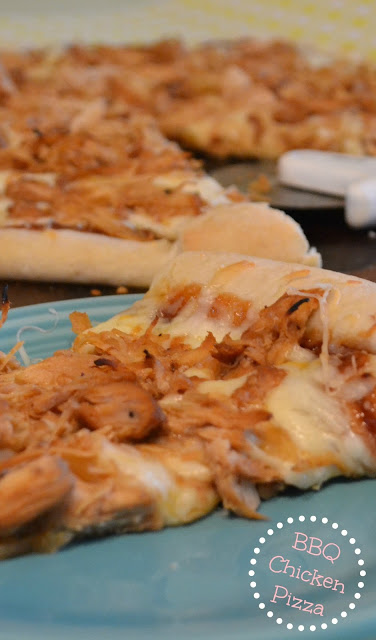 There are a few reasons why this turned out so great. 
First, the chicken was slow-cooked all day long, I used an adaptation of my favorite pulled pork recipe. The chicken breast was cooked alongside onions and a toe of garlic, in a bath of Diet Coke (helps carmelize the seasonings and gives it a great flavor), seasonings, and BBQ sauce. By leaving the chicken breast cooking all day you'll get very tender chicken that pulls apart very easily with a fork. 
You have to love any recipe that makes the slow cooker do most of the work!
Reason two why this beats any pizza chains BBQ pizza. The sauce. Sweet Baby Ray's is probably the best sauce you can find in a grocery store.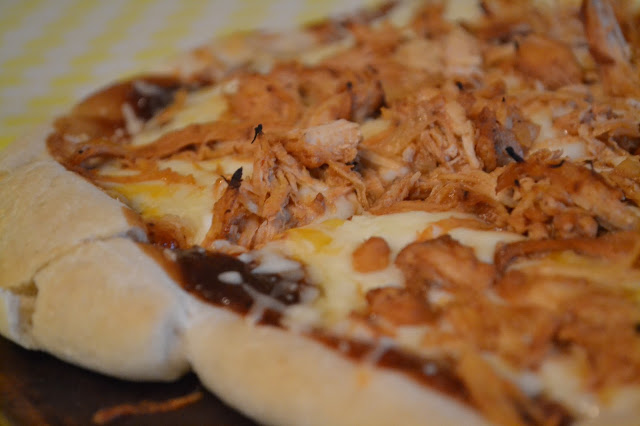 BBQ Chicken Pizza
2 Chicken Breasts
6 ounces of Diet Cola
1-2 toes of minced garlic
1/2 cup diced onion
1 Tablespoon Cajun Seasoning
1/2 Tablespoon Seasoning Salt
1/2 + 3/4 cup your favorite Barbeque sauce
1 pizza crust
2 cups mozzarella cheese
(optional) 1/2 cup Colby Jack Cheese
1. Place chicken breasts, onion, and garlic in a slow cooker, pour Diet Cola on top of chicken. 
2. Add Cajun seasoning and seasoning salt on top of chicken, then pour 1/2 cup of the barbeque sauce. 
3. Let cook on low for 6-8 hours. 
4. Remove chicken and onion from the crock pot with a slotted spoon, draining excess sauce (which will be very watery at this point.
5. Roll out pizza dough on cookie sheet or pizza stone, you might have to pre-bake the dough depending on the kind you're using.
6. Spread the remaining barbeque sauce on the pizza dough.
7. Sprinkle cheese evenly on pizza dough, top with shredded chicken and onion.
8. Cook according to your pizza dough directions (mine needed to pre-bake for 8 minutes and bake with the toppings for 12 minutes at 425*.)
9. Enjoy your pizza, and make a resolution to never buy mediocre bbq chicken pizza again!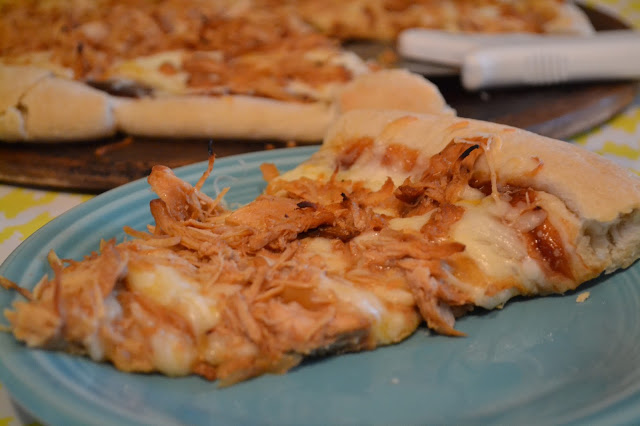 Next time I'm going to add pineapple to see how that tastes, I'm sure that'll make this already great pizza even better.