I love blueberries in baked goods, a warm blueberry tastes so perfectly sweet. I love baking with berries in general, but blueberries are definitely among my favorite (they might just be tied with raspberries.) Baking for breakfast is my favorite, breakfast foods are just so much fun. It's also much easier to impress people first thing in the morning, am I right? We just had white chocolate raspberry muffins for breakfast this morning, and oh the excitement on my daughter's face when she head we had fresh baked goodies. That right there is worth getting up a little early to bake a delicious warm breakfast.
Today I'm sharing a recipe that I can not wait to share with the world, I'm crossing my fingers I'm invited to a brunch in the near future because I need to show these off! (and like I said, people are easier to impress first thing in the morning, especially with a mimosa in hand.) Blueberry sweet Rolls are here to make your morning extra special.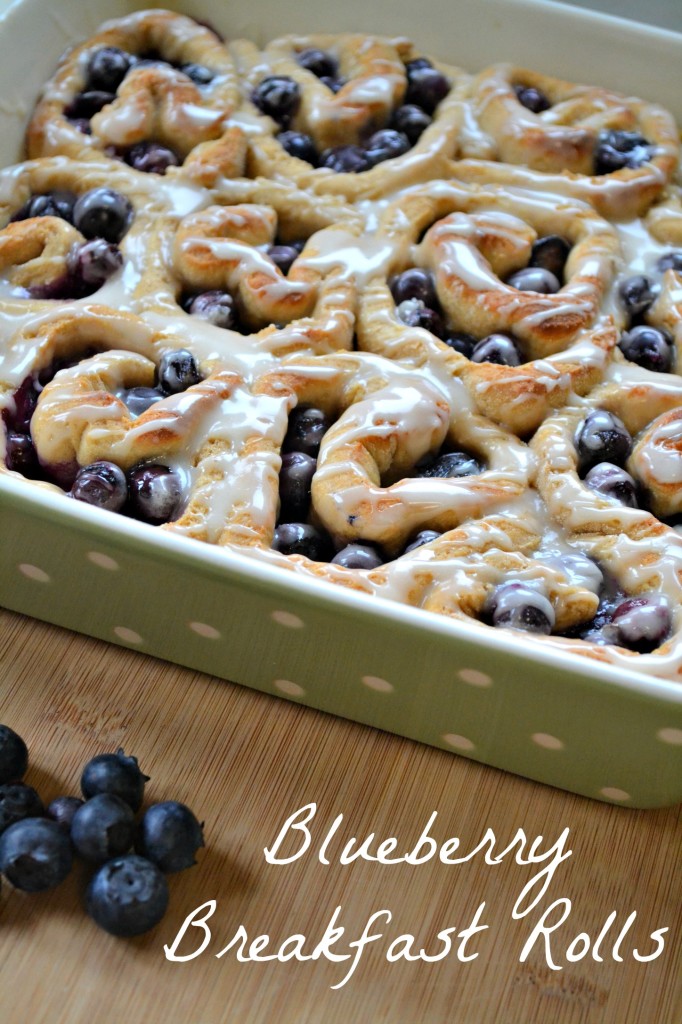 Don't be intimidated to try this recipe, I know "yeast" listed as an ingredient in recipes used to have me clicking away rather quickly, but let me tell you yeast is easy to use! We use a pinch of sugar to activate yeast in warm water, put it in your dough within 5 minutes of activating and your golden. When it comes to that pesky "rise" step, that's not hard either. We just purchased a new oven that proofs for us, so it's even easier. If you're not lucky enough to have a "proof" setting in your oven you could use a warm sunny spot in your house, a spot next to the heater works great in Winter, or set your oven to 300* count to 10, turn it off and place your rolls in the oven. Just make sure your baked goods are out of reach of toddlers and dogs! That's it, easy-peasy. It's not as scary as you think, just dive in and try it. This recipe is pretty simple because you only have one rise.
Here's a picture of the rolls before rising, AJ loved this picture because you can see the pan being filled in live action. I probably could have made a fun gif. if I knew how.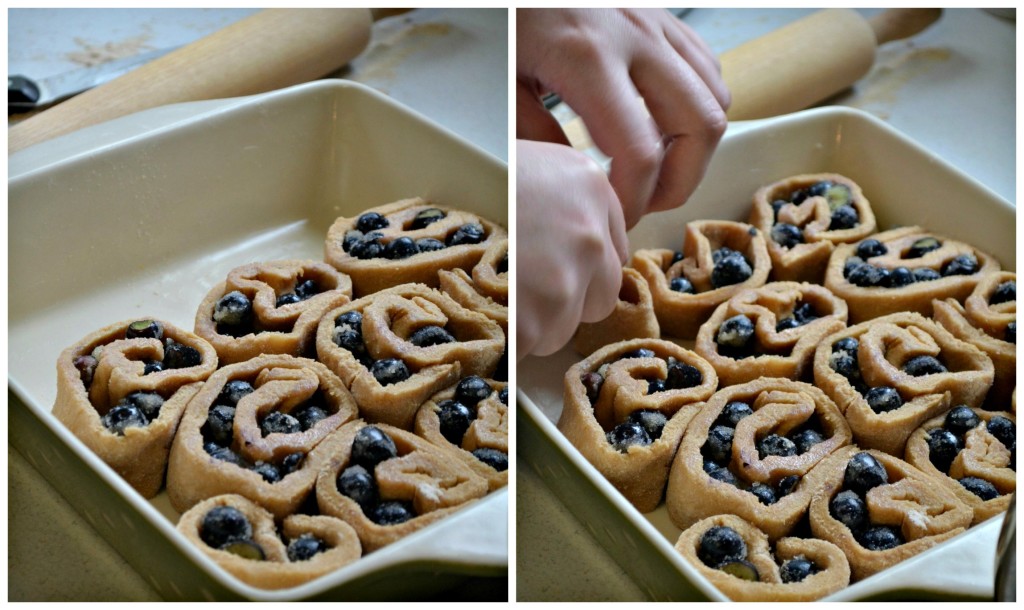 Here are the rolls after rising. You can definitely see the difference.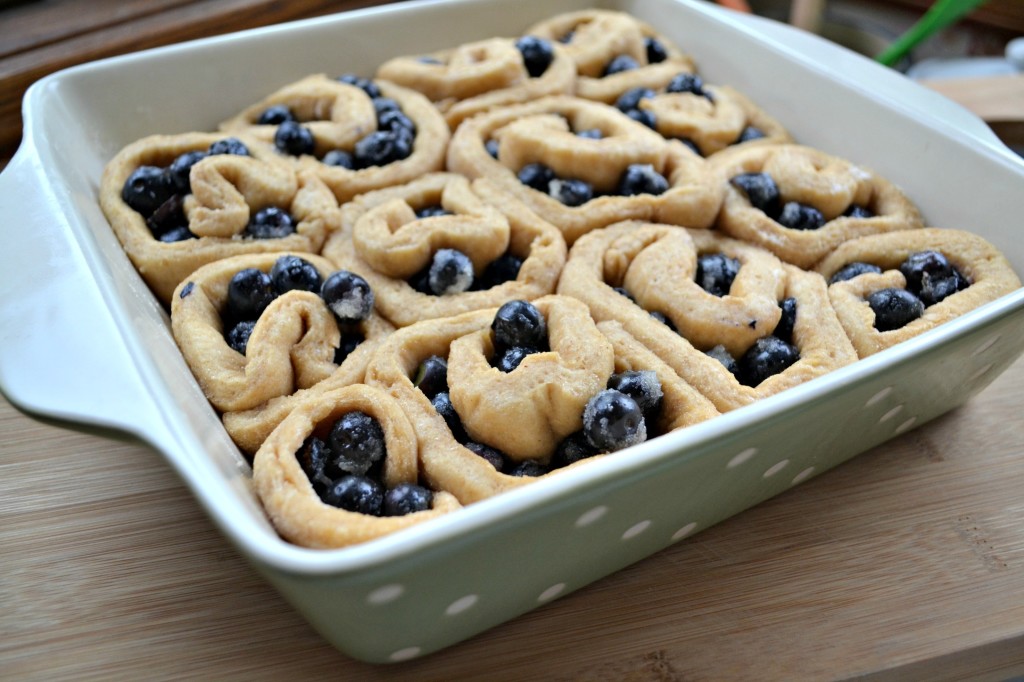 This is what they look like after being freshly baked and waiting for a coat of icing. They look good to eat as is though!
I'd have to say one of the hardest parts about being a foodie and a blogger is having to edit photos and write about delicious goodies, normally a day or so after the very last one was consumed. In this case, AJ and I finished up every last crumb of blueberry breakfast rolls for dessert last night. We topped it with homemade raspberry cheesecake frozen custard. When you make this recipe you better hope you have leftovers to serve with frozen custard or ice cream for dessert the next day because oh my goodness, that was like a piece of Heaven with each bite.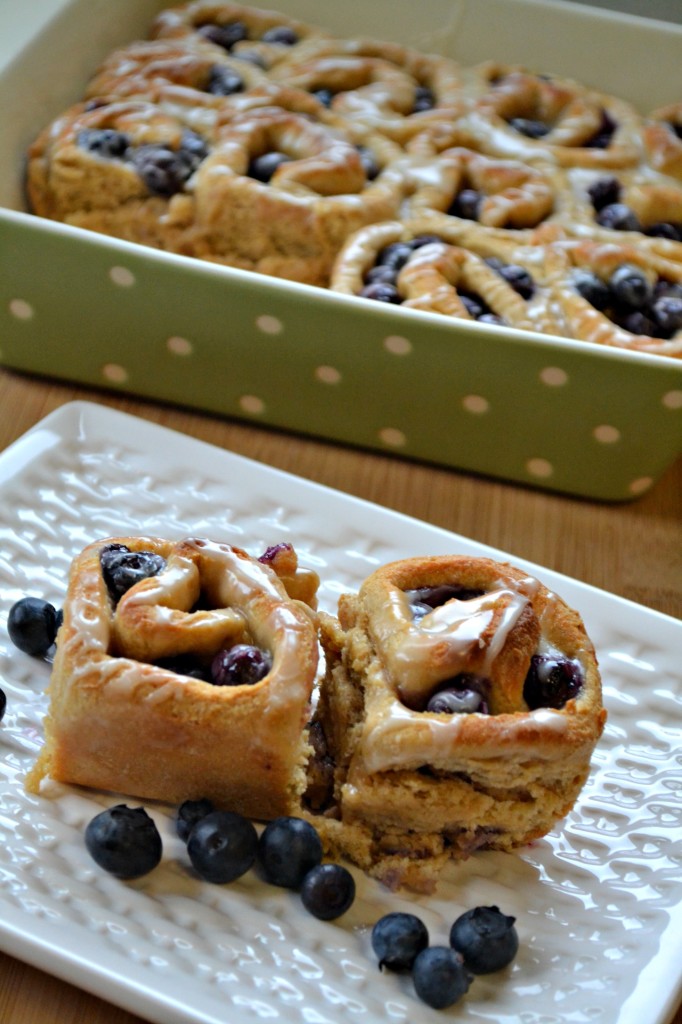 These would be fun to serve topped with ice cream for a BBQ too, blueberries make this the perfect Summertime dessert.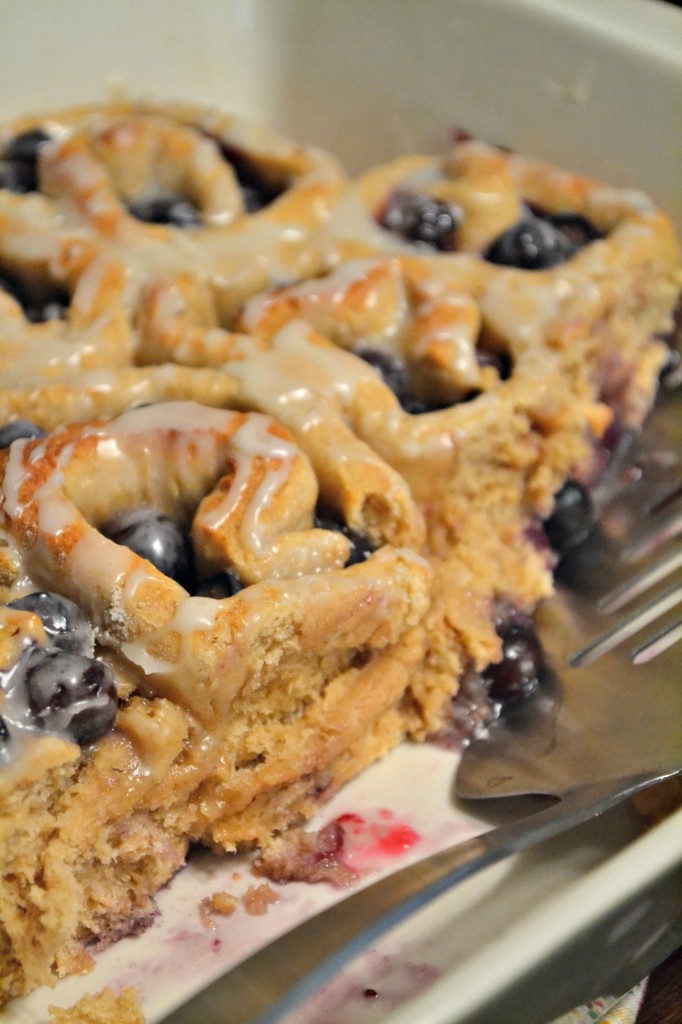 Speaking of BBQs raise your hand if you went to at least one last holiday weekend? We hosted our own BBQ featuring grilled barbecue ribs and then went to a friends' for a BBQ the next day. It was so nice to have a little family vacation.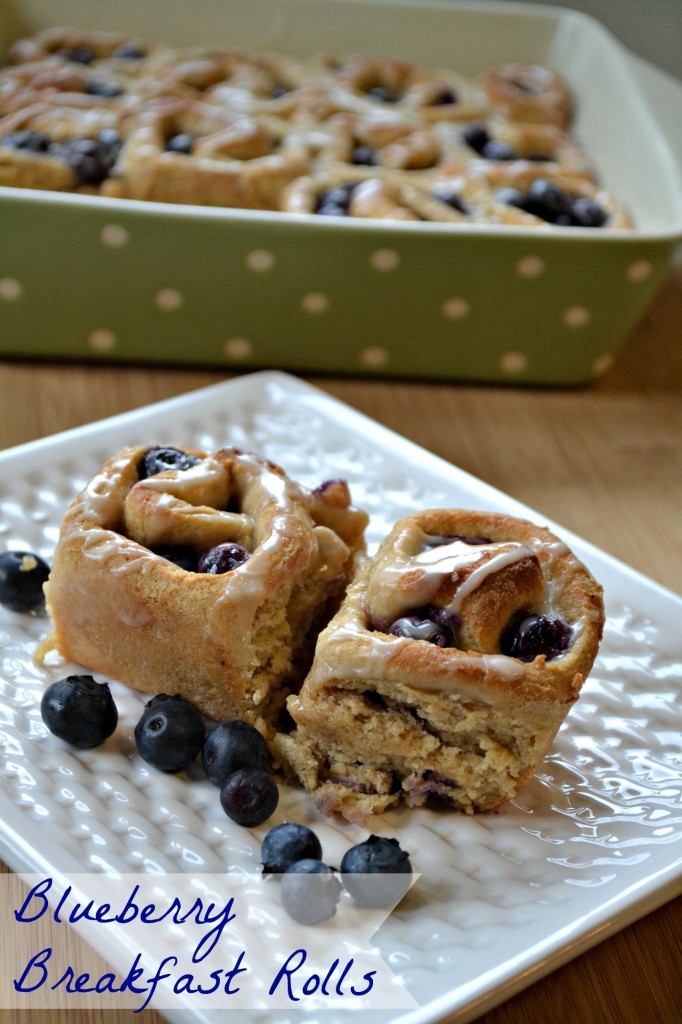 | | | |
| --- | --- | --- |
| Blueberry Sweet Rolls | | Print |
Ingredients
2 ½ cups flour
3 Tablespoons sugar
1 teaspoon salt
2 ¼ teaspoons active dry yeast
¼ cup warm water
½ cup milk
3 tablespoons butter, melted
1 egg

Filling
1 ⅓ cup blueberries
¼ cup sugar
1 teaspoon cornstarch

Glaze
1 cup powdered sugar
2 Tablespoons milk
1 teaspoon vanilla
Instructions
Mix filling ingredients in a medium sized bowl, cover and refrigerate.
Activate yeast by sprinkling in ¼ cup warm water, you can add a pinch of sugar to help the process along.
In a large bowl, mix together flour, sugar and salt.
Add milk, melted butter, egg, and activated yeast mixture to dry mixture and stir until consistency of dough, don't be afraid to use your hands to combine the mixture really good. Let dough rest for 10 minutes.
On a floured countertop roll dough out into a ¼ inch thick rectangle.
Pour filling over the dough and spread out evenly.
Roll the dough lengthwise as tight as possible.
Cut into about 12 rolls, use the knife in sawing motions to prevent squished dough. I guarantee you'll have blueberries rolling all over the counter, just set them aside.
Place each roll into a greased 9 inch square baking dish. Tuck the rogue blueberries into the rolls that could use a few more blueberries.
Cover baking dish with plastic wrap and let rise in warm spot for about an hour, or until doubled in size.
Remove plastic wrap, heat oven to 375* and bake the rolls for 25-30 minutes, until lightly browned. If your rolls are getting too brown too fast you can cover them in foil for the last 5-10 minutes of cooking.
Meanwhile, mix your icing in a small bowl.
Allow your rolls to cool for about 5 minutes before smothering them in glaze.
Serve warm.
Are you intimidated by yeast? Or do you have another ingredient that you're afraid to use? Let me know in the comments!
Written by, Brittany, the geek behind the blog. I share lots of recipes, my thoughts on the latest tech gadgets, my favorite geeky games, and snippets of life as a Work-at-home mom.