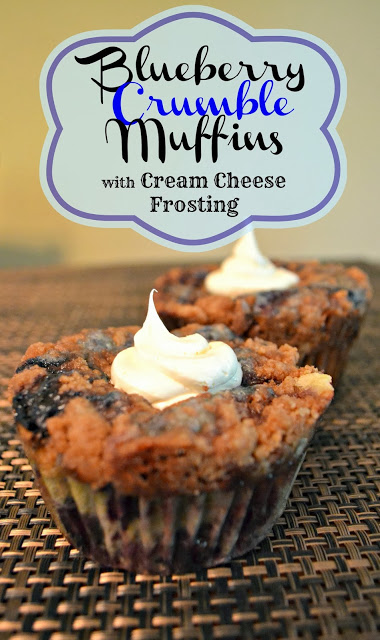 Blueberry muffins are one of my all-time favorite treats. They're a great "breakfast dessert" as we like to call it in our house. 
After I made strawberry muffins earlier this Summer, I knew I could make delicious blueberry muffins too. All good blueberry muffins need two things: to be incredibly oversized, and they require a yummy streusel topping.
I might have taken my blueberry muffins recipe a step further and topped them with a dollop of cream cheese frosting. It basically rocked my world. I don't think I'll be able to eat a "naked" muffin again.  
Here's my blueberry muffin recipe, I hope you love it as much as we do! 
Blueberry Crumble Muffins with Cream Cheese Frosting
Ingredients
1 1/2

cups

flour

1

cup

sugar

1/2

tsp

/

salt

2

tsp

baking powder

1/3

cup

vegetable oil

1

egg

1/3

cup

milk

1

tsp

vanilla

1

cup

fresh blueberries Cream Cheese

Frosting

1/2

cup

white sugar

1/3

cup

flour

1/4

cup

butter

1 1/2

tsp

cinnamon
Directions
Preheat oven to 400* and line muffin tins with liners.
Combine flour, sugar, salt, and baking powder.
In seperate bowl mix vegetable oil, egg, milk, and vanilla. Pour mixture into dry ingredient and stir well.
Fold in blueberries, fill cups all the way to the top with batter.
In food processor combine topping ingredients. Sprinkle topping evenly over batter.
Bake muffins for 20-25 minutes.
Wait until almost completely cooled, pipe on frosting. Enjoy!
I hope you enjoy this delicious blueberry muffins recipe!