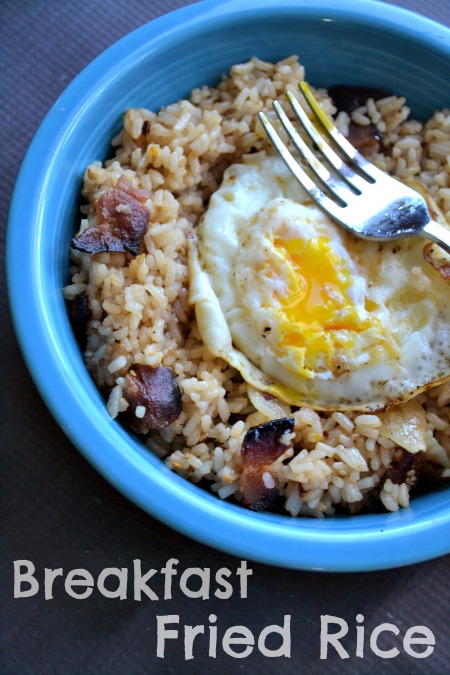 Our daughter loves rice, it is one of her favorite things and she likes to eat it plain, just a bowl of rice, a spoon, and she is a happy girl. She also loves fried rice and rice in basically any form so we asked her one morning what she wanted for breakfast and she said rice. Brittany and I laughed a little bit and then she looked at me with the "I have an idea look" and said how about fried rice and that is where this breakfast fried rice recipe came from.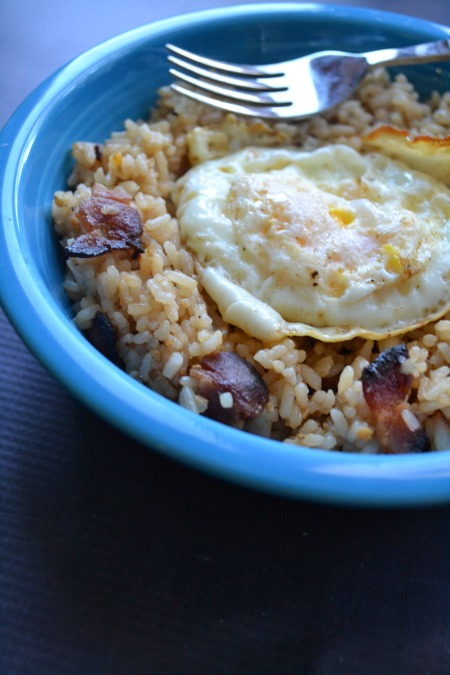 So we she got out the rice and I started frying the bacon, chopped some onions, and got the eggs out. We almost always have a nice big breakfast in the morning with lots of proteins so that we are not hungry again by 10 am. Bacon eggs and toast are usually what we have every morning and on special mornings we make our Best Ever Breakfast Potatoes which are exactly what their name says, they are the most delicious breakfast potatoes in the world!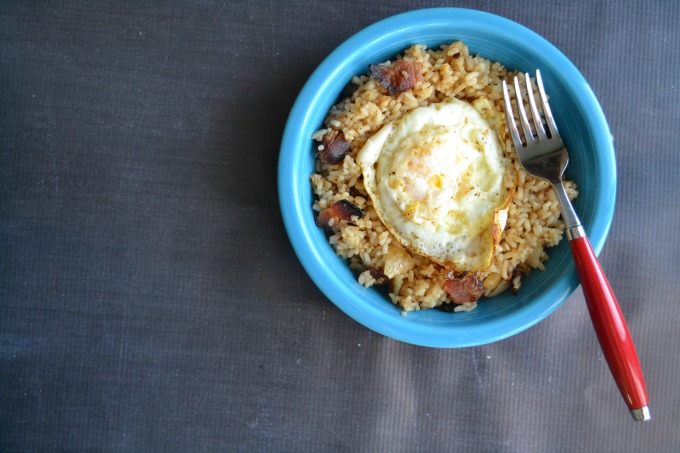 This is a simple fried rice recipe that includes bacon, onions, and a fried egg served on top just the way you like it. There are some red pepper flakes to give you a little kick to get you up and off to a good start for the day. If you have leftover rice you can use it up for a delicious breakfast dish! This was a great way to start off our day and really delicious as well. We are really glad our daughter is a rice fanatic otherwise we would never have thought of this awesome breakfast fried rice recipe.
| | | |
| --- | --- | --- |
| Breakfast Fried Rice | | Print |
Prep time:
Cook time:
Total time:
Ingredients
5 slices of bacon fried
1 TBS sunflower oil
¼ C onions chopped
3 C rice
⅓ C soy sauce
1 TBS toasted sesame seeds
¼ tsp red pepper flakes
Instructions
Fry the bacon
Add 1 TBS sunflower oil to a large skillet
Add onions and cook over medium heat until just tender
Add cooked rice, bacon, sesame seeds, soy sauce, and red pepper flakes, mix well and cook 5 min
Top with a fired egg if desired
I am the husband of the Geek and the beard behind the blog! I really enjoy writing about my family and all of my interests. I will be sharing everything from great grilling recipes to the perfect beer for the season.