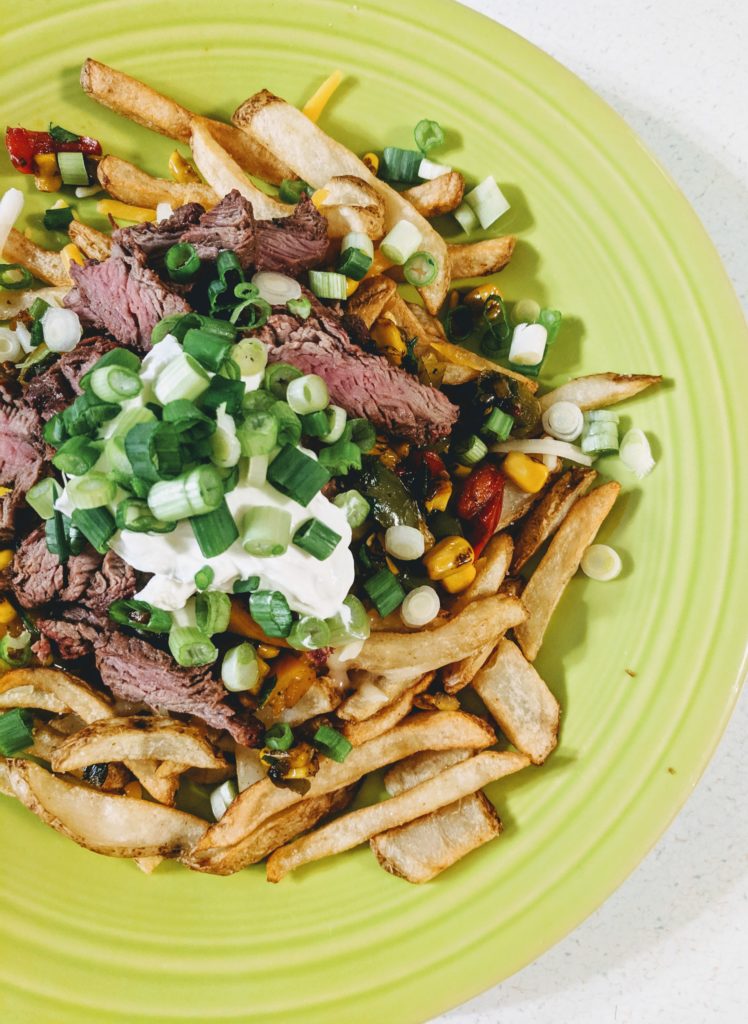 Recently Aliceana declared Tuesday's at our house Taco Tuesday's. The thing is, that as a family of 3 making tacos with all of the fixings just seems annoying. Tacos is a meal that you make for a crowd, so we've been making up different meals that have taco elements. We came up with a recipe for carne asada fries using ingredients from Trader Joe's and we've been eating it every other Tuesday ever since.
We love shopping at Trader Joe's the food is so convenient and delicous that you can make these fancy looking fries with very little prep. If you haven't tried the carne asada yet, you're missing out!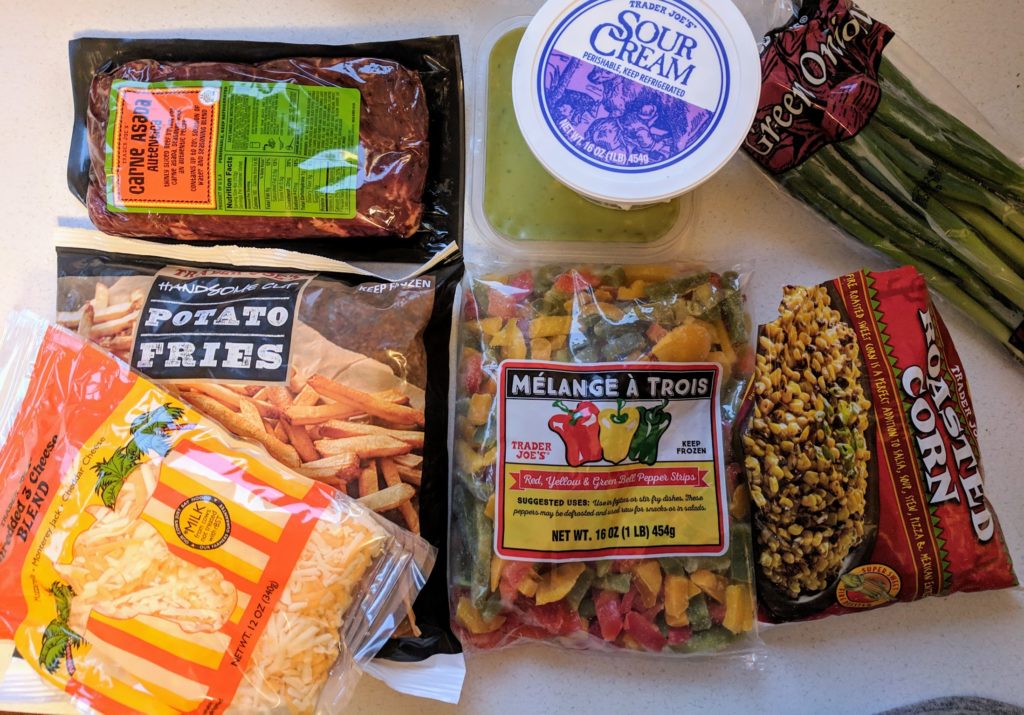 First we grill our carne asada according to the instructions, then we saute the entire bag of peppers along with half a bag of roasted corn with a little olive oil, I sprinkle Trader Joe's taco seasoning in the pepper and corn mixture, because I use that stuff in everything, be careful a little goes a long way with that spicy taco seasoning.
Meanwhile we cook the handsome cut fries in the air fryer to get extra crispy, and dice up some fresh green onions.
We cut the carne asada into strips and then we pack half of the meat and the peppers/corn mixture into the fridge to use in the best ever scrambled eggs the next morning. As a family of 3 that's way too much food for us, if you're cooking for a bigger family you'll probably use all of the meat and veggies, and I would recommend making 2 bags of fries.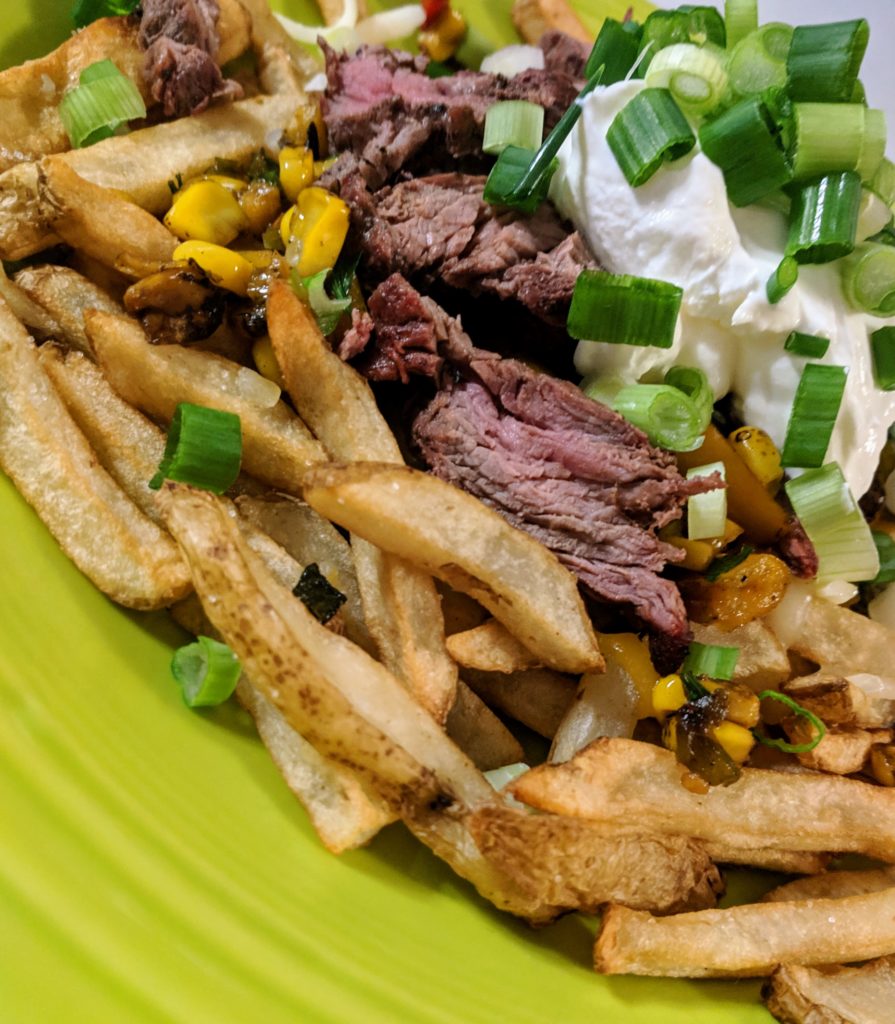 Now is the tricky part, lightning fast assembly so everything is still hot when it's time to eat. Quickly layer fries, shredded cheese, peppers and corn, steak, sour cream and/or guacamole and top with green onions.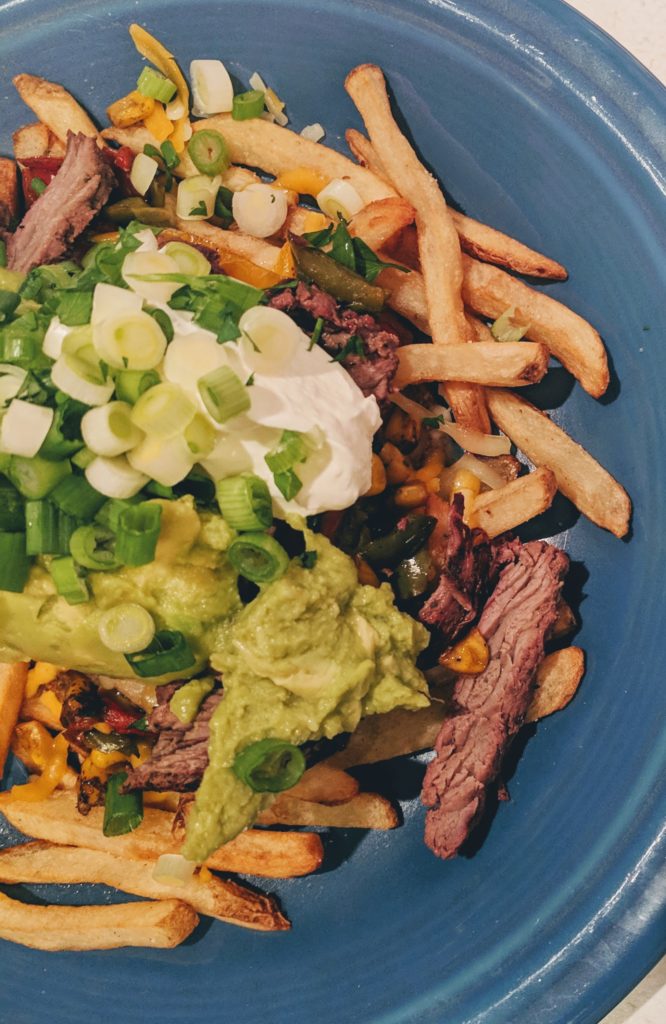 It sure makes for a fun taco Tuesday, I love how easy this is to make and how fun it is to eat. The official recipe is below, I used the actual amount of ingredients we would use if we weren't saving half of the peppers and corn for leftovers. If you're serving this for a bigger group I would double the recipe.

| | | |
| --- | --- | --- |
| Carne Asada Fries recipe with Trader Joe's ingredients | | Print |
Prep time:
Cook time:
Total time:
Ingredients
Handsome Cut Fries
Carne Asada
½ pound red, yellow, and green bell pepper strips
4 ounces frozen fire roasted corn
1½ cups Shredded 3 cheese blend
1 tsp taco seasoning
1 tablespoon olive oil
guacamole
sour cream
green onions
pinch of salt
Instructions
Grill carne asada according to instructions.
On the stovetop combine olive oil, peppers, corn and taco seasoning and cook on medium high for about 10-15 minutes.
Cook handsome cut fries in the air fryer or according to the oven instructions, add a pinch of salt to the fries right before they're done cooking.
Dice green onions and slice carne asada into strips.
Layer fries with cheese, pepper/corn mixture, carne asada, sour cream and/or guacamole and green onions.
Enjoy!
I hope you enjoy this recipe as much as we do!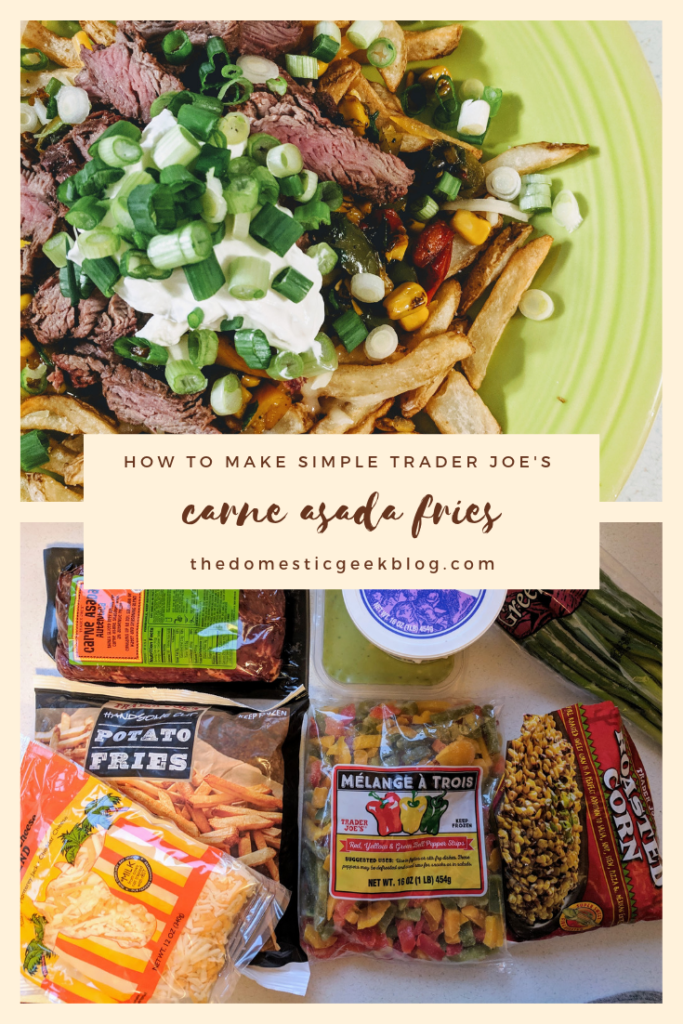 Written by, Brittany, the geek behind the blog. I share lots of recipes, my thoughts on the latest tech gadgets, my favorite geeky games, and snippets of life as a Work-at-home mom.