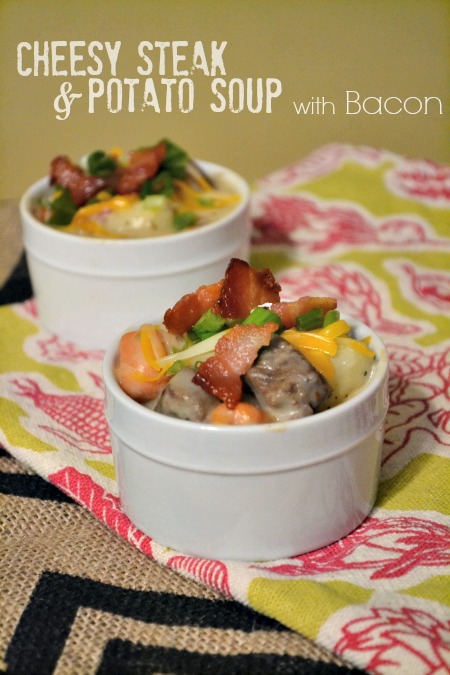 Recently my wife mentioned that she was in the mood for a potato soup and being the man that I am I misunderstood her and said "oh I can make potato chowder", she said no that is not what I want at all and I looked at her with a dumbfounded look on my face. She quickly and eloquently informed me that I was an idiot and did not know what potato soup was. She of course was right because they are always right, right guys? Anyway she searched in vain for a recipe to use as a guide to no avail so we set out to make our own cheesy steak and potato soup with bacon from scratch.
The only "potato" soup I had ever had, or what I thought was potato soup, was a potato chowder using flour and milk as a base. My wife educated me on the fact that most restaurants use mashed potatoes as a base for their soups and I really had no idea. Now if I had a sonic screwdriver I could have analyzed the contents and found that it was flour and milk, or potatoes as a base, yes analyzing food is what I would use a sonic screwdriver for all, the, time! So we made the mashed potatoes like you normally would, peeled of course to make the broth, and put them in the food processor and added milk until they were nice and smooth. This would become the base of our cheesy steak and potato soup.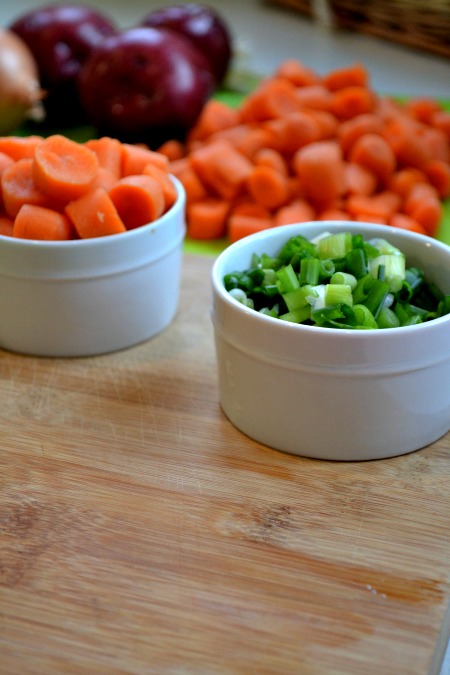 We had just recently received some venison so we used that in this soup but you can easily use a round steak and achieve great results as well. If you plan to cook your soup all day in a slow cooker then all you need to do is brown the steak lightly, if you want to cook your soup on the stovetop and have it done sooner, cook the steak to your liking first. Our soup also contained carrots, onions, bacon, and of course more potatoes. I told my wife after we had sat down to enjoy this awesome meal that I now understood why she wanted to make this so badly, it is literally potatoes with potatoes on top and anyone who knows my wife knows that potatoes and carbs are her favorite food group.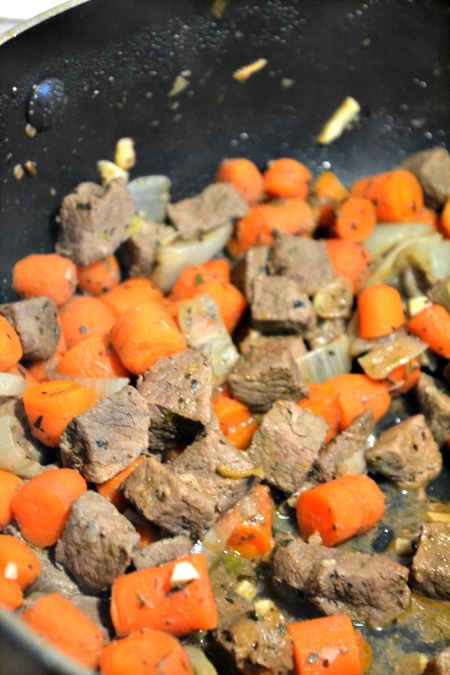 We ended up using an entire 5 pound bag of potatoes for this soup, half for the mashed potatoes to make the base and the other half to cut into chunks for the soup. I cut the steak into chunks and cooked it slowly in a frying pan with the carrots, onions, and bacon. Make sure you season the meat very well while you are cooking it, that is where the bulk of your flavor will come from. This was definitely the most flavorful cheesy steak and potato soup that I have ever had, we could not get enough of it so we were glad we made a big batch!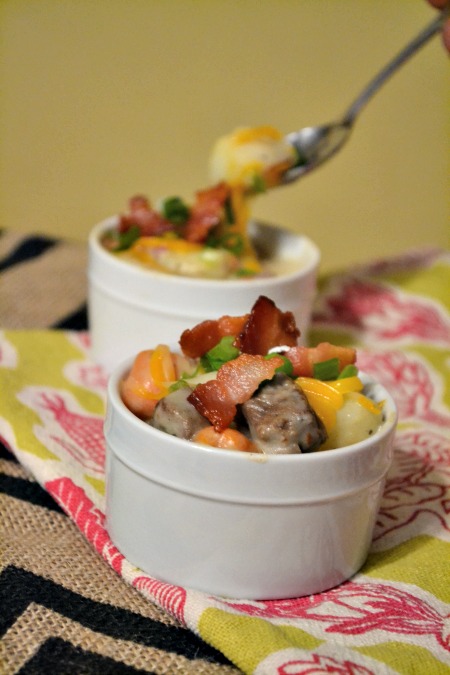 | | | |
| --- | --- | --- |
| Cheesy Steak and Potato Soup with Bacon | | Print |
Prep time:
Cook time:
Total time:
Ingredients
5 Lb Red potatoes half peeled, half cubed
3 Cloves garlic chopped
1 Medium onion chopped
1 Lb steak (I use round steak or venison) cubed
24 oz Bag of baby carrots cut into bite sized pieces
½ Lb bacon Chopped
2 TBSP Butter
1 tsp Garlic powder
1 tsp Onion powder
1 tsp Basil
1 tsp Thyme
1 tsp Sea salt
½ tsp Hot paprika
2 ½ Lb Potatoes cooked and ready to mash
8 Cups milk
1 stick of butter
2 Cups shredded cheese
Instructions
Peel half of a 5 Lb bag of potatoes and quarter them, place them in a pot of water and bring to a boil, cook until soft enough to mash.
While potatoes are cooking chop 3 cloves of garlic, a medium onion, cube the steak, slice the carrots, and chop the bacon.
Add 2 TBSP of butter to a large skillet and set at medium low heat, once butter starts to melt add the garlic and onion, cook just until fragrant or 1-2 min.
Add the steak, bacon, carrots, and all the seasonings, continue to cook over medium low heat until the steak has browned. Again cook the steak depending whether you are using a slow cooker or want to cook it faster on the stove top.
Cube the other half of the potatoes while the steak is cooking.
Once potatoes are ready to mash, drain them and add half of them to a food processor with half a stick of butter and pulse until smooth, repeat for the other half.
Add processed potatoes to a large stock pot and add 4 cups of milk, mix well, then add remaining 4 cups of milk one at a time until desired consistency is reached.
Set on low heat over the stove to simmer and add 2 cups of shredded cheese (or more if you love cheese)!
Once your broth is at your desired consistency add the cubed potatoes, and the steak mixture and mix well to combine all ingredients.
Let it simmer on the stove for 30 to 45 minutes until cubed potatoes become tender or you can add it to a slow cooker on low and leave it cook until ready to eat. Enjoy!
I am the husband of the Geek and the beard behind the blog! I really enjoy writing about my family and all of my interests. I will be sharing everything from great grilling recipes to the perfect beer for the season.