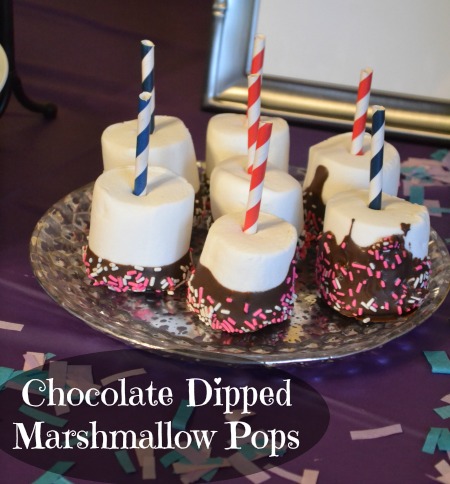 Treats for a kids party should be just as much fun to make as they are to eat and these chocolate dipped marshmallow pops did not disappoint! Besides that anything on a stick makes a great treat for a kids party.
 These are simply giant marshmallows that we skewered with paper straws, dipped in chocolate, and covered with sprinkles. We dipped the tops of the marshmallows in the melted chocolate and then held them up so the chocolate ran down the sides a little, then added the sprinkles.
 One of the best things about these simple treats is that you can use them for almost any occasion, birthdays, holidays, or any kind of get together where kids are the focus. Of course the adults also enjoyed them and there were none left after only a few minutes!
If there is one thing that I have learned since becoming a dad it is that sometimes keeping it simple is the best thing to do. You can go out of your way to make something extravagant and awesome that you think your 2 year old is going to love and then she is just like meh. Dip a giant marshmallow in some chocolate, throw on some sprinkles and she giggles with joy!
Chocolate Dipped Marshmallow Pops
Ingredients:
1 Bag Extra large marshmallows
8 oz Confectioners chocolate
Paper straws
Sprinkles for decorating (optional)
Directions:
1. Melt chocolate in microwave safe container for 45 seconds at a time, stir in between until melted.
2. Skewer marshmallows with half a paper straw.
3. Dip in chocolate add sprinkles and place on parchment paper to dry. Enjoy!