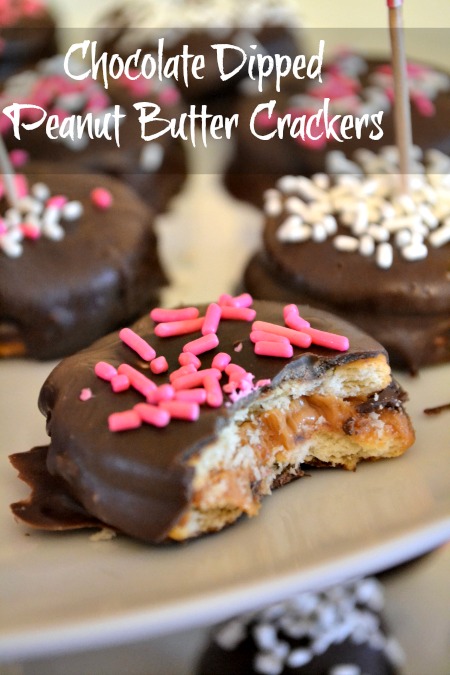 Sometimes it's the simple things in life that can bring us the most joy. These chocolate dipped peanut butter crackers are very simple and easy to make but are deliciously addictive and can be made with both white chocolate and milk chocolate.
They are very simple to make but they have such a good peanut butter and chocolate flavor. They are also very easy to decorate with sprinkles or icing. To make these all you need to do is take two crackers and make a peanut butter sandwich with them and then dip them in chocolate, decorate if you wish and then place them on parchment paper to harden.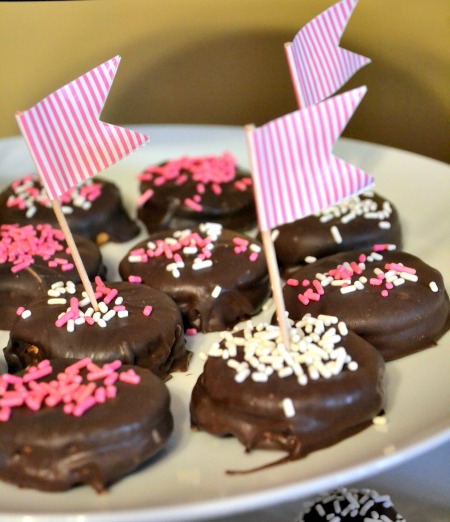 You should use confectioners chocolate or baking chocolate for making these chocolate dipped peanut butter crackers. We get the 1 pound blocks of chocolate and make a few different things at a time that need to be coated in chocolate and these are perfect for using up any leftover chocolate. If you get the 1 pound block of chocolate the best way to melt it all is by grabbing a hammer and breaking it into smaller chunks and then put it in the microwave for 45 second intervals stirring between each until it is melted.
My grandma used to make these every year for Christmas and I remember them well because I used to eat them like crazy! They are very simple and easy for anyone to make but they will always be special to me since it was one of grandma's signature goodies. We had leftover chocolate while we were making other stuff and I told my wife we could make these to use up the chocolate. She told me that if my grandma liked to make them then they must be awesome. She is definitely addicted to them now and they will disappear very quickly.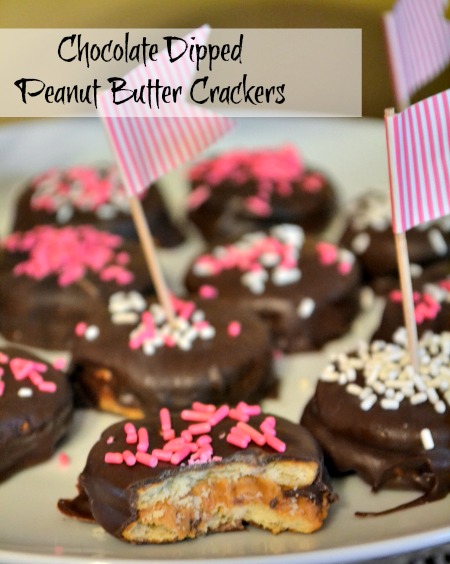 | | | |
| --- | --- | --- |
| Chocolate Dipped Peanut Butter Crackers | | Print |
Ingredients
8 oz Confectioners chocolate
1 Box Round Ritz type crackers
8 oz Peanut Butter
Sprinkles for decorating (optional)
Instructions
Melt chocolate in microwave safe container for 45 seconds at a time, stir in between until melted.
Spread peanut butter in between two crackers to make a sandwich.
Dip in chocolate and place on parchment paper to dry, decorate (optional). Enjoy!
I am the husband of the Geek and the beard behind the blog! I really enjoy writing about my family and all of my interests. I will be sharing everything from great grilling recipes to the perfect beer for the season.