Our Father's Day was really great. AJ got home around 11:00 A.M. and Aliceana made him open his present (really, she found it on the floor and started unwrapping it herself almost as soon as AJ got home.) We spent most of the time hanging out outside as a family, just relaxing, and even listened to the baseball game on the radio. 
Then I made a rhubarb crunch pie (recipe for that later this week!) and we went over to my Father-in-law's for dinner and shared the pie. After we got home and Aliceana was asleep we watched a movie. It was a really nice, simple and relaxing day!
I bet you're wondering what I got AJ for Father's Day! First, since he's always on the road I framed a picture of AJ and Aliceana and backed it with velcro so he can display it in the back of his truck cab. 
Then for his main gift, I gave him two books called "Cow's Can't Quack" and "Cow's Can't Jump." These books are written by David Reisman and illustrated by Jason A. Maas. They're absolutely adorable, a quirky little twist to the normal animal sound books. 
Each page follows the same theme as the pages I have pictured below, "Cow's Can't quack." "…but they can moo." "Moose can't moo…" "…but they can…" and it keeps repeating with different animals.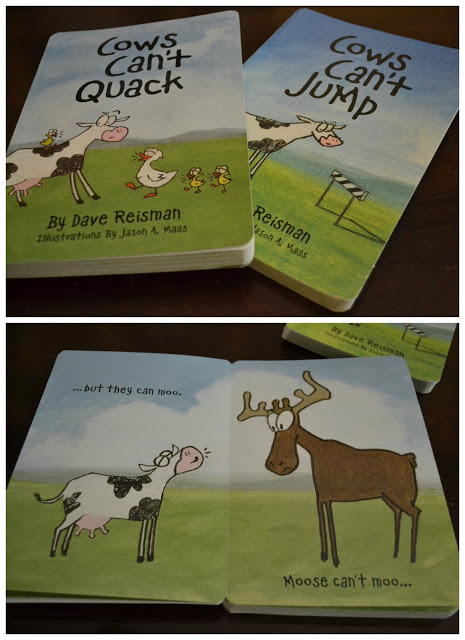 Aliceana loved looking at the pictures, when her daddy read to her. I was really excited to give these books to my husband for a gift to read with Aliceana, as he grew up on a dairy farm. I wrote in the card, "Now you can start teaching Aliceana all about cows (they can't jump, or quack!)"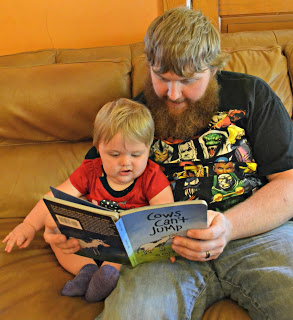 I also love that these books are available in both board books and paperback books. These would be great books for little ones who are just starting to read, they're a great length too (not too long, but not too short either!)
One lucky reader will receive signed paperback copies of Cows Can't Jump and Cows Can't Quack!