The reviewer has been compensated in the form of a Best Buy Gift Card and/or received the product/service at a reduced price or for free.
 I've always wanted a Dyson, the idea of a vacuum with great suction that never gets clogged. That's a vacuum I need in my life. When my Dyson DC59 Animal cordless stick vacuum arrived in the mail, the box that it was packaged in was smaller than my toddler. I didn't know if this little vacuum could handle vacuuming my house, it's only 4.65 pounds after all!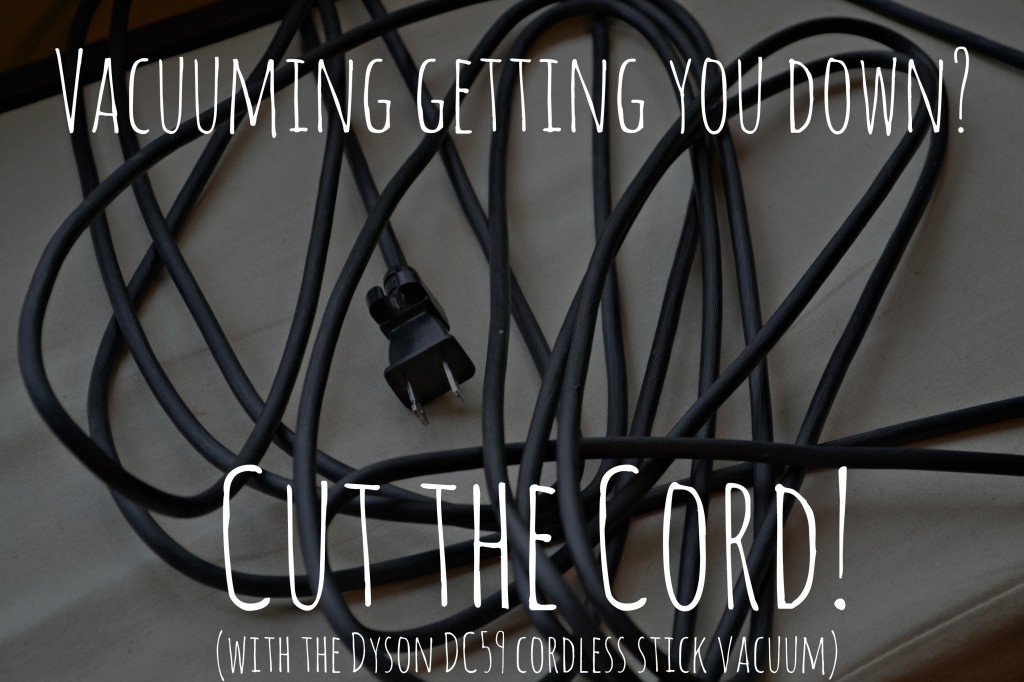 I definitely put it to the ultimate test, with two dogs and a toddler we've always joked that we need to vacuum multiple times a day to keep up. Now that I have this amazing little lightweight cordless vacuum I can finally keep the dog hair and messes under control. I can vacuum our entire house in less than 10 minutes, and honestly I look forward to it now. The suction and power packed into this vacuum is so great.
 I honestly didn't realize just how much time I could cut down from vacuuming just from having a vacuum that's lightweight and cordless. It's cut vacuum time in half (or probably a lot more.) I used to have to give myself a pep talk to motivate myself to get the old vacuum ready to go, now I just grab our Dyson Dc59 Animal from the battery charging station and the house is vacuumed before I can think twice about it.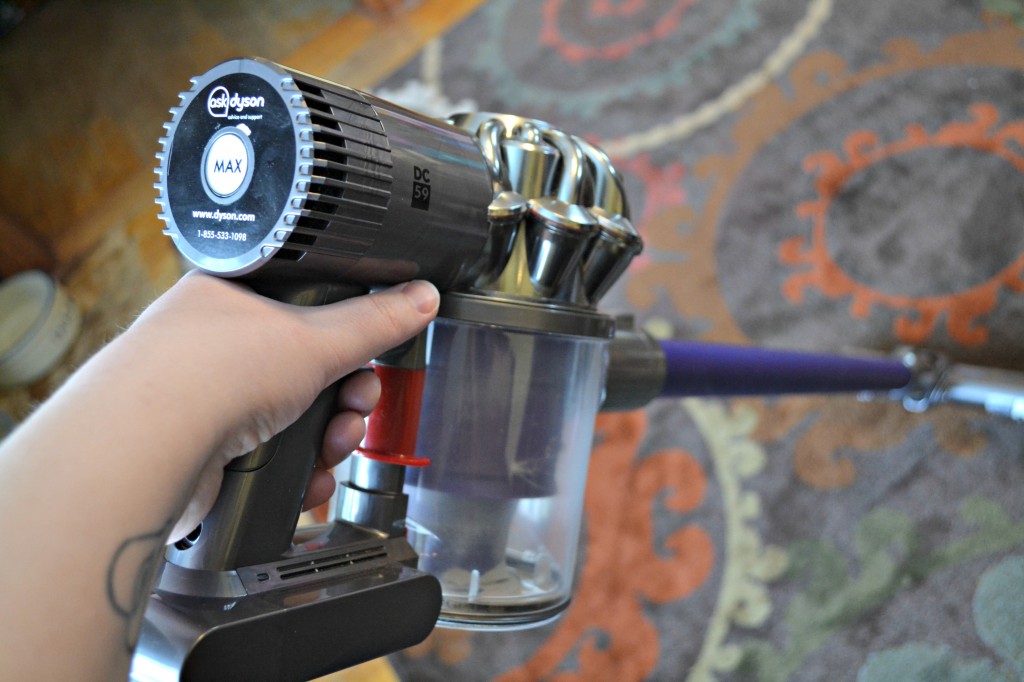 You'll get a 26 minute cleaning time on a full charged battery. When you're not messing with a cord or lugging around a heavy vacuum that's enough time to clean all 3 floors of my house and even get those pesky staircases! The vacuum is only activated when you push the trigger, so you won't waste the battery when picking up toys or moving furniture. The wall mounted charging station is so easy to install and simple to use. I mounted it outside our bedrooms so it's out of sight of visitors and this way I remember to vacuum our rooms on a regular basis.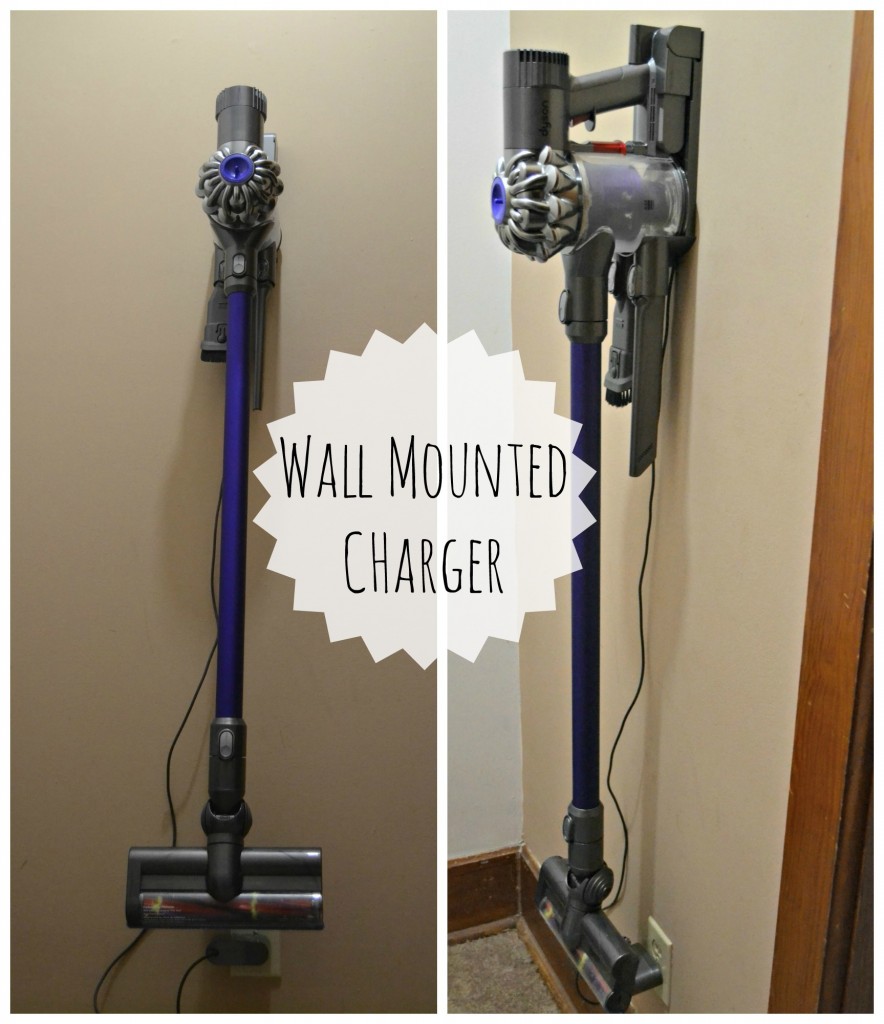 Speaking of furniture, the angles the vacuum can even get under couches due to the improved maneuverability from the smaller ball at the back of the attachment. The vacuum is balanced so you can easily reach ceilings as well. It also works great on all floor types; we can easily vacuum hardwood, carpet, and tile.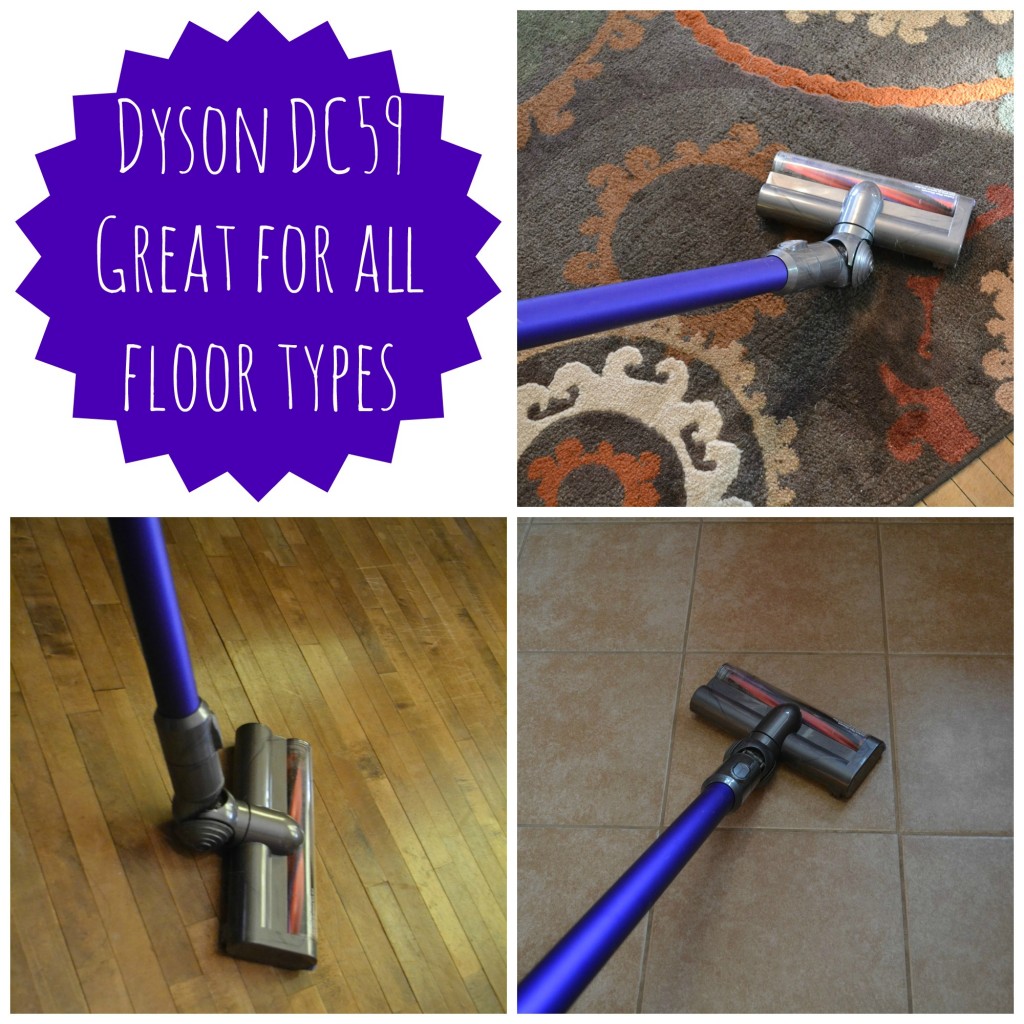 When it comes to emptying the vacuum, it takes one easy motion and it's mess free. If you do have a whole lot of hair that tangles around some of the attachments (I swear I shed as much as the dogs.)  You can easily take the brushes out of the attachments to get out those tangles. We untangled all of the attachments in about 5 minutes, It would have taken a whole lot of tools, made a mess, and taken forever to fix if we were dealing with a standard vacuum.
Here are the specs that you can share with your husband to help convince him that you need this vacuum in your life. (Which you do.)
3 times the suction of any other cordless vacuum in use
26 minute clean time
New V6 motor = 50% more power than V2; performs like an upright
2 Tier Radial Cyclone technology brought to cordless for the first time
Re-engineered brush bar for hard floor and carpet cleaning
Only 4.65 lbs
V6 motor, Spins at 110,000rpm (5 times faster than a Formula One racecar engine), 4-pole magnet that delivers 50% more power than its predecessor, V2, 3 times smaller than a conventional vacuum motor, 350 Watts.
Re-engineered nickel manganese cobalt battery. 1.5 times more power than its predecessor (same run time, however – the extra capacity is used to power the V6 motor) 3.5 hour charging time (vs. 5 hour in the DC44) Boost mode still available.
2 Tier Radial Cyclone technology, 15 cyclones, arranged across 2 tiers. Work in parallel to increase airflow and capture fine dustRe-engineered brush bar
Wider (approx. 10" vs. 8" on the DC44)
Improved maneuverability due to smaller ball at the back
Self-tightening mechanism keeps the brush bar stable
New configuration of carbon fiber filaments and nylon bristle tips to remove fine dust and dirt across all floor types
Extended neck for greater ease of use
Ergonomic updates; Soft-touch trigger is easier to hold (makes for longer clean time – people don't need to keep it on when moving furniture, etc. – less wasted energy) Handle now more comfortable to hold. Hygienic one-touch bin emptying, now on both sides (for lefties and righties). One push empties bin, 2nd push detaches bin completely for washing, etc. Pre-motor filter located at the top; now much easier to take out for washing.
The Dyson DC59 Animal is a must for every parent or dog owner. I can't believe how much time and sanity this vacuum has saved me already. You can purchase your own at Best Buy!
Tell me your favorite feature in the comments below!