I missed out on that whole dating app experience by a few years. I mean, unless you count using MySpace and MSN messenger to chat with AJ, which led to us going on our first date, and well, now I'm here 8 years later in our quiet home with our pets and daughter still snoozing while AJ's off at work for the day. It wasn't Tinder, but it was the digital equivalent in the 2000's.
It's not often that we go on date night anymore, but when we do there are some awesome apps to help out. I used the OpenTable app on my Samsung Galaxy S7 when we were on vacation and needed to find a place that we could get into last minute. It's seriously amazing for procrastinators. I teamed up with U.S. Cellular to bring you some fun apps to help with date nights, even if this is your ninth Valentine's Day together, it can still be fabulous.
It will definitely be better than that first Valentine's you had together when your better half threw out his back and you had to help him all day long while he played video games in bed. I mean, not that I know from experience. Love you hun.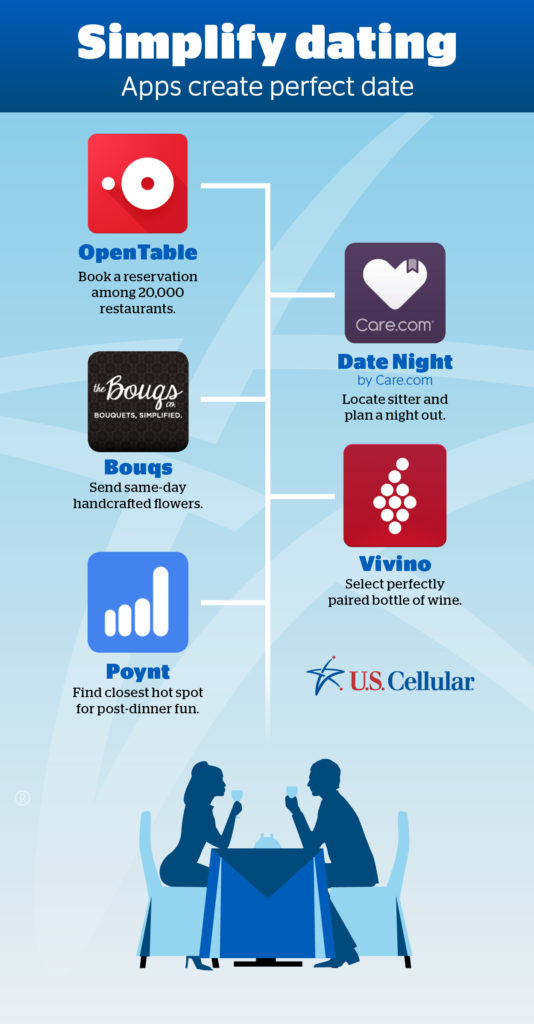 Use these apps for date night spots
• OpenTable is an essential app when planning dates, because it allows users to book a reservation at many restaurants in North America. The app also provides reviews and information about general aesthetics and appropriate attire. Users with Apple Pay can go cashless and pay with an iPhone device instead.
• Poynt is a great app to help maximize a night on the town and will make suggestions based on location. For example, if you want to grab drinks after dinner, Poynt will use location services to determine the closest hot spot for post-dinner fun.
Flowers, wine, or both?
• The Bouqs app allows users to buy flowers and have them delivered the same day, with on-demand delivery from artisan florists. This app also features a concierge service so consumers will never forget an anniversary or special occasion, as the app can automatically send flowers on selected special occasions.
• Vivino is a user-friendly app that can change how you select a bottle of wine or plan for a perfect meal. Just snap a photo of any wine label to reveal pricing, ratings, reviews and various food pairings.
Get a sitter!
• Date Night by Care.com is an excellent resource for hardworking parents who need a peaceful evening away from home. This recently launched app allows users to locate sitters in their area and then links to OpenTable and Fandango to assist in planning the perfect dinner and movie date.
Happy dating, and happy Valentine's day!