Today I'm getting really personal when it comes to technology and your kids, don't let technology be the elephant in the room. I work with U.S. Cellular #BetterMoments blogger brigade. You can get the free Parent Child Agreement here, to help keep your kids safe with their devices. All opinions and words are my own.
Not that long ago I was a teenager, and honestly, I did a whole lot of stupid things on the internet back in the days of MySpace and Instant Messengers (I'm talking the old school IMing like AIM and MSN Messenger.) It's terrifying to think of all the things I could do online as a teen when the whole concept of being online at home was pretty new, especially considering the only internet access I had was a PC that sat in our living room. I talked to strangers, posted where I was going alone with my friends ahead of time, and all of those scary things. I was even in on a social network consisting of everyone on webcams, which had super cool moments (You could listen to your favorite bands play acoustic sets in their living room, but of course also a great place for lurking gross perverts.)
I ended up meeting one of my best friends online, and met her in person *gasp* I was responsible and we had our parents there too, but that was honestly probably only because we had to drive 2 hours to get to our meeting point. I also planned a trip online that my mom did not want me going on, she didn't want me going to a concert, but I bought the tickets online and went anyway.
Oh, and I knew how to hide everything I did online, because that's what kids do. Not that I needed to hide it, my mom was clueless to everything I did online. It's actually pretty terrifying to think about the possibilities back then, and now to think about this mobile technology that kids can hold in their palm and new apps coming out on a daily basis.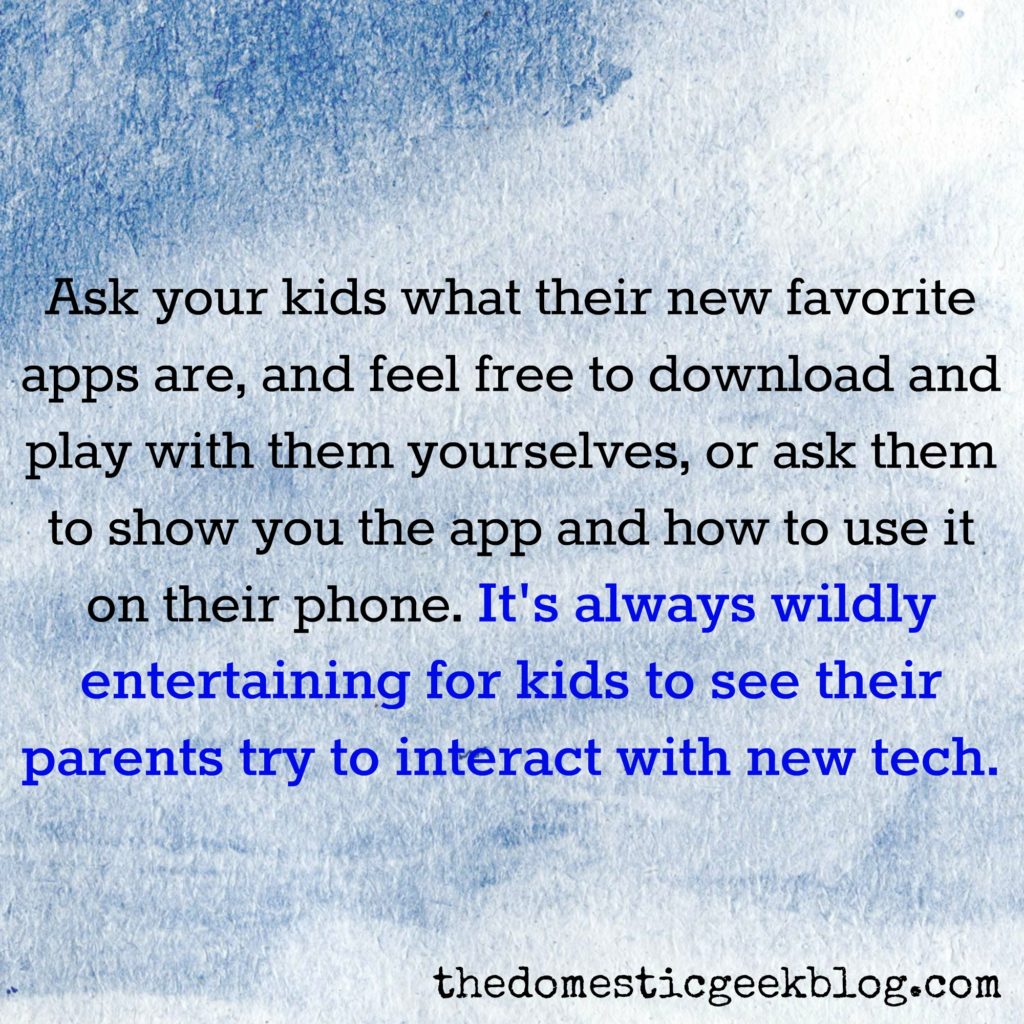 This is exactly why you need to talk to your kids about internet safety. You need to be proactive, and you don't have to grill them either, make sure technology discussions are always on the table and have fun with it. Ask your kids what their new favorite apps are, and feel free to download and play with them yourselves, or ask them to show you the app and how to use it on their phone. It's always wildly entertaining for kids to see their parents try to interact with new tech. Heck, just a couple weeks ago I was playing with Snapchat with a group of people only slightly younger than me, and I'm sure they got a good laugh out of it! (I still don't understand it.)
Make sure to set up some rules with your kids, make sure they're not sharing their location or checking into places, some apps automatically share your location and you really should change that in your settings. A good rule of thumb is to never let your kids share anything, whether it be pictures or just their thoughts on a status update, that they'll regret 10 years down the line, because they'll forget about it and those pictures or words could haunt them.
Facebook has this infamous Facebook memories setting that lets you see what you shared however many years ago, and oh man, is that ever embarrassing for me to see those things I posted when I was basically a kid. Spoiler alert, we used to use Facebook walls like they were private messages, and it got real weird, real fast with the inside jokes. A lot of times I'll actually delete the stuff that pops up, but that doesn't mean that there isn't a whole lot more where that came from, I have well over a decade of my history hiding in the deep dark depths of the internet.
So please, please make tech a topic that you talk about with your kids. You can even use the U.S. Cellular parent child agreement as a place to start the conversation. Don't let technology be the elephant in the room, make it a fun subject to talk about.
Have any questions about where to start? Ask away in the comments below!