Dia & Co. provided me with a sample box to facilitate this review. If you love what you see, you can order your own Dia & Co. box with one of the affiliate links throughout the post and I'll get a small commision. As always, all words and opinions are my own. 
If you keep up with me online, you'll know I recently lost 32 pounds. I'm still a 207 pound curvy lady though, and my old clothes are definitely not fitting me anymore. What does that mean for me? That I  still have to go shopping in the plus size section trading in my 18s for 16s, which means a lot of ill-fitting clothes and obnoxious patterns to sort through. Shopping for clothes XL or bigger is the biggest emotional rollercoaster ever and I'm not feeling up to it. That's why I was thrilled to try Dia & Co. they're boxes of clothes curated just for you, your style and your body shape.
Honestly, my expectations weren't any higher than going to the plus size section. I thought, well, maybe they'll send me a cute pair of jeans so I can at least avoid jean shopping, and I'll send the rest back.
You guys. I love everything they sent me. I've never felt more confident in my own skin. I want the Dia & Co. stylist to be my best friend and go shopping with me everywhere, because everything fit me great, they were pieces I never would have picked out for myself, and I look great in them.
Each Dia & Co. box comes with 5 items, I'll run through my opinions of each with you.
First I tried on the dark wash jeans and this amazing green top.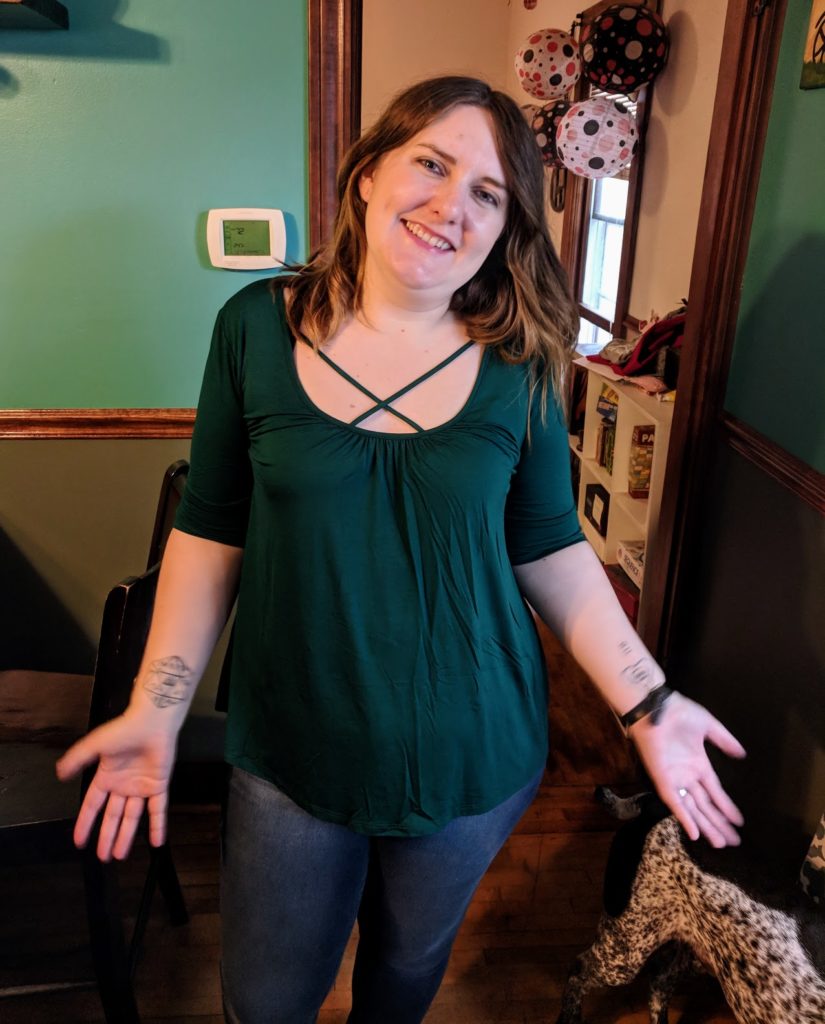 The jeans are a tiny bit big in the waist, but they fit me so good (and they confirmed that I went down a pant size, so I was in heaven.) The jeans are really soft and comfy and I love the look.
Let's talk about that green top. That deep green color is absolutely awesome for autumn and winter, I can wear it all season. The fit is fantastic, fitted at the top and in the sleeves, but baggy in the bottom. I'm thinking that's because I said my stomach is my trouble area when I requested a box. It's a little low cut and I never would have picked it out for myself, but I love it.
Next up we have this amazing cream and grey colored top.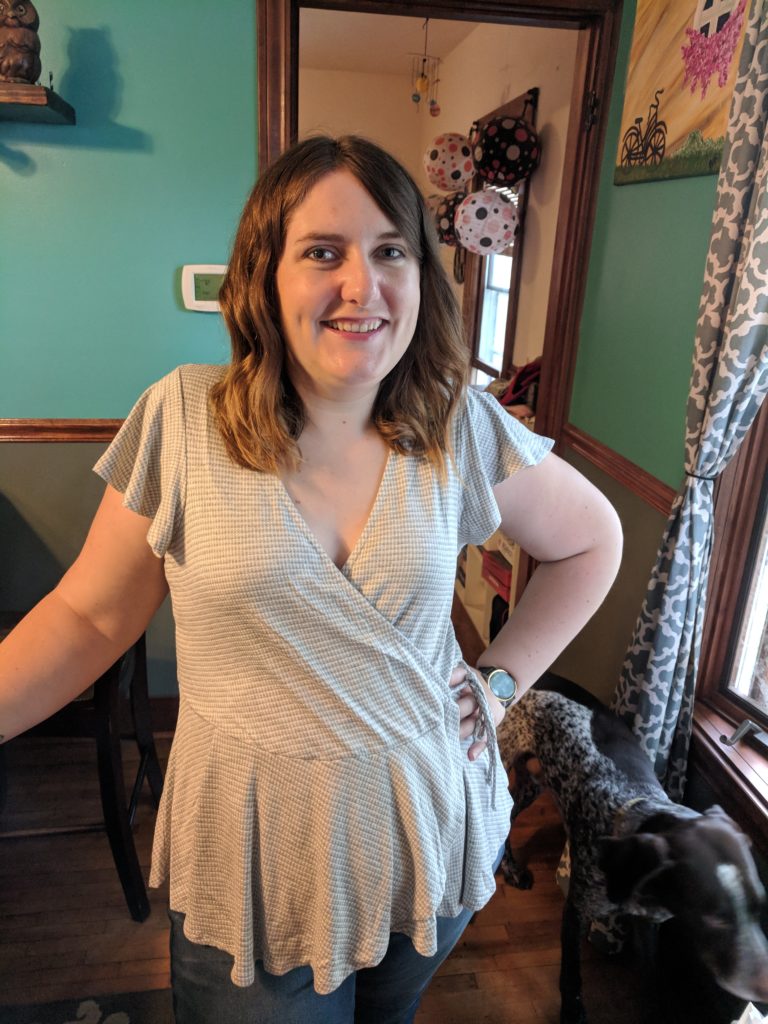 I love this one, I feel like this is a great top that says, "Hey, I'm a mom, but I also have a body and I'm cute." I told you this box gave me confidence. It's hard to find clothes that aren't too young or too old, and I love this top. The slight ruffles, the hiding of my deflated mommy tummy, it's airy and cute, but the low cut isn't hiding everything. I think this top will be so cute with a pendant necklace.
Next up a floral patterned skirt.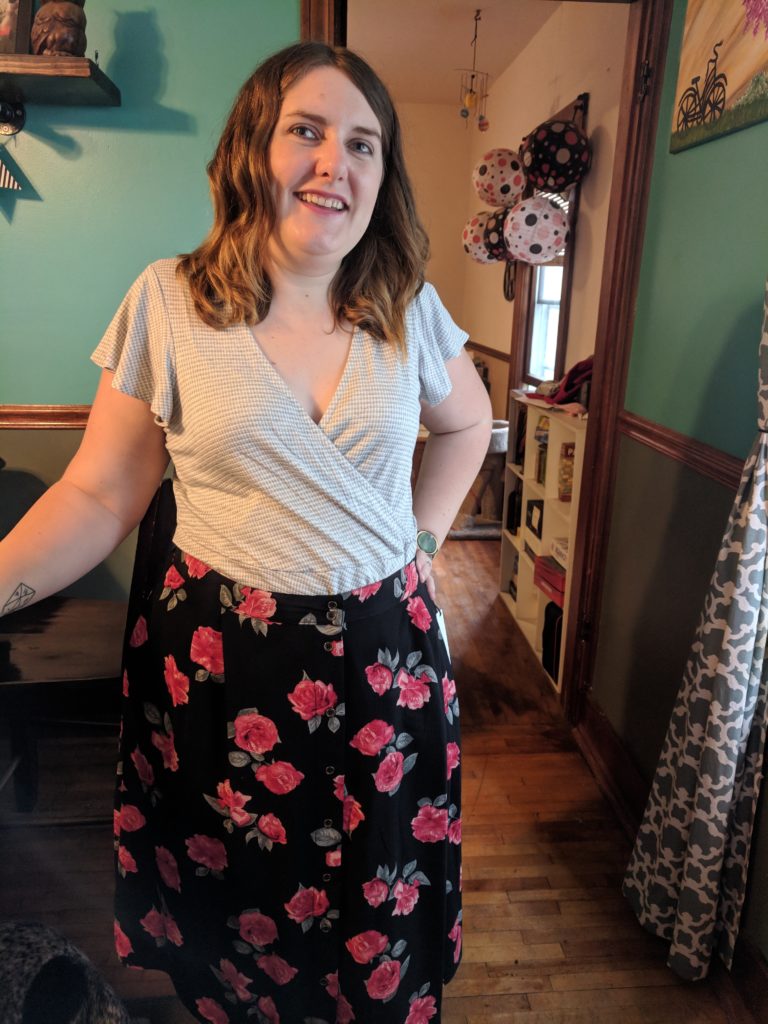 I'm not sure if you can see in the picture, but it has buttons all down the front which is adorable. The hem hits slightly below the knee, and it'll look so cute paired with some black boots this Fall.
My last piece was a leopard print dress.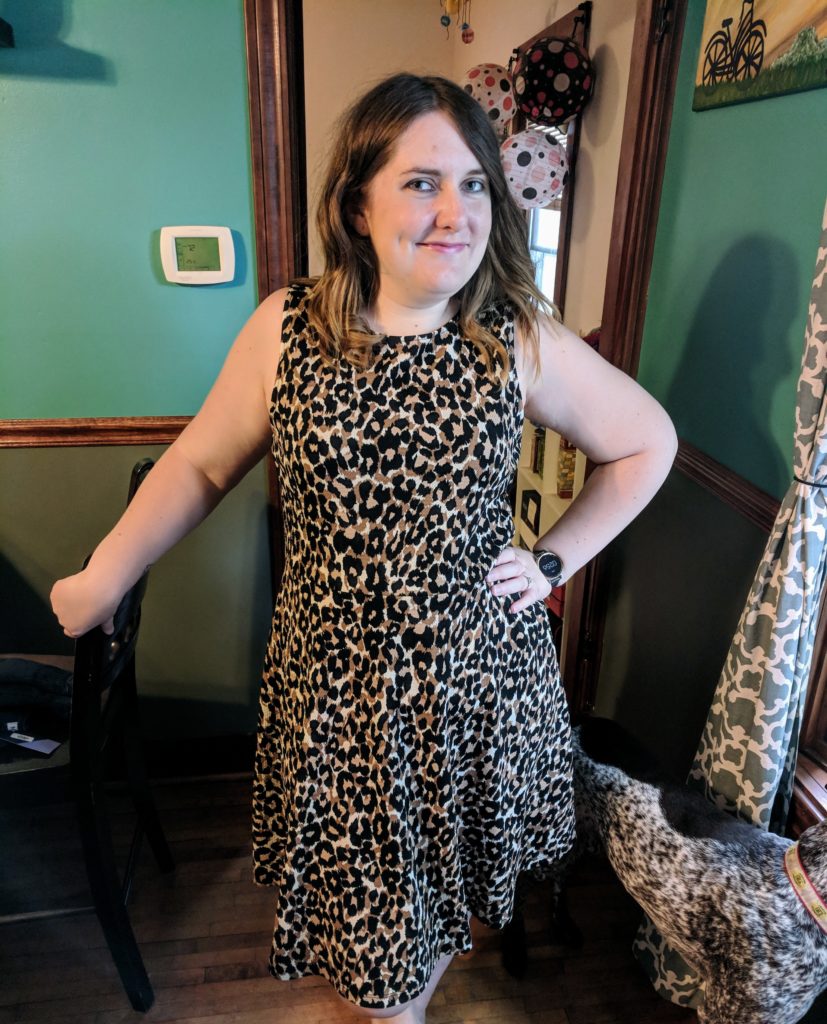 It's a perfect little A-line dress, I basically live in A-line dresses so this piece was definitely right up my alley. It's a bit of heavier material, perfect for layering this Fall and Winter. I think it would look great with a cute statement necklace.
How does Dia & Co work? You pay a $20 styling fee for each box, if you like what's in the box you can put that fee towards the clothes. If you don't like an item in your box, simply send it back with free shipping in the mailer included in your box. If you buy all 5 pieces you get 20% off each item. It's simple, the process made me feel great without going through the dreaded plus size section on my own. I definitely recommend you click this link and try Dia & Co!
Which of the 5 items that I received did you like the best? I personally love the grey top, it's so much fun I think I'll wear it today!
Written by, Brittany, the geek behind the blog. I share lots of recipes, my thoughts on the latest tech gadgets, my favorite geeky games, and snippets of life as a Work-at-home mom.