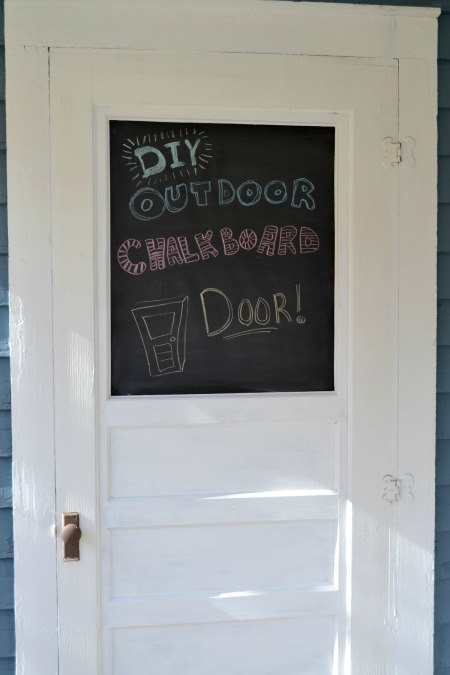 My big project this summer was repainting the outside of our house and as a final finishing touch I added a DIY outdoor chalkboard door. This door on our house is not a usable door, it leads into our living room and has not been used for many years so Brittany came up with the idea to paint the glass with chalkboard paint.
I spent almost every day off I had this summer power washing, scraping, taping, moving scaffold, caulking, and painting our house. It was a huge project and took way longer than I had hoped. I was told to power wash it and remove any loose paint, prime the bare spots and then paint away. Well about ten minutes into power washing as most of the old paint flew off the house I knew I was in for a long project. I started in June and finished at the end of August. I can definitely say that I will never paint a house again!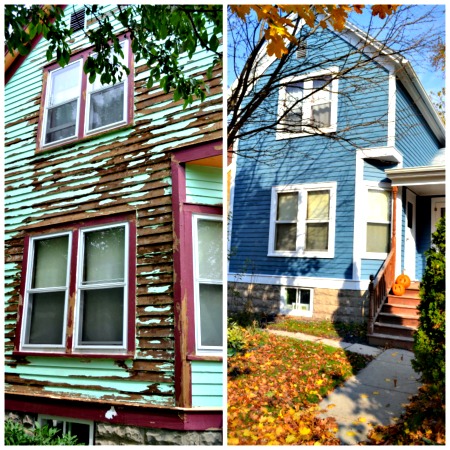 Adding the finishing touches, and finishing before it starts to snow, were the most fun aspects of this entire project! In the end our house went from a bright green monster to a nice blue and white that now includes a chalkboard door. This was super simple, I just taped off around the window and used a can of chalkboard spray paint, all you have to do is clean the glass, make sure its dry and spray! I sprayed two coats over the glass letting the first coat dry for 20 min, after the second coat remove the tape and let dry for 24 hours. After 24 hours take a piece of chalk and rub it across the surface using the side of the chalk to cover the whole surface, erase and it is ready for use.
I am not entirely sure why the house was built with two entrance doors but it has its annoying moments. When a door to door salesman comes to our house they knock on both doors. It is kind of fun to see their faces though, they knock on our door and we tell them we are not interested, then they knock on the other door and we answer it again. Most people think its a duplex and when they hang flyers we get two of them. Hopefully having this door painted with a chalkboard message on it will deter people but I'm sure there will still be some genius out there.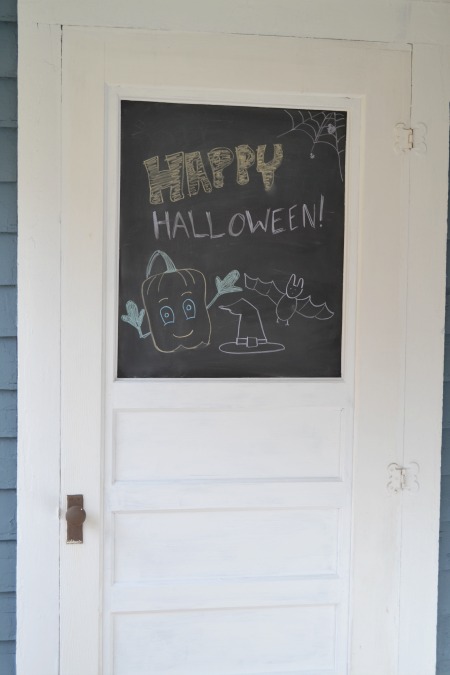 This is going to be a fun aspect of our house, from holiday messages to actual notes left for family and friends. We can leave a note for when grandma, who never answers her phone, stops by saying "hey we had to run to the store quick be back soon". Or the technologically challenged family members who don't text can leave a note saying "hey we stopped by and you weren't home". I might actually build a chalk tray to go under the window as well, I still haven't decided yet. What is your favorite fun or unique thing about your house?