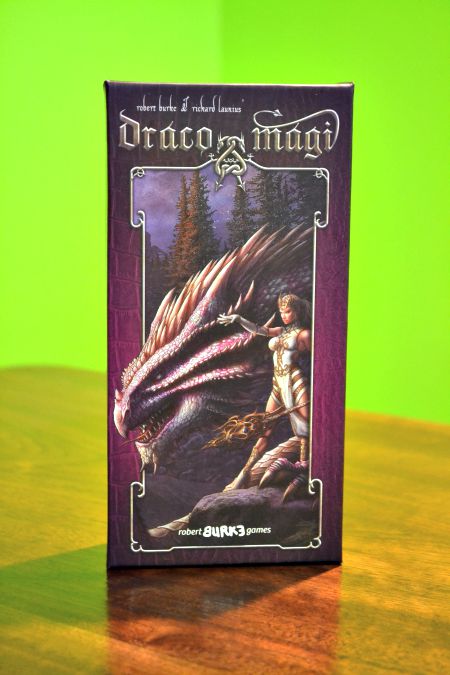 Draco Magi from Grey Fox Games and Robert Burke Games is a game for 2 players who each assume the role of dragon acolytes trying to compete for the title of ultimate dragon master.
The king of the dragons has died and someone needs to rise up and take his throne, will it be you? In this card based game you will command your dragons and assign them to various battlefields in order to fend off your opponents dragons.
 There are 2 different dragon decks, 2 battle decks that correspond with each dragon deck and an advanced battle deck. The game is played in a series of rounds and each round has 5 phases. It sounds long but once you get the hang of it things move along quickly.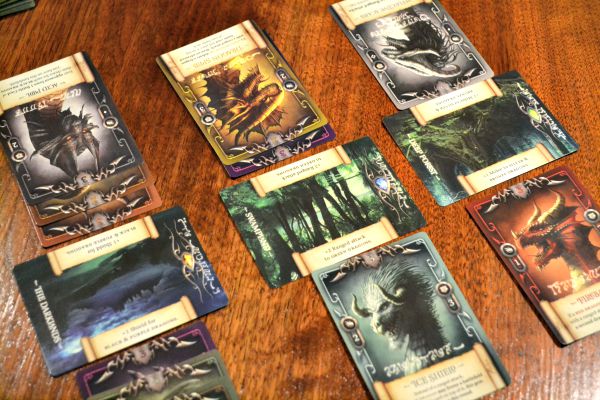 First you will command your dragons by taking turns placing them onto different battlefields that have been chosen at random and set in the center of the play area. Any ranged attack abilities that your dragons have are resolved as you play them, while their melee combat is saved for the next phase. You resolve all the attack and defense steps by drawing battle cards at random to see if you are successful.
This game is a great 2 player game because it is a pretty quick game and while combat may be resolved at random there is a good strategy aspect as well. Each dragon has different abilities that can give you an advantage and most of the battlefields also have modifiers on them. So placing the right dragon on the right battlefield can be very crucial to your success and there is a 3 dragon limit per battlefield.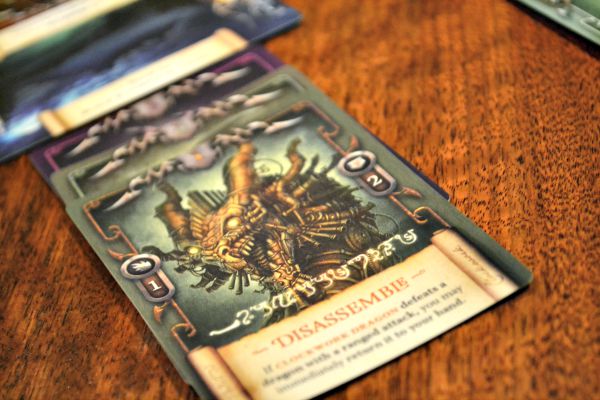 Like the ranged attack phase the melee combat phase is also determined by a hand of battle cards drawn at random. You will have to use the cards to perform various attacks in order to defeat your opponents dragons but they will also be using cards to defend with.
Attack combos can be made if you are able to match the symbols on your battle cards, you might be able to perform a claw, bite, and a magic attack all at the same time. This is important because each successful hit removes a dragon from the battlefield and each player can only have 3 dragons per battlefield.
So the player who can take out all of their opponents dragons wins the battlefield. If you win a battlefield you keep it because most battlefields has a gem on it that you add up for final scoring.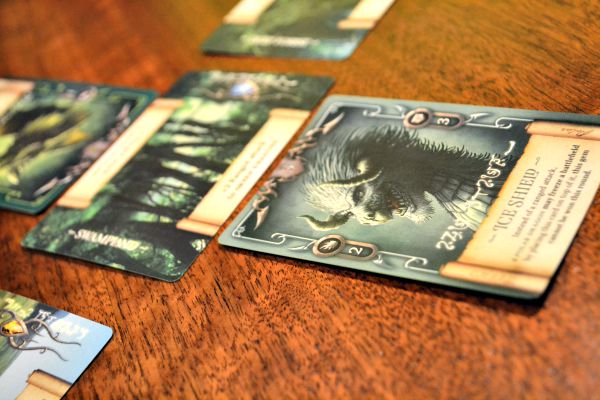 You continue to resolve battlefields one at a time until they are all resolved and then you set up new battlefields for the next round. Play continues this way until one player collects 3 gems of different colors, 3 gems of the same color, or 4 gems of any color. When one of these goals is achieved the game immediately ends.
We have been having a lot of fun with this game, the components are simple cards but the artwork is amazingly beautiful. The dragons are absolutely stunning. Draco Magi is a very beautiful game with simple components that is very engaging and fun all wrapped up in a nice small package.
We are really excited to hear that there is an expansion for this awesome game live on Kickstarter right now. There is only a week and a half remaining to back this awesome project so please go and do it! The new Draco Magi Expansion adds 24 new dragon cards, 8 new battlefield cards and new drafting and deck construction rules. There are also some really cool add ons, if you decide to back the project you can also add things like beautiful playmats, and even a sound track to play as background music for your epic dragon battles! So please go and check out the Draco Magi Expansion Kickstarter.

Watch our short review:
Watch our unboxing video:
How big is your party?
Draco Magi is a game for 2 players only.
Will Draco Magi collect dust?
Like all of our 2 player games Draco Magi is really fun and if you are like us and play games mostly with one other person it will definitely not collect dust it is a great head to head battle game.
Is it worth my precious gold?
Draco Magi is worth every penny just because of how amazing the dragons look, seriously they are that beautiful! If you love two player games, or games with battle mechanics, you should probably just get yourself a copy of Draco Magi!
How much of a geek do I need to be?
Draco Magi is definitely in the medium category for geekiness. The mechanics of the game are a little heavy for casual gamers.
How many fortnights is this adventure?
The box lists a time of 30 min, we have not been able to complete a game in that amount of time. Probably because we strategize too much and put more effort into placing our dragons than there really needs to be because neither of us can stand the idea of the other winning any game!