Can you believe that I have never tasted a slice of blueberry pie? Blueberries were on sale, and well, doesn't that always mean it's time to try a new recipe?
I did some digging and found our family recipe for blueberry pie. I was a little unsure if cinnamon should really be used a an ingredient in this pie, but it was amazing. Cinnamon and warm blueberries is the perfect flavor combination.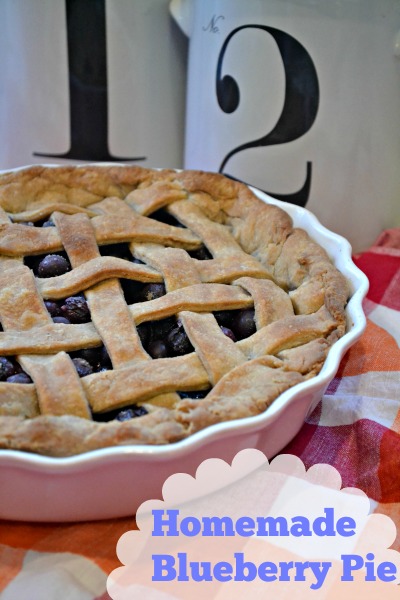 I have to say, for this being my very first blueberry pie. It was delicious.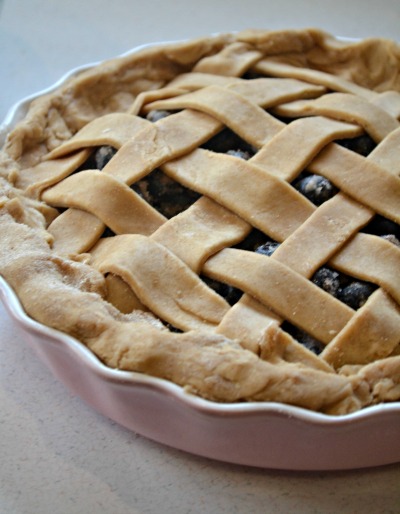 Since we're talking about firsts, this was my first time taking my four ingredient flaky pie crust and making it into a pretty lattice weave! That was way easier than I thought it would be, and it turned out so pretty. It would have looked a little better if I had cut the strips into equal sized strips, but eh, my guesstimations gave it character, right?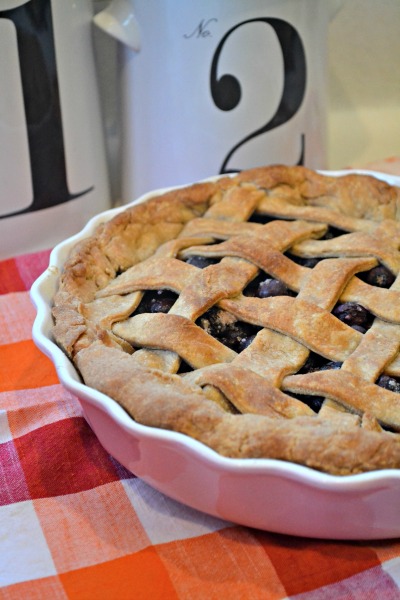 We served this easy homemade blueberry pie with scoops of frozen custard. We each enjoyed a piece of pie while watching a Doctor Who episode. AJ is getting closer to being caught up, we already said goodbye to David Tennant as The Doctor and we've moved onto Matt Smith. I'm pretty sure we both cried. At least I know I did. A lot.

If you find yourself with spare blueberries you should probably whip up this pie. Actually, no, scratch that. Go to the store now, buy these ingredients, tie on your Tardis apron (everyone has one of those, right?) and get to baking!

| | | |
| --- | --- | --- |
| Easy Homemade Blueberry Pie Recipe | | Print |
Prep time:
Cook time:
Total time:
Instructions
Preheat oven to 425°.
Sprinkle sugar, cornstarch, salt, and cinnamon on top of blueberries and stir.
Roll out first pie crust on a floured surface, using a pizza cutter cut into ½ inch strips
Place second whole pie crust in a pie pan.
Add blueberry filling.
Weave your crust into a lattice design, or simply overlap
Place 1 pie crust in a pie dish
Bake for 20 minutes at 425°. Reduce heat to 350°F and bake for 30 to 40 minutes more or until juices are bubbling and have thickened.
Let cool before serving.
Remember to use my four ingredient flaky pie crust to make this recipe taste the best!
Written by, Brittany, the geek behind the blog. I share lots of recipes, my thoughts on the latest tech gadgets, my favorite geeky games, and snippets of life as a Work-at-home mom.