Personal Pies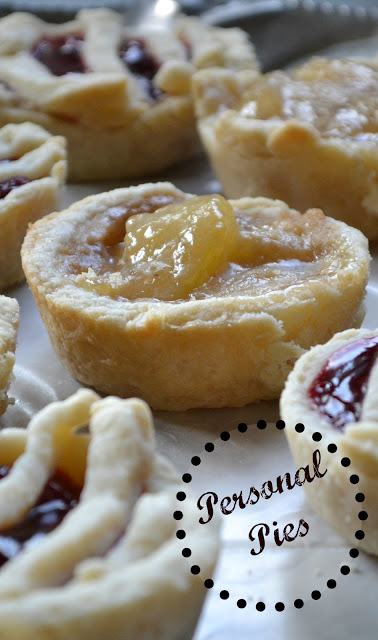 2 cups flour
½ teaspoon salt
⅔ cup cold butter
4 Tablespoons water
Your favorite pie filling (enough for one full size pie)
In a large bowl, combine flour and salt. Cut in cold chunks of butter until mixture resembles cornmeal.
Stir in water gradually, keep stirring until mixture forms a ball (I normally help the process along by shaping it with my hands)
Cover bowl in plastic wrap and refrigerate at least 4 hours. (Personally, I make this a day ahead and refrigerate overnight. If you do this allow the dough about 30 minutes on a floured counter top to soften up a bit before trying to use it.)
Roll dough on a floured surface with a floured rolling pin until about ¼ inch thick. Using a glass or bowl 4 inches in diameter cut into discs (you'll then need to re-roll out the dough) press discs into greased muffin tin to form bowls.
Use any dough scraps for topping the pies. I topped the apple pies with a brown sugar crumble (1/4 cup brown sugar, 1 Tbsp butter, 2 Tbsp flour)
Bake at 425* for 16-18 minutes.
Let cool and remove from muffin tin with a spoon.