Pumpkin Spice Chocolate Chip Muffins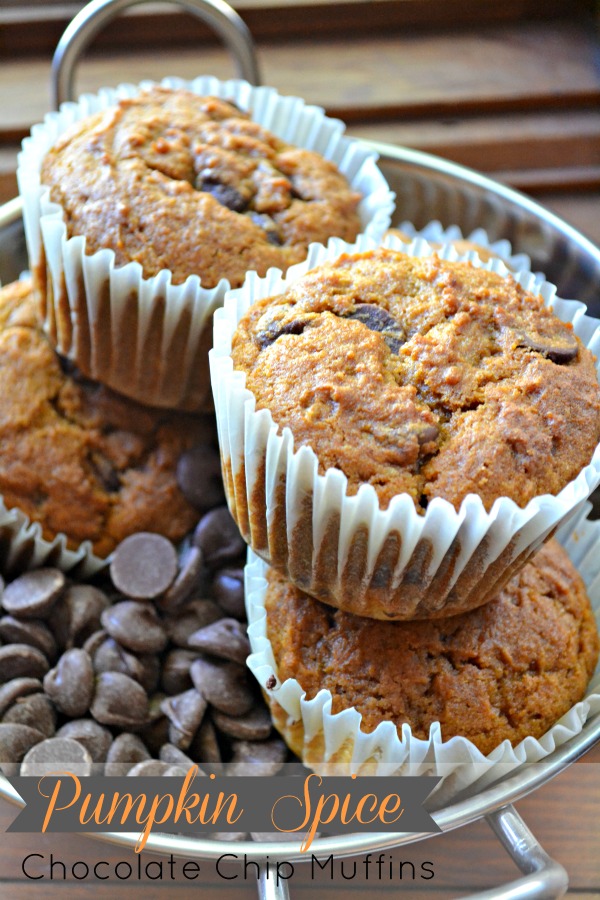 2 cups sugar
4 eggs
15 ounces pumpkin puree
1½ cups butter, melted
3 cups flour
2 teaspoons baking powder
1 teaspoon baking soda
1 Tablespoon pumpkin pie spice
1 teaspoon salt
3 cups chocolate chips
Preheat oven to 400* line muffin pans with muffin cups or grease with butter.
In a large bowl; beat eggs, sugar, pumpkin puree, and melted butter together until smooth.
In a separate bowl combine flour, baking soda, baking powder, pumpkin pie spice, and salt.
Fold flour mixture into pumpkin mixture until combined.
Stir in chocolate chips.
Use a level ice cream scoop to evenly disperse batter into each muffin cup.
Bake for 16-17 minutes, or until a toothpick inserted in center comes out clean.
Let cool about 10 minutes before enjoying!
Recipe by
The Domestic Geek Blog
at http://www.thedomesticgeekblog.com/pumpkin-spice-chocolate-chip-muffins-2/