Apple Pie Biscuits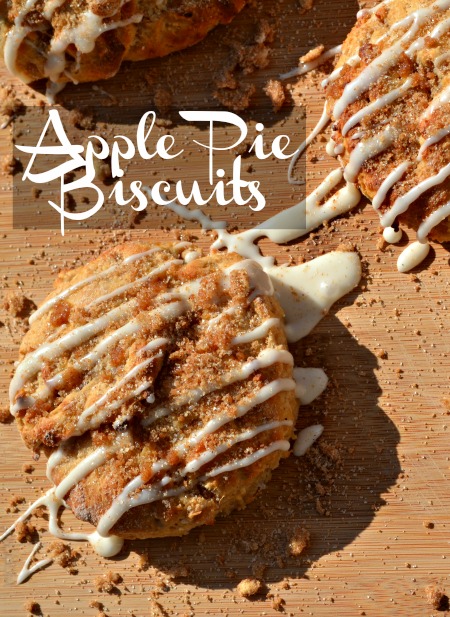 Biscuits
3 cups white whole wheat flour
1 Tablespoon baking powder
1 teaspoon salt
2 Tablespoon sugar
1 teaspoon cinnamon
⅓ cup butter, cold
1 cup milk
7 ounces apple pie filling
Icing
1 cup powdered sugar
½ teaspoon vanilla
1-2 Tablespoons milk
Crumble
¼ cup sugar
¼ cup brown sugar
1 teaspoon cinnamon
3 tablespoons
Preheat oven to 425*, open pie filling and dredge a knife through jar to chop the apples into bite sized pieces. Grease a cookie sheet.
Mix together flour, baking powder, salt, sugar, and cinnamon.
Cut in cold butter to flour mixture using a pastry cutter.
Gently Stir in milk using a silicone spatula, add in apple pie filling. Continue stirring until a firm dough forms.
Turn out dough onto floured surface and knead. If the dough is too sticky to work with you can add more flour.
Use a biscuit cutter or a drinking glass to cut out 6-8 biscuits, place on a greased cookie sheet.
Bake for 10-12 minutes or until the tops start to brown.
Mix icing ingredients, gradually adding milk until an icing consistency is reached.
In a separate bowl mix together the dry crumble ingredients, cut butter into dry ingredients using a fork until a chunky mixture forms.
Drizzle icing on top of warm biscuits and add a pinch or two of crumble to the tops.