Cheesy Steak and Potato Soup with Bacon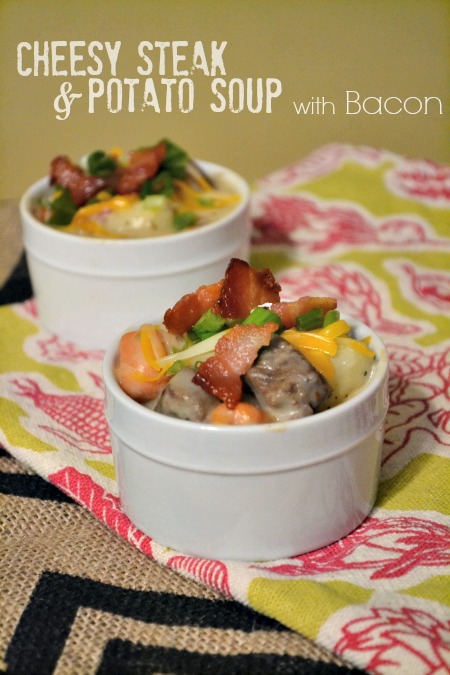 5 Lb Red potatoes half peeled, half cubed
3 Cloves garlic chopped
1 Medium onion chopped
1 Lb steak (I use round steak or venison) cubed
24 oz Bag of baby carrots cut into bite sized pieces
½ Lb bacon Chopped
2 TBSP Butter
1 tsp Garlic powder
1 tsp Onion powder
1 tsp Basil
1 tsp Thyme
1 tsp Sea salt
½ tsp Hot paprika
2 ½ Lb Potatoes cooked and ready to mash
8 Cups milk
1 stick of butter
2 Cups shredded cheese
Peel half of a 5 Lb bag of potatoes and quarter them, place them in a pot of water and bring to a boil, cook until soft enough to mash.
While potatoes are cooking chop 3 cloves of garlic, a medium onion, cube the steak, slice the carrots, and chop the bacon.
Add 2 TBSP of butter to a large skillet and set at medium low heat, once butter starts to melt add the garlic and onion, cook just until fragrant or 1-2 min.
Add the steak, bacon, carrots, and all the seasonings, continue to cook over medium low heat until the steak has browned. Again cook the steak depending whether you are using a slow cooker or want to cook it faster on the stove top.
Cube the other half of the potatoes while the steak is cooking.
Once potatoes are ready to mash, drain them and add half of them to a food processor with half a stick of butter and pulse until smooth, repeat for the other half.
Add processed potatoes to a large stock pot and add 4 cups of milk, mix well, then add remaining 4 cups of milk one at a time until desired consistency is reached.
Set on low heat over the stove to simmer and add 2 cups of shredded cheese (or more if you love cheese)!
Once your broth is at your desired consistency add the cubed potatoes, and the steak mixture and mix well to combine all ingredients.
Let it simmer on the stove for 30 to 45 minutes until cubed potatoes become tender or you can add it to a slow cooker on low and leave it cook until ready to eat. Enjoy!
Recipe by
The Domestic Geek Blog
at http://www.thedomesticgeekblog.com/cheesy-steak-and-potato-soup-with-bacon/