Apple Pie Muffins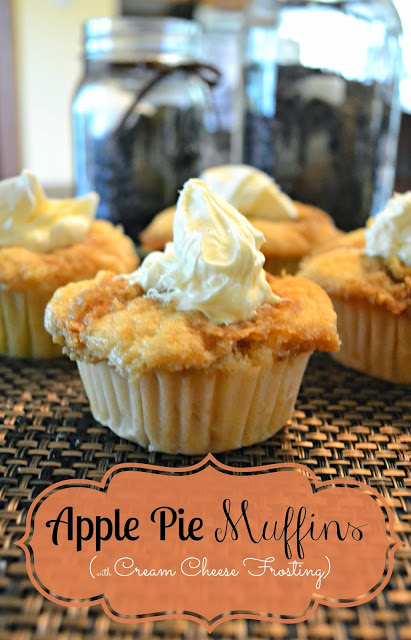 1½ cups flour
1 cup sugar
½ tsp/salt
2 tsp baking powder
⅓ cup vegetable oil
1 egg
⅓ cup milk
1 tsp vanilla
10 ounces Apple Pie Filling
Cream Cheese Frosting
Crumble Ingredients
½ cup white sugar
⅓ cup flour
¼ cup butter
1½ tsp cinnamon
Preheat oven to 400* and line muffin tins with liners.
Combine flour, sugar, salt, and baking powder.
In separate bowl mix vegetable oil, egg, milk, and vanilla. Pour mixture into dry ingredient and stir well.
Cut apples in filling into bite sized chunks (you can do this in the container by dragging a butter knife through filling) fold in pie filling. Fill cups all the way to the top with batter.
In food processor combine topping ingredients. Sprinkle topping evenly over batter.
Bake muffins for 20-25 minutes.