Tex Mex Party Salad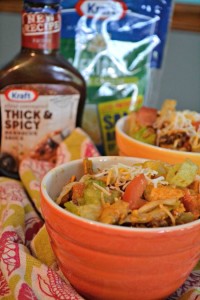 1 pound of hamburger
Taco seasoning packet or 3 TBSP homemade taco seasoning
1 bag crushed nacho cheese chips
2-3 diced roma tomatoes
½ head of lettuce, shredded,
1 cup of Kraft Mexican Four Cheese Shredded Cheese
8 ounces of Kraft Thick and Spicy BBQ Sauce.
Brown and drain 1 pound of hamburger.
Add taco seasoning per instructions of the package (or mix in 3 Tablespoons of homemade taco seasoning with a teaspoon of water.)
In a large bowl, add slightly cooled and seasoned hamburger to the rest of the ingredients.
Mix it up and you're done and ready to serve!