Simple Minions Marshmallow Crispie Bar Layer Cake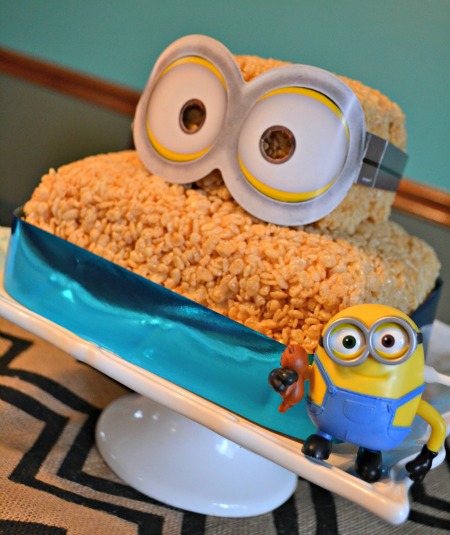 1 batch of these 4 ingredients per cake layer.
7 cups crisp rice cereal
3 Tablespoons butter
5½ cups marshmallows
Parchment paper
Simply Balanced 100% Canola Oil Cooking Spray
Cut parchment paper to the width of your cake pan, but long enough to extend out of your cake pan a few inches to pull out the finished layers with ease. Spray pan completely, then add your sized parchment paper, this will make sure the parchment paper stays in place, and the cereal mixture won't stick. (Our first layer uses a 9x9 inch square cake pan, our second layer uses a 10 inch rectangle loaf pan, we just cut the cake in half.)
In a large stock pot on the stove, melt butter over medium heat.
Add marshmallows and continue to stir over medium heat with a silcone spatula until all marshmallows are melted.
Remove from heat and add cereal, stir until all cereal is nice and sticky.
Press into your prepped cake pan, use an extra piece of parchment paper to press the mixture down evenly.
Pop out onto your cake plate while still warm so you can mold it into the square shape a little bit better.
Recipe by
The Domestic Geek Blog
at http://www.thedomesticgeekblog.com/simple-minions-marshmallow-crispie-bar-layer-cake/