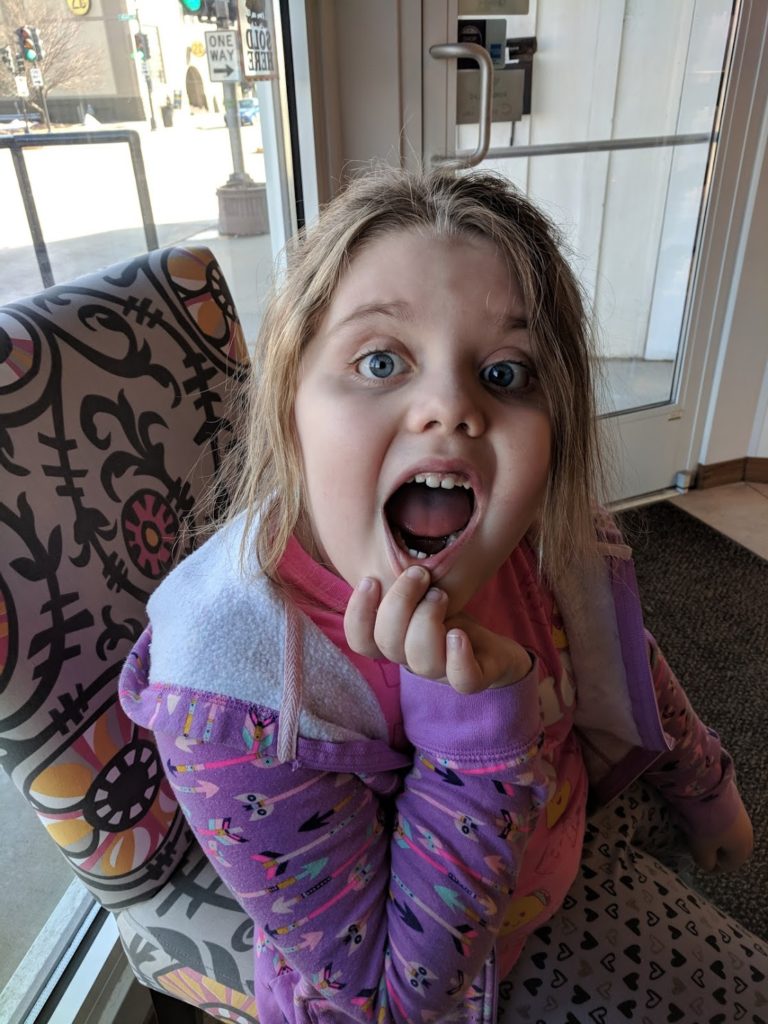 The other day I was sitting with Aliceana and she looked at me and said, "My tooth is loose." I was surprised and immediately inspected the situation and sure enough her front tooth was incredibly loose. I told her to wiggle it like crazy when we're at home, but leave it alone when we're out and about. I warned her that it would bleed a little, but wouldn't hurt, it would just feel weird. Then we called everyone we knew and told them that she had a loose tooth.
By the next night her tooth was so loose after she brushed her teeth. I Googled whether it was a good idea for parents to help with the situation and found a video of a dentist that basically said that if your kid is ok with it, you should grab a tissue and squeeze the tooth out. We turned on Let It Go to set the mood, and it was time to get this tooth out. I made AJ do it. That tooth was outta there before we even realized he did it.
She was thrilled, her tooth was gone, and it was time to see what the tooth fairy would bring. When she left the room AJ dug in his wallet and found $4, score! I figured that's enough to buy a silly blind bag toy so she would be extremely happy.
Then he shows her that he put her tooth near the edge under her pillow for the tooth fairy to get easy access to, and when she wasn't paying attention he swapped the tooth for the money while she was still awake. He told her that the rule was you can't look under your pillow until morning and you have to sleep really good. I was kind of horrified. If it were me waiting for the tooth fairy, the second that the coast was clear I would take another glance at that baby tooth waiting under my pillow. Luckily, Aliceana isn't like me and it worked.
Also, what the heck do you do with baby teeth? I'm not an extremely maternal want to keep everything type of mom, so AJ asked what to do and we decided to throw it away.  I don't know if that's normal protocol, but keeping it feels too creepy.
The next day she woke up proud, with 4 dollars in hand and we decided that we would go to Target where she bought a dinky little Minecraft blind box. I don't get the allure of blind bag toys, literally the only joy you get is the surprise and that's it the toy never actually gets played with, but she likes it so we let her get them very occasionally.
She lost her first tooth and she's getting so old. We were at a check up with our doctor yesterday and even she said, "I can't believe she's 5, she looks and acts more like 10." She's growing up so fast, and it makes me feel such an array of emotions. I love that kid more than anything, even when she wastes $4 on teeny tiny toys that she forgets about 2 minutes later.
Written by, Brittany, the geek behind the blog. I share lots of recipes, my thoughts on the latest tech gadgets, my favorite geeky games, and snippets of life as a Work-at-home mom.