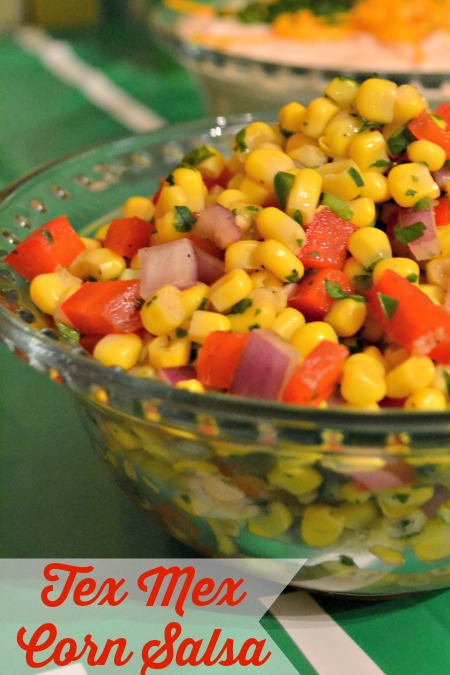 When we visited California we were overwhelmed by the freshness of all of the ingredients that they have available to them. We had some truly amazing meals out there made with wonderfully fresh ingredients and that experience is what has inspired us to make this fresh corn salsa. Also, this is kind of like the corn salsa you get at Chipotle, which we all know is incredibly good. Oh burrito bowls, you slay me.
This fresh corn salsa is very simple, it is bright in both flavor and color which really showcases the freshness of the ingredients, and looks seriously impressive at a party. It has a little heat from the jalapeños, acidity and brightness from the limes and sweetness from the corn. It is a crisp and delicious compliment to tortilla chips and makes the perfect party snack. If you can chop vegetables and squeeze a lime you will have no problem making this delicious fresh corn salsa.
Along with the corn we used red onions and red bell peppers which add a nice crunch to the salsa as well as a great color.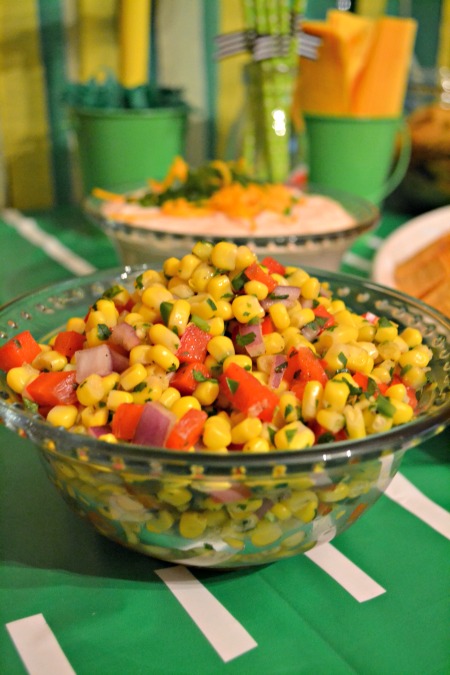 We also worked with fresh cilantro for the first time, all fresh herbs are a little intimidating at first, like the time that AJ chopped up all of the thyme, stems and all for a marinade and we had to start from scratch. Definitely research how to prep your herbs before using them.
How to prepare fresh cilantro
Here is what you need to do to prepare fresh cilantro, first you need to unbundle it and soak it in a bowl of cold water for a few minutes. Cilantro leaves have a lot of nooks and crannies for dirt to hide in so soaking it helps get it cleaner than just rinsing. Once it has soaked for a few minutes remove it from the bowl and rinse it using a colander so you can really spread it out. You will notice if you look into the bottom of the bowl there will be quite a bit of sediment.   Then you simply slice off the stems, you'll chop up a couple of these for this recipe, these have an intense flavor so use them sparingly. Chop the leaves in half (store half in a sealed container in the refrigerator, half of a bundle is way more than enough.) Fold the remaining leaves over and finely chop. Or you can check out this site with pictures for a step-by-step.
You'll also have to dice your onion, bell pepper, and jalapeno. Make sure to wear gloves when dicing jalapeno!
After all of your ingredients are chopped and dice throw them in a bowl together and squeeze a fresh lime over the top, add salt and pepper and you'll have yourself one of the tastiest salsas you'll ever make.
| | | |
| --- | --- | --- |
| Fresh Tex-Mex Corn Salsa | | Print |
Prep time:
Total time:
Ingredients
4 cups corn
¼ cup fresh cilantro, chopped fine
½ jalapeno, diced
½ red onion, diced
1 red bell pepper, diced
juice from one lime
sea salt and pepper to taste
Instructions
In a medium bowl combine corn, cilantro, jalapeno, red onion, and red bell pepper.
Pour juice of one lime over ingredients.
Add sea salt and pepper to taste (keep in mind that you'll probably be eating this with salty chips, so go easy on the sea salt)
Let chill for about an hour
Written by, Brittany, the geek behind the blog. I share lots of recipes, my thoughts on the latest tech gadgets, my favorite geeky games, and snippets of life as a Work-at-home mom.