The second that you start streaming Fuller House, the nostalgia hits. You're going to need that box of tissues directly next to well…wherever you watch Netflix. I'm a member of the Netflix #StreamTeam, and last month I was able to preview episodes of Fuller House…and you know…meet the Fuller House girls in person. Don't worry, no big spoilers here, I wouldn't do that to you!
Fuller House is Netflix's way to kick off their own production of family shows. Fuller House is a show for all ages, whether you have preschoolers (Aliceana liked it and she's 3!) it's also relatable for tweens and teens, and yes it's definitely made for us adults, you'll love it. I love it. It's so good.
We'll start with a quote from Jodie Sweetin on how they're tying in the first series with the new series.
One of the things that we did when we went into doing Fuller House was, we know what Full House is, we know the sort of level of nostalgia and 80s family sitcom and what that is, and I think the writers did a great job of balancing out this great creative new show but also not taking ourselves too seriously at some point, and sort of acknowledging, we know we're Full House. We know that there are catchphrases, and we know that there's going to be a hug at the end of every show, and those are the things that the fans sort of expect. The callbacks and being able to see the old with the new, there's not a lot of shows–I can't think of any other show that gets to have those moments with a split screen with the original cast members from the old show that people loved, with the new cast that people are falling in love with, and get to see those things side by side. We wanted to give that to fans.
The beginning first episode feels like a complete family reunion, you can almost feel the positive energy radiating from your screen as the entire Tanner family (minus Michelle of course) gathers in the kitchen that we know and love. There are so many blatantly obvious nods to the original series, including (I'm pretty sure) every single catchphrase ever, all recited within the first few minutes. They even nailed the opening credits, it's a perfect mix of modern day Fuller House and Full House nostalgia.
I grew up watching Full House, so I was right there with you feeling a little nervous about Fuller House, but the show is absolutely perfect. It's an absolutely magical feeling when Jesse, Joey, or Danny walk into the room, watch the faces of the girls, whether it be DJ, Stephanie, or Kimmy. You'll see that they're beaming with the same joy and nostalgia that we're feeling, but you know…probably escalated quite a bit.
Here's what Candace Cameron-Bure said on that subject,
And then there were moments within the first few weeks of being with them and John Stamos, Bob Saget, Dave Coulier and Lori Loughlin where it's like deja vu, i just had to stop and go, 'Oh my gosh I can't believe we're doing this again!' I mean it's really a childhood dream come true to be back there.
They'll even break the 4th wall at a couple points to add to the cheesy humor, and it's absolutely perfect. There are also little nods to who the girls are in real life, you might see some dancing and jokes about The View hinting at Candace Cameron-Bure's career. Oh, and they have some fabulous guest stars on the show too.
It's amazing, you'll love it. You'll get through it in record time and be begging for season 2. I promise.
Here's the obligatory photo with me and the Tanner girls (Kimmy is basically a Tanner too!)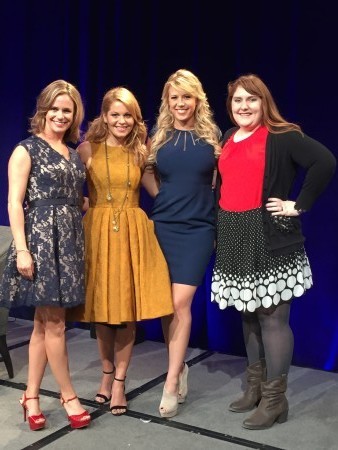 Here are some of my favorite talking points at our TCA round table with Candace Cameron Bure, Jodie Sweetin, Andrea Barber, Bob Boyett, and Jeff Franklin. We talked about how the girls feel to be back on set and how they deal with and have dealt with the shows innuendos, and maybe even angry mothers.
On what it was like to step back into the set:
Jodie Sweetin: Definitely not anything that I think we ever expected when we left that set, you know, 20 years ago. I think we all, it's like when you move out of your childhood home, you look around and you take this mental snapshot and you say, 'This is what it was, and this is what it will always be in my mind and now it doesn't exist anymore.' So when we walked back in and saw that thing that we had left 20 years ago existing again, I think that was–for me, a really mind-blowing, wonderful, warm experience. I just remember thinking 'Oh my gosh, I get to do this again,' I said goodbye to this space and this sort of family being together 20 years ago, and here we are getting to come back so it was wonderful.

Candace Cameron Bure: Yeah it was really overwhelming the first day, walking on the set, I walked with Jeff he took me through the soundstage, and to see this sets–and they weren't even finished at the time–but to see the living room and the kitchen I was so overwhelmed by emotion, I started crying. I just had to stop and was like 'You gotta give me a minute,' the memories flooded back and I never thought that I would see that again.

Andrea Barber: It was overwhelming. I walked through, around the same time Candace did, when the set wasn't painted or even dressed yet so it was almost like walking through an archeological site that had been dug up 20 years later, and it was all dusty and I'm just like 'Oh my gosh did they find the Full House set?' They did a remarkable job recreating the set. I think it was almost rebuilt from scratch with the exception of the couch, the couch is the original couch, and maybe a couple of other items. But it was great, and I just felt very grateful to get to do this again.
The fun innuendos that are hilarious as adults, did you get that when you were a kid? Was that in the original show, those kind of adult things that only grown-ups would get, and did you guys notice them?
Candace Cameron Bure: I would notice–I mean I knew some of the jokes. I think we were all a little advanced in that area, growing up with the guys that we grew up with. Lots of things that were said on set that we as mothers would be horrified if our children were listening to– Jodie Sweetin: and our mothers were horrified! We just kind of kept silent because it's fun to be in with the adults and part of the crowd, but I actually have gone back and watched some of the Full House episodes and have now seen 'Oh I didn't realize that as a kid,' or 'Wow! Uncle Jesse, he had a lot of girls coming in.' I didn't think about that.

Jeff Franklin: Well, I have to say producing Full House all of those years, I had almost a weekly meeting with somebody's mother complaining about Bob Saget or John or Dave, and I would go to the guys and I would have a talk with them and they would go 'You're absolutely right, we'll clean it up no problem,' and that would last for about an hour. The nice thing about this show is we did a whole season and there wasn't one meeting —

Interjection from Candace Cameron Bure, Jodie Sweetin & Andrea Barber: We're moms! We know how to get away with that, when you become a mom you become excellent at that.

Bob Boyett: I remember at the tables they would laugh as loud as anyone if something was said, but many times they would come up to us later and say, 'What did that mean?' They wanted to be a part of it, and that's happening on the current show with the kids that work on the show now. If there's something slightly off-color thing that is said at a table reading or something they laugh like everyone, but particularly Elias who's only 7 will lean over later and say, 'What does that mean?'

Jodie Sweetin: Oh yeah I laughed at a lot of things I had no idea what they meant.
All 13 episodes of Fuller House season 1 will be streaming on Netflix on February 26th.
Written by, Brittany, the geek behind the blog. I share lots of recipes, my thoughts on the latest tech gadgets, my favorite geeky games, and snippets of life as a Work-at-home mom.