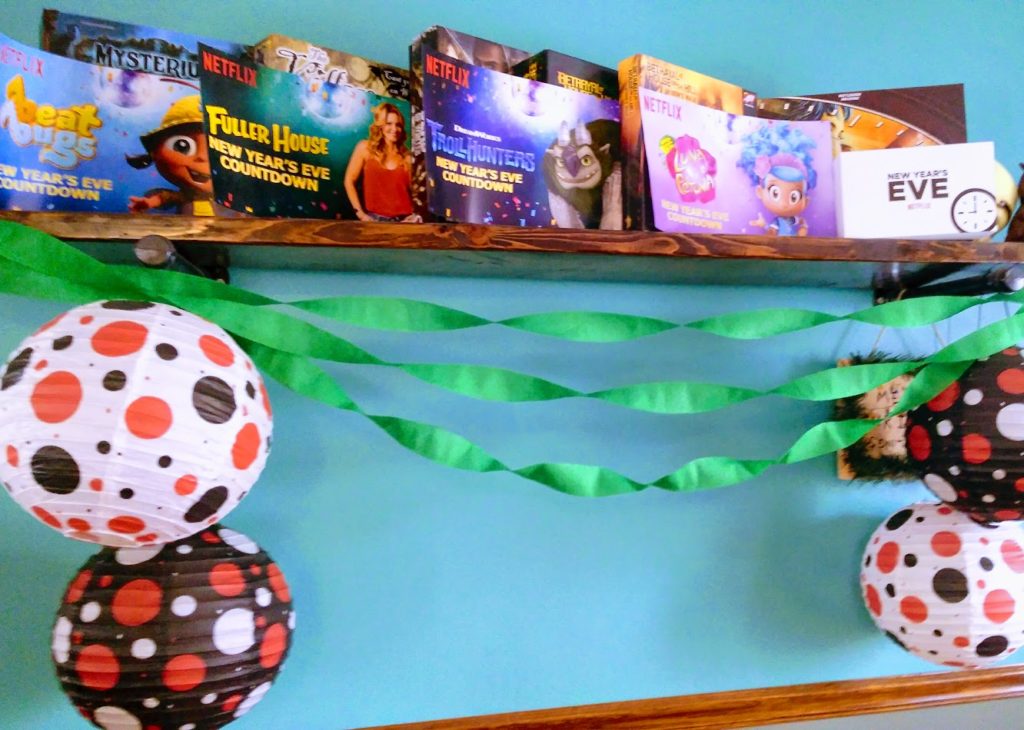 Yesterday morning started a bit rough, our party plans fell through because the party hosts had colds. So we made a party plan of our own, just the three of us.
First we cranked up some 90's pop music, because what a better way to celebrate the new year than some really old music?  Then we cleaned up the house and had a bit of a dance party. Aliceana was already declaring that it was the best day ever, but her standards are pretty low and almost everyday is the best day ever according to her.
We sent AJ to grab some snacks from the store and while Aliceana was sleeping we decorated the dining room into New Years Eve party central. I'm a part of the Netflix #StreamTeam and they sent us some fun goodies like posters and noise makers so we added those to our impromptu party. We had snacks and watched silly cat videos on YouTube. We played some Animal Upon Animal too, it's a dexterity game that Allie kicks our butt at. It was serious fun, and we didn't even have to leave our house. Score!
Then we got her ready for bed, turned on Netflix and counted down to midnight with our new favorite show Trollhunters. (It's ridiculously good, if you haven't watched it you should. It makes us laugh and cry like crazy. It's definitely not your normal kids show.) We made plenty of noise and celebrated, and she totally thought she made it to midnight (and she thought it took forever to get here.)
It was only 8:30.
Little ladies get extra sleepy after all of that dancing and playing and celebrating.
AJ and I stayed up until 10:30, he was playing Final Fantasy and I was playing silly addicting flash games on my tablet while giving him annoying pointers on his game play. We decided that we didn't really need to stay up until midnight and we called it a day.
Good night 2016, 2017 is so much nicer when you wake up refreshed after a nice long sleep anyway.