This post is part of a sponsored conversation, on behalf of U.S. Cellular. All opinions are my own.
The holidays are here, and your smartphone is your best friend when hosting from fancy soirees to casual dinners or maybe even cookie decorating parties. Honestly, I think cookies are the only part of the holidays I'm dreading, they're so much work and Aliceana checks out of the process so quickly. How can your handy dandy smart phone help you? In a lot ways! U.S. Cellular customers are always looking for ways technology can enhance their lives and the holidays are no exception. Shopping from mobile devices is one way to simplify planning. In fact, according to a recent U.S. Cellular survey1, 59 percent of smartphone owners use their devices to shop online.
Your smartphone can order groceries, order pre-made meals through apps like HelloFresh and BlueApron, and help you plan.
If you're hosting, make sure to share your Wifi with your guests! I suggest getting Google Wifi which has easy to set up accounts for your family and a separate account for your guests, plus you can choose which device gets priority Wifi connection so your Netflix binge-watch isn't interrupted by your daughter playing video games.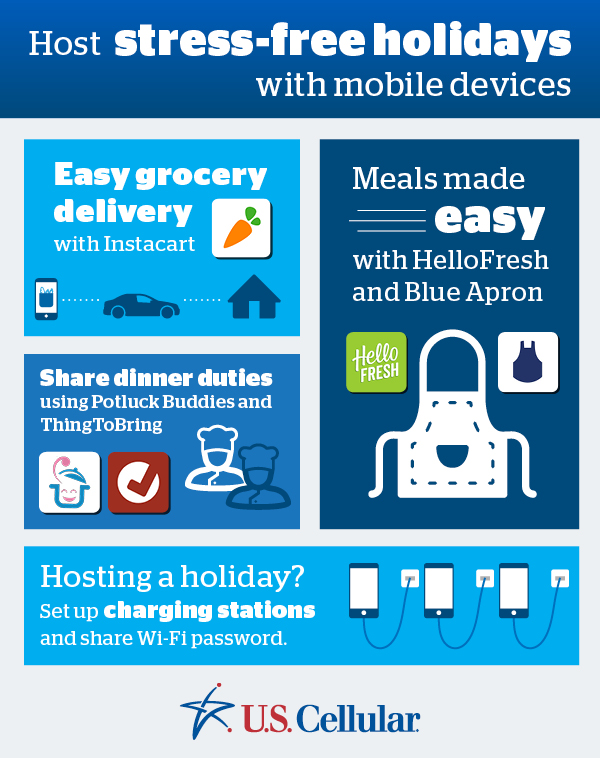 Apps to make planning a holiday gathering easier:
• Instacart is a great app for easy grocery delivery. The app allows users to create a grocery order from local stores such as Whole Foods and Costco. Users can select from a variety of items, including fresh produce as well as meat and seafood selections which can be delivered in less than an hour.
• Hello Fresh and Blue Apron have become mainstays for cooks and also serve as food delivery services. These apps don't just make cooking convenient with perfectly measured ingredients, but they also alleviate the extra stress of complicated cooking during the holidays. Users can select meals to be prepared, and then all ingredients are dropped off at their home. During the holidays, the apps offer holiday-style feasts and meals.
• Potluck Buddies for Android users and ThingToBring for Apple users make coordinating a potluck style holiday meal easy and organized. These apps allow guests to sign up for items to bring to a dinner or holiday party
Helpful tech tips for hosts this season:
• Create a charging station at home to help guests stay connected while enjoying time with friends and family. Hosts can provide a variety of cords and adaptors to make it easy for visitors to charge their devices, whether they have a Samsung Galaxy S8, iPhone 8, Samsung Galaxy Tab S3 or iPad.
• Share the Wi-Fi password, which will be appreciated by all guests. An internet connection will allow guests to easily post photos on social media and keep in touch with loved ones who may not be able to attend.
• Lend an extra device to guests who are visiting for a few days to help them explore the town, plan outings and even take care of outstanding business and emails. Leave a tablet in the guestroom to maximize convenience.
¹ Between Nov. 10-17, 2016, a total of 701 online interviews were conducted among a nationally representative sample by Consumer Insights, in partnership with Maritz CX.