This post is sponsored by U.S. Cellular, all opinions are my own.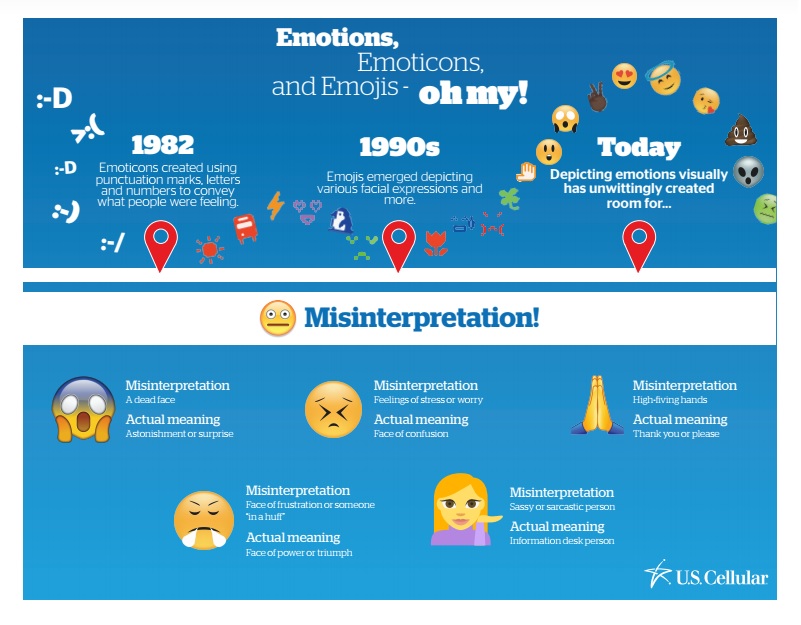 While I'm technically Millenial age, I feel so out of touch with the generation. How do I use Emojis? I rarely ever look for those yellow faces of expression except when I'm texting AJ. We like to respond to each other's text messages with nothing but Emoji symbols as kind of a silly guessing game. It always gets out of hand and leaves me a giggling mess, which can be awkward if I'm out and about when texting him on my U.S. Cellular smart phone.
When it really comes down to it there are some really strange Emojis! Everything from pigs noses to toilets and some emojis look completely different on other devices meaning it gets lost in translation and even more hilarious.
Here are some frequently misinterpreted emojis;
Astonished face – The astonished face is a face with a round, open mouth and either wide open eyes or two X's for eyes. While it actually represents astonishment or surprise, the eyes on some platforms lead many to believe that it represents a dead face, which is not a message one wants to unintentionally send.
Triumphant face – Known as the "face with look of triumph" or "face with steam from nose," this emoji features furrowed eyebrows, closed eyes and steam coming from the face. While the steam is meant to show a look of power and triumph, it appears this one is frequently interpreted as the face of frustration or someone 'in a huff.'
Confounded face– Featuring a round, yellow face with eyebrows, triangular eyes pointed toward one another and a squiggly mouth, this confounded face is most often used to portray feelings of stress or worry. However, its original intent represented confusion.
Person tipping hand – This image of a girl holding out her hand as if she were a waitress carrying an invisible tray of drinks was originally known as "information desk person." Many also use this emoji to convey sassiness or sarcasm, reinforcing how many ways some emojis can be interpreted.
Folded hands– This commonly miscommunicated emoji doesn't represent a face at all, but rather is an image of a pair of hands. While originally intended to represent please or thank you, it's now more commonly used to convey hands joined in prayer, and still others interpret them as high-fiving.
To help smartphone users better understand these shorthand symbols and use them appropriately, U.S. Cellular recommends emojipedia.org as a great resource for smartphone users; descriptions of the meaning of different emojis can also be found at unicode.org/emoji.
How do you like to use emojis?