Seriously.
I'm a member of the Netflix #StreamTeam and I was invited to experience the 2016 Netflix TCA in Pasadena, California. I'm currently in my hotel room, the morning after one of the coolest experiences of my life, and I kind of can't believe it happened.
The TCA is The Critics Association, a group of critics head to a gorgeous ballroom in The Langham ( the fanciest hotel ever.) and they invite networks to show off their big shows or new shows. So the actors from the show, some producers and writers all get up on stage in some really great Q&A panels. Since the critics are all on their laptops it's basically like the packed Hall H at Comic Con panels meets a college lecture.
I got to go on Netflix day, so with Netflix producing about 600 hours and spending about $5 billion dollars on content this year, this day was pretty jam packed with panels for some of the best Netflix Originals available (or soon to be available.)
Here's my initial reactions to my day, because I have to get it out there and I'm sure my friends and family will be sick of me pretty quickly if I tell them everything in detail a billion times instead of telling the internet about my experiences. I'll put up some more professional write ups on the event and the individual panels soon.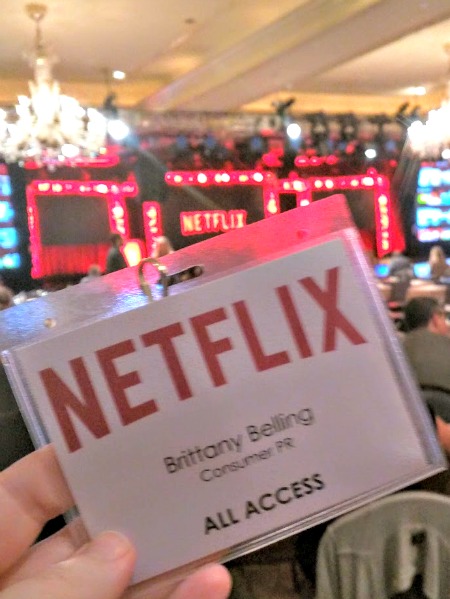 I was able to sit on panels for the following:
Master of None – this is when I was mad tweeting about freaking out that I was in the same room as Aziz Ansari. At that point I really didn't know if the casts for shows would be there, but THE ENTIRE CAST WAS THERE. I almost died of happiness. I can't wait for season 2, it sounds like they're not in production quite yet.
Love – Gillian Jacobs! Oh how cool is it to be in the same room as the lady we all know and love as Britta. You know, and also Judd Apatow who has one darn impressive IMDB page, producing movies like 40 year old Virgin, and cult classic Freaks and Geeks.  This show looks  I have a feeling this show will be so easy to binge watch. One of those where you'll start on a Monday and by Wednesday you'll be asking yourself, uh when is season 2? Why is this not renewed for season 2 yet? Come on Netflix hurry up and renew it. Yep, it'll be one of those.
Orange is the New Black – Nina Sharp, it was Nina Sharp! Ah! Ok, so it was really Blair Brown, but she has such a certainty and importance in her voice that I felt like I was in a meeting at Massive Dynamic. I can't wait to see how she portrays the Martha Stewart-esque role in OITNB season 4. Of course they had other great ladies on stage, like the absolutely stunning Laverne Cox, Dascha Polanco, Samira Wiley and Jackie Cruz. Also creative genius Jenji Kohan who I've loved since Weeds. These ladies were extremely secretive, but they made season 4 sound like it's going to be so much bigger and better than any other season.
Marvel's Jessica Jones – This is when I had heart palpitations as my eyes darted from chair to chair on the stage to see if David Tennant would be there. He wasn't, but a girl can dream! The rest of the cast was there though, and oh, they're absolutely beautiful and amazing. I love that Netflix is storming their content with some great strong female shows.
Mike Colter is so impressive looking in person. We won't talk about my reaction that I had when I was in the hall and Mike Colter and Jon Bernthal gave each other a bro hug in the hallway. It was like The Defenders was happening right before my eyes you guys, I did not keep my cool.
The Ranch – This is Ashton Kutcher's new show, and I'm sure you've read the headlines: It's like a That 70's Show mini reunion is happening guys! because Danny Masterson who played Hyde will be playing Ashton's brother. Their dad will be played by Sam Elliot. Naturally my response was, it's hippie Ron from Parks and Rec and That 70's show had a fun little mashup. This panel had some fun swearing, as there will be some in the sitcom. The emphasis on this show is that they all want to keep it as real as possible. They were giving each other crap on stage, just like brothers should.
Then we had a private session with the cast of Fuller House, I'll talk about that closer to the release date of the show. It was so so amazing to meet the girls that I feel like I grew up with.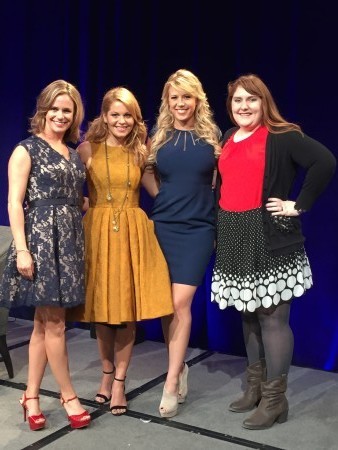 Next we got to talk Executive Producer of Degrassi, Linda Schuyler and Director, Stefan Brogren. Which was super insightful, if you have 14-18 year olds they should definitely watch Degrassi: Next Class. I'll have a more detailed blog post about it shortly.
Unbreakable Kimmy Schmidt – The entire cast was there, but honestly, all eyes were on Tina Fey, because it's Tina Fey.
Ellie Kemper, Jane, Carol Kane, and Tituss Burgess were also on the panel and they're such a bright and colorful cast. They talked about Jessica Jones, Ellie had only watched one episode so far, but Tituss is all about Miss Jones.
Stand up – We got to hear from some of Netflix's stand up comedians with specials including Patton Oswalt, Hannibal Buress, and John Mulaney. Basically, this was the most serious panel of the day. Or you know…not. They were hilarious, especially comedy veteran Patton Oswalt, who happens to be in every show ever.
Marvel's Daredevil – I can't even. Matt, Foggy, Karen, Frank Castle, Elektra all on one stage. Ok, so these guys are actually just the actors and actresses, but when you see them collectively it can't possibly be real life, right?
I'll have a big write up on this one, they all killed it with their answers. We were particularly impressed with Deborah Ann Woll's responses, she's wonderful and gorgeous, and I absolutely love her and her character.
They had cool props like costumes from Netflix Originals.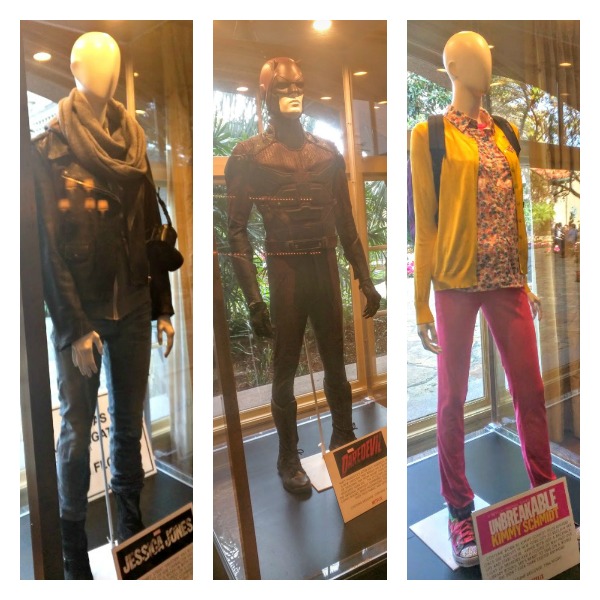 They also had the best photo booth ever. Eh, I'm probably a better candidate than the options we have for 2016 anyway.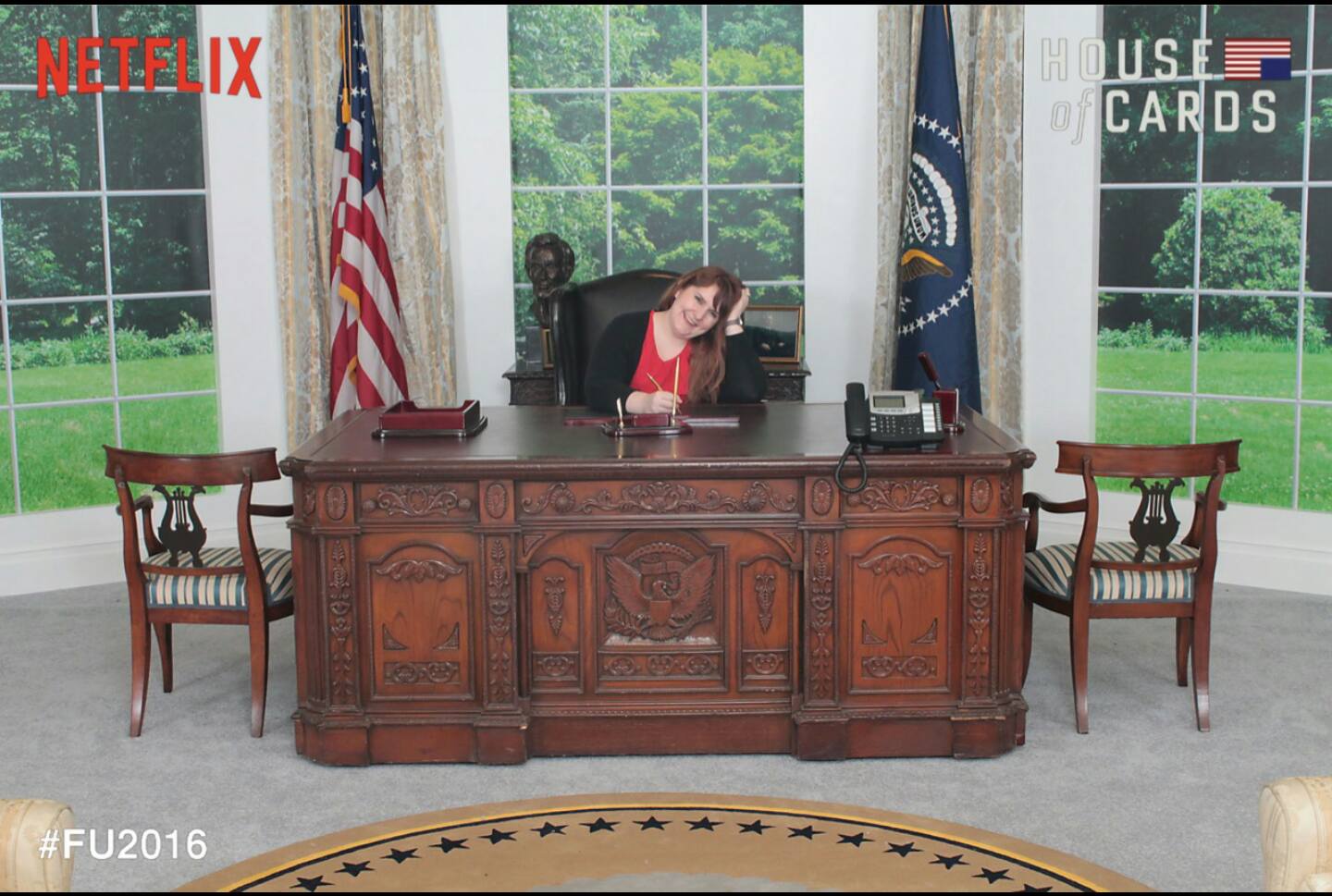 Ok, that sounds like a pretty accurate recap of most of my internal monologue of yesterday. It was incredible and it was like a dream come true.
Written by, Brittany, the geek behind the blog. I share lots of recipes, my thoughts on the latest tech gadgets, my favorite geeky games, and snippets of life as a Work-at-home mom.