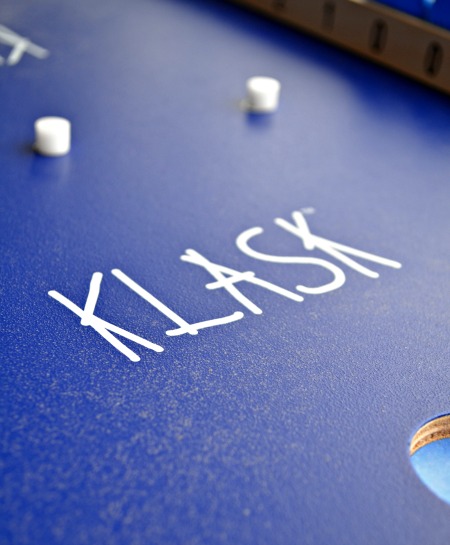 When most people think of tabletop games they don't actually think of a tabletop, well Klask is a tabletop game on a table if that makes sense…ok just look at the pictures and marvel at the awesome craftsmanship! Klask comes from Finland and just made it's US debut a few months ago, over in Finland you can find Klask in every pub and cafe around because it is really that much fun! It is like a tiny version of air hockey that sits on top of your table but it is definitely way more fun.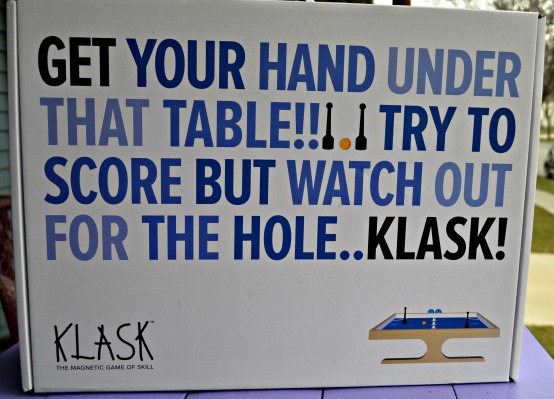 On the box it says "Klask the magnetic game of skill" which is a very true statement you must have some skill to be good but it is really easy to learn. It is a really well crafted game, the wooden table is made well and the magnetic components are very precise. They seem to have thought of everything when designing this game right down to the rubber grips on the feet of the table to keep it from sliding around while playing! There are two magnetic pawns, one for each player. The top piece sits on the table and the bottom piece goes underneath and attaches magnetically through the table and that is how your control your pawn. There are three "defender" magnets that sit along the boundary in the center of the table and a ball.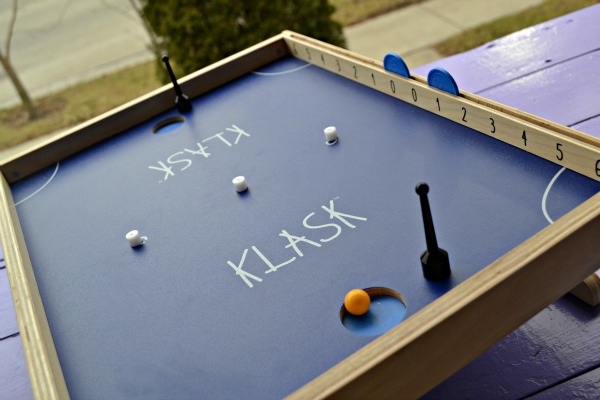 During a game of Klask you control your pawn by placing your hand underneath the table and sliding the magnet around to control the piece that sits on top of the table. The object is to score goals by knocking the ball into your opponents goal, seems pretty simple but there are a couple more ways that you can score. Those little white defender magnets in the center are very clingy and will attach themselves to you if you get to close, if two of the defender magnets become attached to you your opponent gets a point. If your pawn falls into your own goal, your opponent gets a point and if you lose control of your pawn you opponent also scores. Those are the four ways to score points in Klask so it is definitely more involved that your standard air hockey game.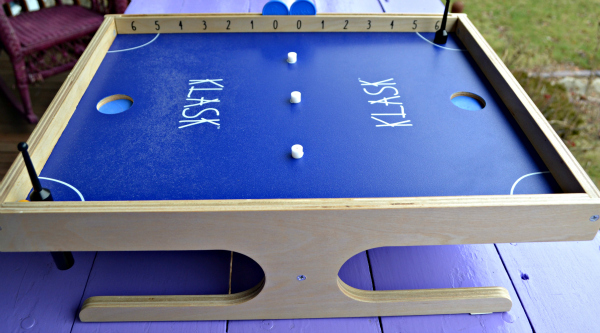 I really enjoy playing Klask because it is a game of skill and not just a "smash the ball as hard as you can" kind of game. If any of the pieces do fly off the board it is a reset, you put all the pieces back, return to your corners and begin the game again. It is fun to watch people learn to play Klask, on their first turn they swing at the ball with all their might, lose control of their pawn and pieces go flying everywhere. That is usually all it takes for most people to learn about the skill level of Klask it is a simple yet intricate game of finesse. It also involves some great strategies, the inclusion of those defender magnets is genius because not only are they an obstacle to avoid but they can also be used as an offensive tool. Use the ball to launch the defenders at your opponent, paint them into a corner and score points that way as well.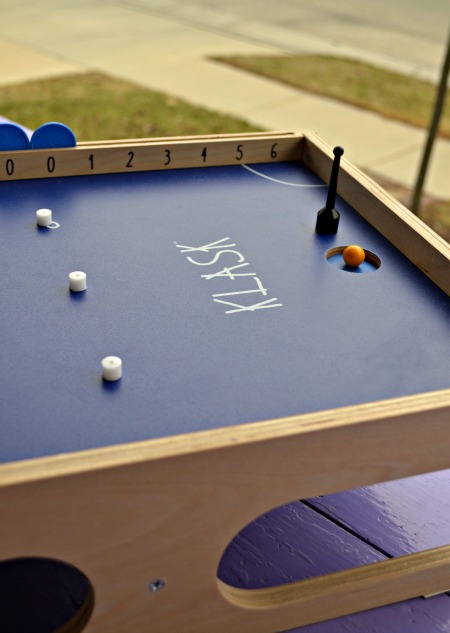 I love this game and some day hope to become a professional Klask player because it is that much fun! It is definitely a simple game of complex skill if that makes sense and it is a blast to play.
How Big is your Party?
Klask is a head to head two person game.
Will Klask Collect Dust?
Well I mean it might because it is a table but if you keep it stored in the awesome box it comes in over night while you are sleeping then it won't because that is the only time you won't be playing it if you own a copy!
Is Klask Worth My Precious Gold?
This is a well made game of solid wood and precision magnetic components, that alone is worth it and the amount of fun you will have playing it is icing on the Klask! (don't put icing on your Klask it will get sticky and not work well!)
How Much of a Geek do I need to be?
None at all Klask is a game for all, even people who don't play games ever will have fun playing Klask!
How Many Fortnights is this Adventure?
Klask is a fast paced game and can take as little as 10 minutes per round or as long as 30 depending on the skill level of the players.