It's that time of the year, you buy a few pumpkins, your three year old is thrilled and can't wait to make a happy Jack-O-Lantern, a sad Jack-O-Lantern, a scary skeleton carving and a million other 3 year old ideas, but in reality, you're basically setting yourself up as a parent to be a carving on demand service.
First, I let Aliceana pick a generic design from the book that came with the carving tools. She picked the mummy, because she's been mummy and zombie obsessed this month. (Don't worry kiddo, we've also been zombie obsessed. After all it's The Walking Dead night after you go to sleep, woohoo!)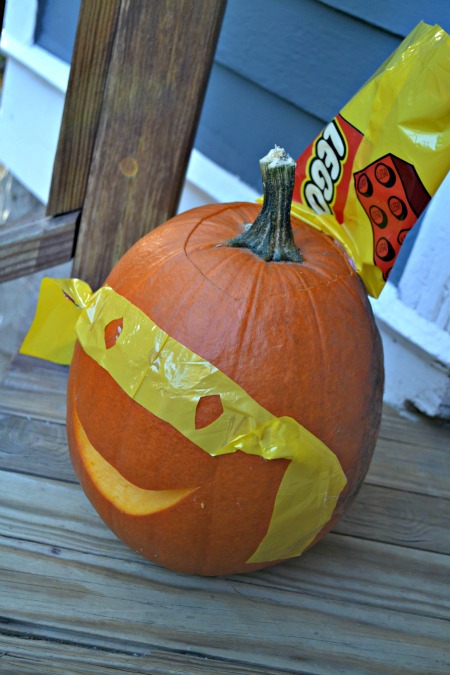 We only picked three pumpkins, and we actually enlisted Aliceana's help to get all the goop out of the pumpkins, after that I got to carving her mummy, just a mummy carving mommy here.
Next, AJ was frustrated with lack of originality in designs, so we went to the interwebs like we usually do. He found a design of Chase from Paw Patrol that, judging from the conversation AJ was having with himself, ended up being difficult to carve.
I was over it at that point, we were hungry, Aliceana had moved onto bigger and better things and we had a gutted pumpkin to go yet. Aliceana was talking about her new favorite show the PJ Masks, that happened to start airing right after she declared herself a Superhero for Halloween (Awesome timing Disney Junior.) So I grabbed the Lego bag from the Lego store (Duplo block
sets are our new obsession) and got to cutting.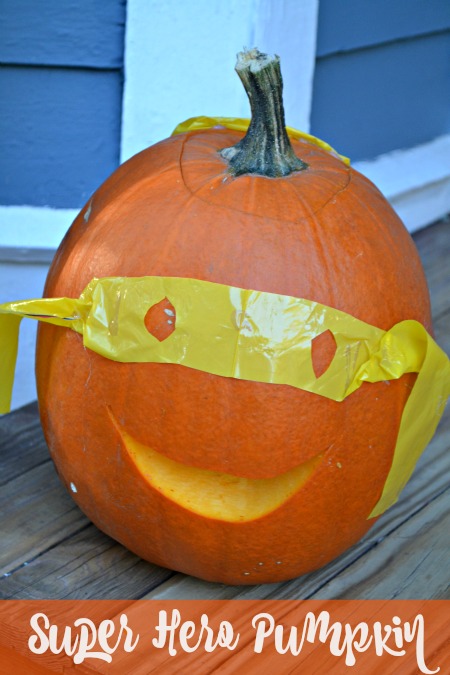 After a few attempts I made a mask I was kind of happy with, then I cut the big part of the bag into two parts, hot glued them together carefully and gathered the top to make a Lego cape.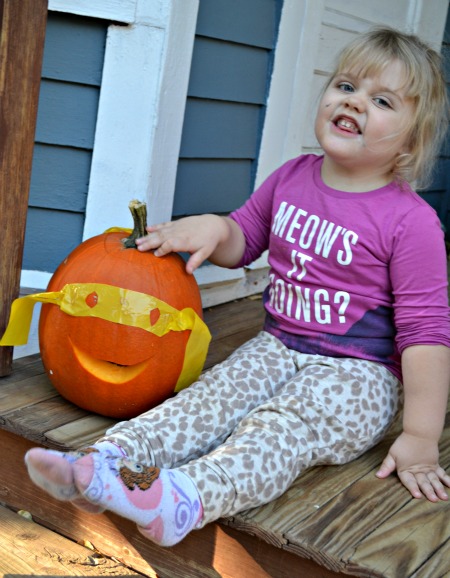 (She had marker on her face, because of course.)
Then I hot glued the mask and cape to the pumpkin. I would have been happy with that, but I had the pumpkin ready to carve and a ton of carving tools, so I eyeballed a big ol' smile.
Done.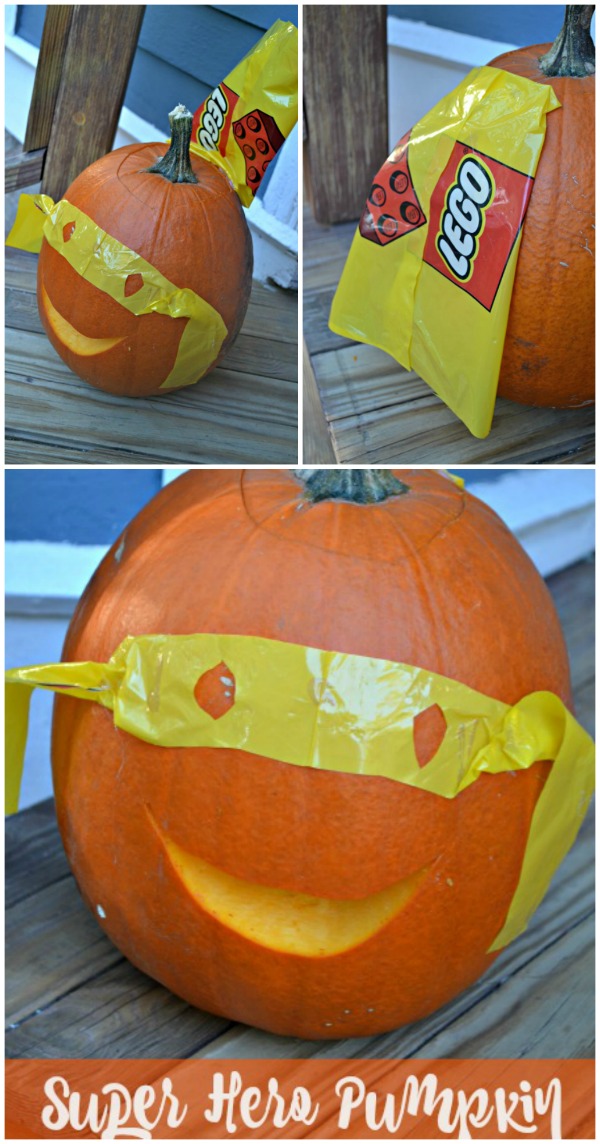 Way easier than the other pumpkins, also way cuter.
There you have it, the lazy mom super hero pumpkin design…although it kind of looks like Leonardo from the Ninja Turtles. You could probably stick a colored in tie plate on it's back for it's shell instead of a cape.