I received a review copy of LEAP! in exchange for this review, all opinions are my own.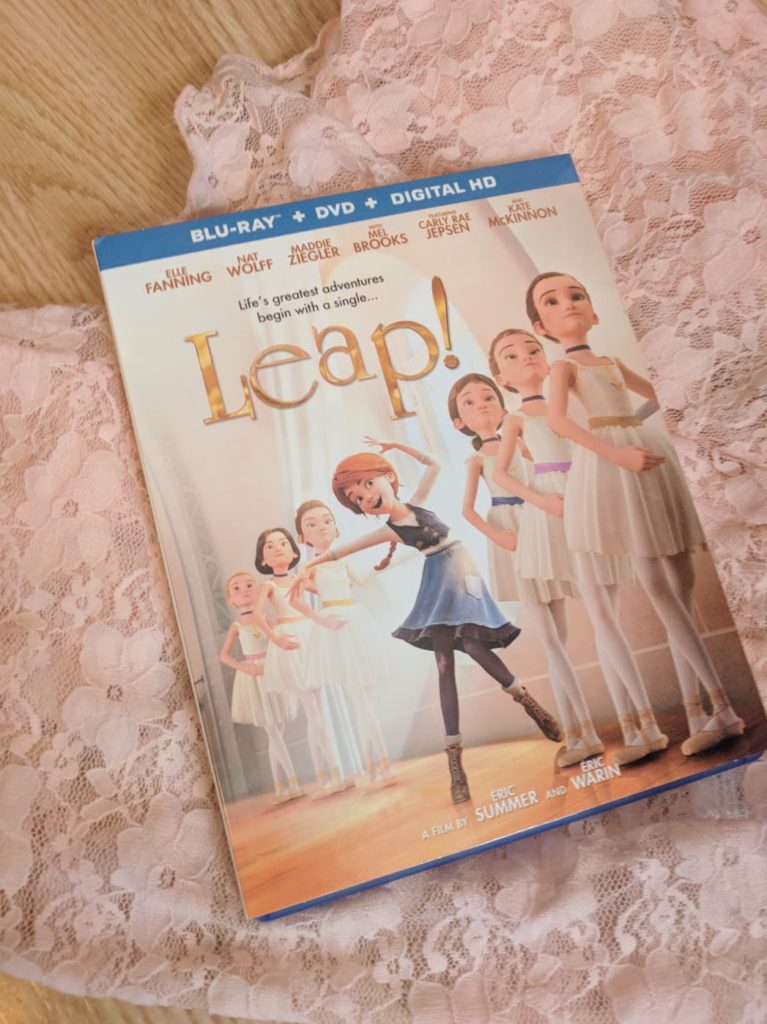 On New Year's Eve Aliceana was anxiously counting down the minutes until we left the house to celebrate New Year's Eve. To buy us some time I turned on LEAP!
and ever since then she has been leaping and dancing around the house like the tiny dancer she aspires to be (but isn't nearly graceful enough to be, we tried dance and it didn't go very well.)
It was a great family movie, about overcoming obstacles and the importance of practice, and the importance of friendships.
LEAP! Follows the story of Eleven-year-old orphan Félicie who  has one dream — to go to Paris and become a dancer. Her best friend, Victor, an imaginative, exuberant boy with a passion for creating, has a dream of his own — to become a famous inventor. In a leap of faith, Victor and Félicie leave their orphanage in pursuit of their passions. But there's a catch: Félicie must pretend to be the child of a wealthy family in order to gain admittance to the prestigious and competitive Opera Ballet School in Paris. And with no professional dance training, she quickly learns that talent alone is not enough to overcome the ruthless, conniving attitudes of her fellow classmates, led by the devious Camille Le Haut. Determined to succeed, Félicie finds her mentor in the tough and mysterious school custodian, Odette, who, along with Victor's encouraging friendship, help her reach for the stars.
Featuring all-star voice talent led by Elle Fanning (Maleficent), alongside Nat Wolff (The Fault in Our Stars) and Maddie Ziegler (The Book of Henry), with Mel Brooks (Spaceballs), featuring Carly Rae Jepsen (singer-songwriter of the hit song "Call Me Maybe") and Kate McKinnon ("Saturday Night Live"), Leap! is a colorful and imaginative story about an orphan girl who is determined to follow her dream of becoming a ballerina. Filled with irresistible original music, Leap! features the hit track "Cut to the Feeling."
Available now
LEAP! is available on Digital HD and Blu-ray™ (plus DVD and Digital HD)
, DVD, and On Demand from Lionsgate.