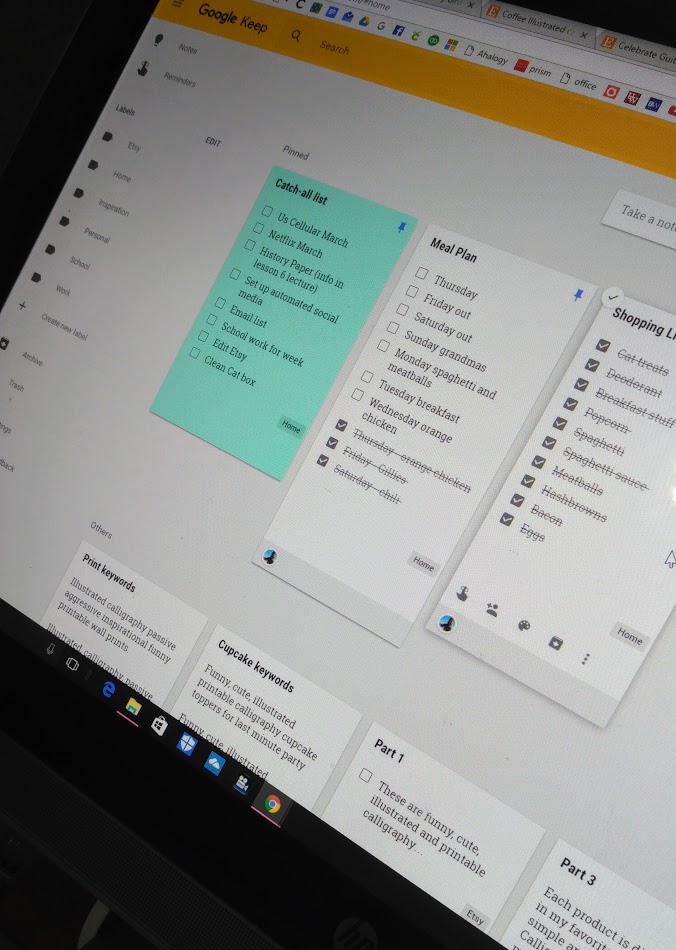 That title is only exaggerating a little. Here's the story, we forgot cat to buy cat treats at every store we went to for over 2 weeks. Our cat was very much not ok with this, and being that she is a feline we figured if we went another week without giving the darn cat treats she would creep up into our room and kill us in our sleep. It could happen.
I'm a list-maker, but sometimes those lists are forgotten or you forget to add something to your list. Now a couple weeks ago I did a quick Google search for best to-do list app and the app that jumped out at me was Google's Keep. It's a game changer.
With Google Keep I make a catch-all list, it's a list of all of the things I have to do whether it's business or life related. Then I check it each morning and decide which I'm going to check off in order to have a productive day. I also make my grocery list and meal plan in Google Keep, and I share it with my husband and we can split up in the store and get shopping in half the time. I love the fact that you can check the little boxes and the items fade to the bottom of the list.
They even have a Chrome extension, so your list is on your phones in app form and your PC in extension form. Your lists are virtually everywhere, no more remembering where you put that scratch paper. You can also save photos and weblinks and stuff like that really easily if you need those for your lists.
How does this relate to saving me from my feline friend? Well, we remembered to buy her cat treats thanks to our handy dandy shared list. Now she's on speaking terms with us again.
Google Keep really helps you get your crap together and remember what you need to, so you can save that brain space for memorizing the new Blink-182 lyrics (California Deluxe Edition
is coming out sooo soon!) Just search for Google Keep in the app store.