If in the last few years you've been in a store, encountered a child, or used the internet at all, you've at least heard of Minecraft.
I have to admit, I've heard of Minecraft. I knew the brief overview, it's a world that you build and sometimes there's bad guys called creepers. Also, everything is square.
That's it though. That's literally all I knew about Minecraft until last week when I started playing Minecraft: Story Mode from Telltale Games.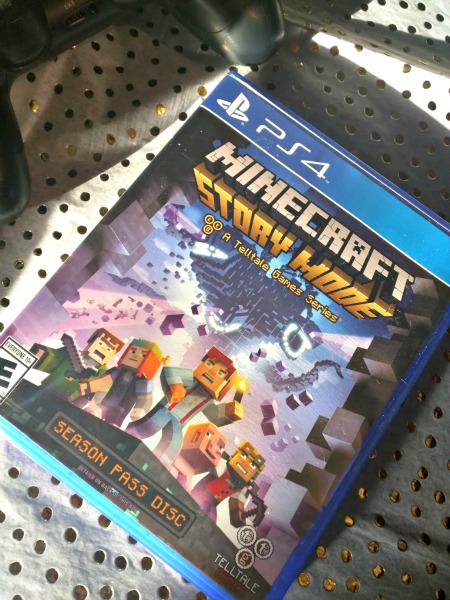 Telltale games has such a unique structure to their video games, it's all choice based. Whenever there's dialogue, you get to choose how to answer. From little things like choosing whether to be pessimistic or optimistic when you're about to enter a contest, to big decisions like quickly deciding which character to save.
It really puts you in the game, and the choices you make will affect the rest of the game in sometimes little and sometimes big ways.
This is Minecraft: Story Mode, and the story, well, it's not boring in the least. It starts out with your crew of underdog friends entering a building contest to get to the big building Con. It  quickly turns into a mission to save the world from impending doom, of course.
The characters in this game are pretty darn lovable. Reuben the pet pig is my favorite! Although, I have to say I'm pretty obsessed with the fact that comedian Brian Posehn is voice acting as one of your best friends in the game.
There's also a bit of crafting, some casual fighting, and even a game puzzle or two (I've only encountered one puzzle in the first episode.)
One thing that surprised me is just how long the episodes are! I spent the better part of the morning playing episode 1 (ok, with a lot of normal mom interruptions,) which is fantastic for the price of about $25 for all 5 episodes.
It's the perfect gift to give your Minecraft loving kiddos, it's available on all of the platforms, from PlayStation to Xbox, to PC or even smartphone.

You can find out more at Minecraft.com and make sure to check out other Telltale games while you're at it!