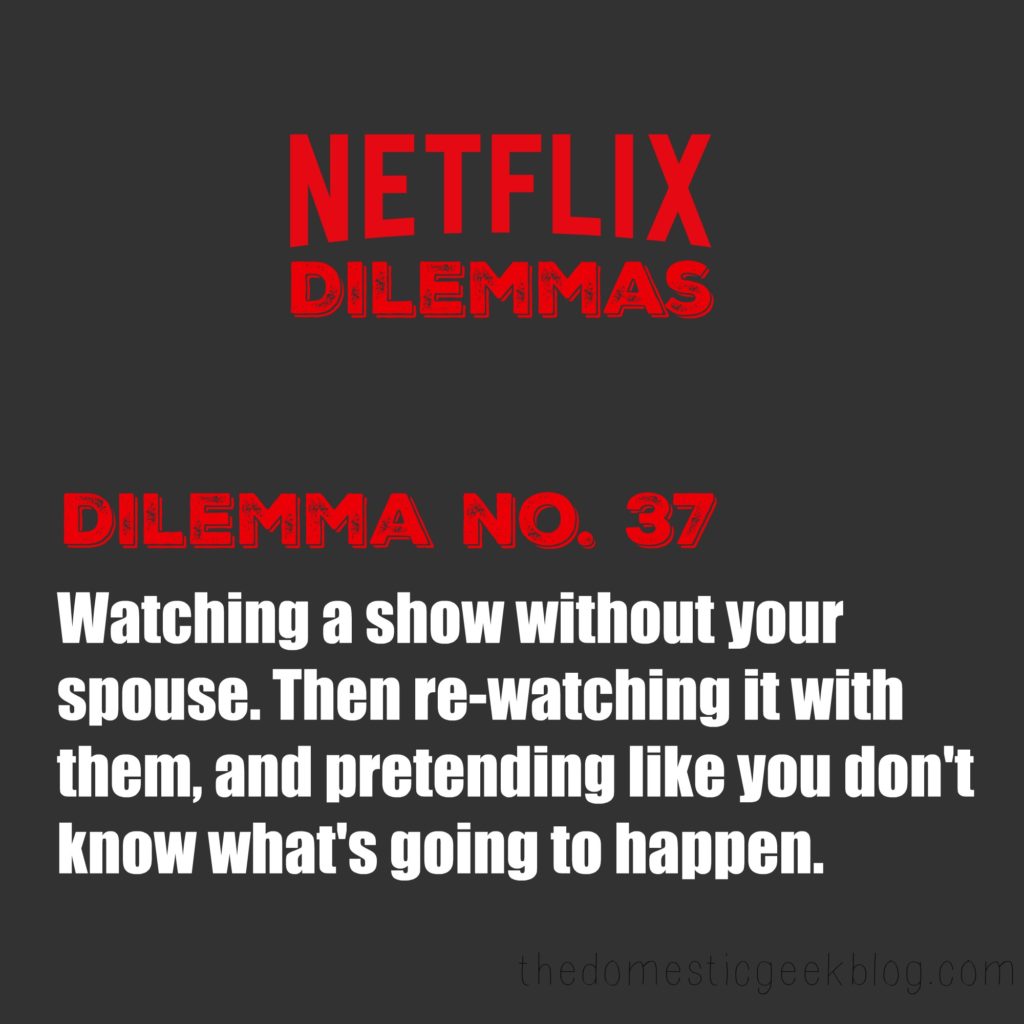 Has this ever happened to you? You haven't had time to watch anything with your significant other, but you're dying to know what happens at the end of Stranger Things? I'm a part of the Netflix #StreamTeam and these are my very real Netflix dilemmas, all opinions are my own.
True story: I watched 5 episodes of Stranger Things, then stopped and re-watched it with AJ. I was that far into the story without knowing the outcome, I'm that great of a wife. I'm pretty sure the same thing happened when I watched Sense 8, I was almost to the end and decided that AJ needed to watch it too. Oh, it's an awful predicament.
The truth is though, you'll feel guilty if you don't wait for your other half, and it's not worth the guilt, so just turn on Netflix and flip right past the show that ended on a cliffhanger last night and start binge-watching something you've already watched before, like a comfy security blanket. I definitely recommend re-watching Parks and Rec a million times, you'll still laugh out loud and cry a lot, I promise.
Today my current dilemma is that Luke Cage is out as of this morning. Nooooooo! I need to watch it, I'm sure as I type more and more people have finished watching the series already, I mean, it's been out for what? 6 hours? (The series might be longer than 6 hours, but I'm sure someone knows the ending anyway. I wonder if there's anyone that does the Netflix equivalent of reading the last page of the book and watches the end before the middle? That would be terrible, I don't want to meet that person.) Anyway, I'm currently dying to watch it. I'm sure we'll have time to watch maybe one episode tonight after Aliceana goes to bed, but that's probably all we'll get to this weekend since AJ will be out at a bachelor party and we have plans on Sunday. So that first episode is going to be the world's biggest tease. We'll see if I can make it through the weekend without cheating, I'll have to summon all of the willpower, all of it, to get through this weekend.
Wish me luck!
By the way, I think I'm going to post some more Netflix dilemmas. Yes, I did start with number 37, it's the number I use when I'm randomly saying a number. Here's an example of an instance where I would use the number 37. "Ah, I swear I have 37 shows I'm watching on Netflix right now." I think the number is actually closer to 4, but 37 sounds more dramatic. 
How do you solve this dilemma? Are you a cheater? Do you hide the cheating or do you flaunt it? Cheater cheater pumpkin spice eater. (Yum!)