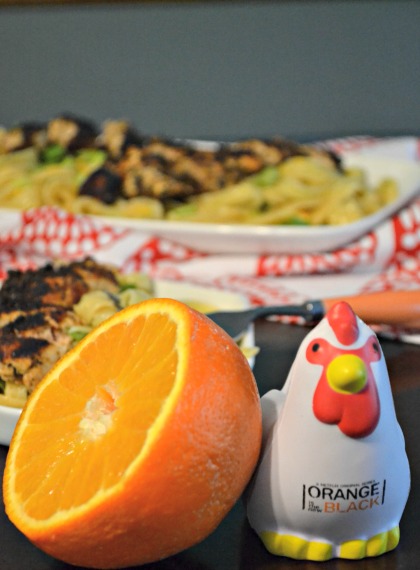 You guys know that I have a working relationship with Netflix, but if you follow me on Twitter you know I'm always watching Netflix. The addiction, these words, and the photos in this post are Soso real. *Oh, and spoiler alert if you aren't caught up on season 2 of Orange is the New Black, go catch up then read this or skip to the recipe.*
I bet you didn't know that Orange is the New Black season 3 comes out next week, because it's basically a secret that nobody knows and nobody is talking about it. I'm definitely not grabbing a bottle of wine and lots of coffee to aide in the binge watching process.
It feels like an eternity since the best moment in a show to ever happen happened. You all know what I'm talking about. They made us fall for Rosa hard, between the flashbacks and her teaching the kid in chemo treatments how to steal for a way to kill time. We were so sad-angry that she was going to die in Litchfield. Then Morello helped her escape, and she ran over Vee as an afterthought with the now famous phrase "Always so rude, that one."
That. That happened an eternity ago and still makes me smile…I just rewatched it and had happy tears, because her escape was the way she should go out. The flashback of her young again, and the fact that this was her last heist. Ahh, so many happy tears. Running over Vee was just icing on the cake.
Jenji Kohan is like a twisted writing Goddess.
So now we have the prison under new management, but an escape might tighten down security. It should be interesting to see how it all plays out.
So I decided to get inspired by Orange is the New Black in the kitchen. This dish is definitely not prison food.
Orange is the New Blackened Chicken with Linguine in Orange Sauce.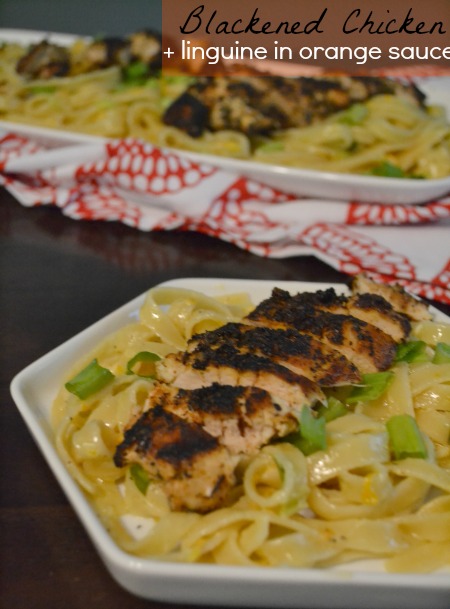 Of course this recipe is a play on the colors black and orange, but it's also a play on the Litchfield chicken..if it exists. Do you think it exists?
This is the perfect flavor combination of spicy cajun style chicken with a bright citrus pasta. This is probably one of my favorite dishes ever and it looks impressive to serve too.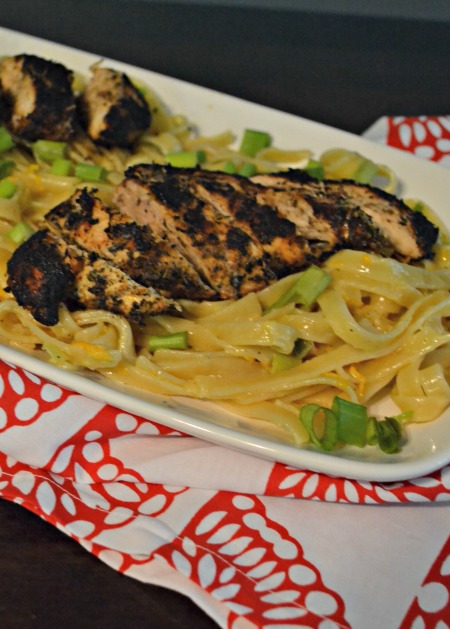 Honestly, this pasta sauce was one of the easiest I ever made, the hardest part is zesting an orange. My advice would be to get the biggest oranges you can find it makes zesting really easy.
For our blackened chicken you want to put the pan on the stove at high heat right away to get the pan really hot, do not add any oil or butter the pan needs to be dry. After about 10 minutes of preheating the pan should be nice an hot and ready to blacken some chicken. Dredge the thawed chicken breasts in butter and then roll them in your seasoning mixture.
Now make sure that you have a really good vent above your stove top and open the windows because it is going to smoke, a lot! Next time I make blackened chicken I am going to do it outside on the grill because our range hood could not handle the smoke and the house filled up in seconds! It really does get black and looks burnt but it is just the coat of seasonings that gets burnt the chicken gets seared and locks in the juices. The burnt outside really makes the flavor though and mixes very well with the orange pasta. The chicken was totally worth it, but yeah it was a disaster.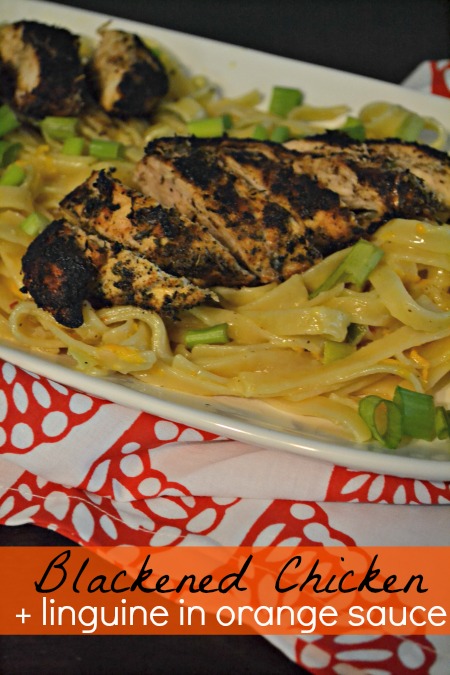 | | | |
| --- | --- | --- |
| Orange is the New Blackened Chicken with Linguine in Orange Sauce | | Print |
Prep time:
Cook time:
Total time:
Ingredients
Blackened chicken (makes 4 breasts)
1 tsp black pepper
½ tsp chili powder
1 tsp garlic powder
1 tsp onion powder
1 tsp oregano
1 tsp basil
1 tsp thyme
½ tsp brown sugar
½ tsp sea salt
½ tsp hot paprika
(substitute cayenne pepper for hot paprika if you want it to be spicier)
4 TBS butter, melted
4½ tablespoons unsalted butter, divided
1 green onion, chopped fine
1 clove garlic, minced
¼ teaspoon crushed red pepper
zest and juice of 2 oranges
1 cup heavy cream
½ cup water
1 pound fettuccine
freshly ground black pepper and sea salt, to taste
Instructions
Mix all seasonings in a bowl
Melt 4 TBS butter in separate bowl
Dredge chicken breasts in melted butter, roll in seasonings to coat
Add to preheated pan (watch for lots of smoke this is normal)
Cook 4-6 minutes per side until cooked through
Once cooked slice chicken and lay on top of pasta, Enjoy.
Cook pasta al dente according to package instructions, season pasta with sea salt while cooking.
While pasta is cooking take a large skillet or saute pan and melt 4 TBS of butter.
Add green onion, minced garlic, and red pepper flakes, saute for about a minute.
Add heavy cream, water, orange zest, and orange juice then bring to a boil.
Once mixture is boiling add pasta and remaining ½ TBS of butter and cook for a couple minutes.
Written by, Brittany, the geek behind the blog. I share lots of recipes, my thoughts on the latest tech gadgets, my favorite geeky games, and snippets of life as a Work-at-home mom.