The only quilt that I can remember was a large multi colored quilt made up of 3 inch by 3 inch squares of different colors with different patterns on it. It was made by my great grandma and my mom still actually has it, I am 30 now and it has been around a lot longer than I have so it has lasted through many generations. Like my mom's old quilt you will be playing Patchwork the board game for many generations because it is that much fun! Patchwork is a 2 player only game of strategy where you are trying to build a Patchwork quilt before your opponent and having mad Tetris skills is definitely a bonus.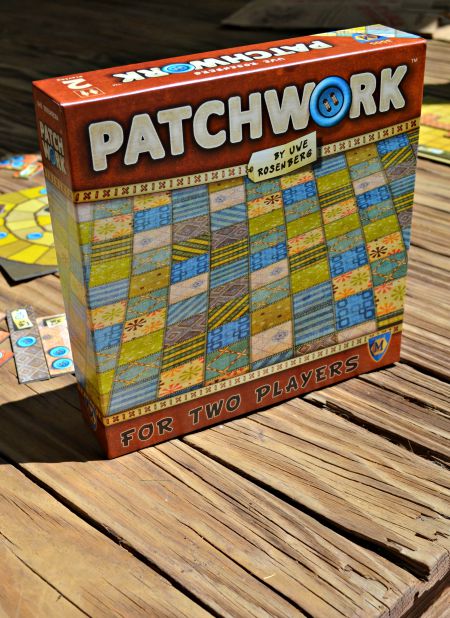 Each player receives a quilt board to build their quilt on, 5 buttons, and a wooden player token. The quilt board is a 9×9 grid of squares that you use to build your quilt on and you need to keep the quilt pieces within those squares. The buttons in Patchwork are your currency and you will need them to purchase new pieces for your quilt. The wooden player token keeps track of your time movements on the time board.
Building a quilt takes time so that is the concept behind the time board, once a player reaches the last spot on the time board they are finished with the game and can no longer make any additions to their quilt. Each quilt piece has a button symbol with a number next to it to indicate how much that piece costs and also an hour glass symbol with a number that indicates how many spaces you must move along the time board after adding that piece to your quilt.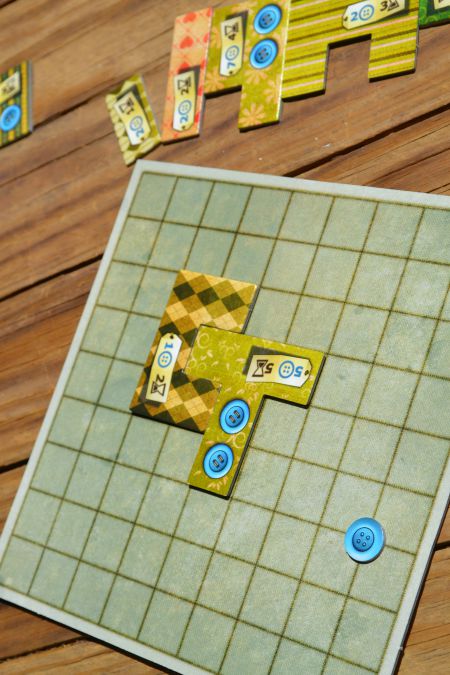 There are also bonuses along the time board that include button income and single space patches. Once you reach a button space on the time board you get your button income by counting all of the button logos that appear on your quilt board, the quilt pieces have anywhere from 0-3 buttons on them and that is how you receive buttons to purchase more quilt pieces. The single space patches along the time board are the only way to fill in that pesky space that you missed but they are first come first serve and once you opponent takes them from you they are gone which will make you unhappy but there are 5 of them on the board so hurry along the time board to get ahead of your opponent to steal the next one.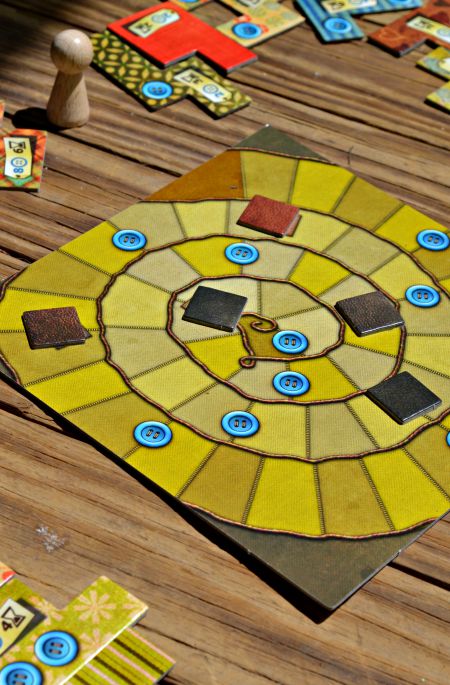 This game is very quick, easy to set up, and a ton of fun for two people, Brittany and I have been playing it a lot, oh and it is a great game to play outside on a nice day because all the pieces are either wooden or heavy cardboard so a little breeze cannot destroy your game! You start by placing the time board in the middle of the table and then spread the quilt pieces around it randomly in a circle. Next you place the neutral token in front of the smallest quilt piece which is the 1×2 square piece.
During a turn you may purchase and place a quilt piece that is 1,2, or 3 spaces in front of the neutral token. This is where the strategy really kicks in and it starts with the very first quilt piece, if you put that piece in the wrong spot it can really affect your entire game. Since you are limited to a choice of only 3 pieces you really need to count out those squares in your head to make sure the piece you choose will fit! You also need to have enough buttons to pay for the piece. If you cannot pay for any of the pieces then your only action is to move your token on the time board until you are one space ahead of your opponent, then you may collect a button for each space moved along the time board. You may only either place a quilt piece and move on the board or move on the board and collect buttons you cannot do both.
Your turn ends when you have passed your opponent on the time board, whoever is furthest behind gets priority so it is possible to take multiple turns if you stay behind your opponent which is also a great strategy. If your opponent races ahead to get a single space patch you might be able to place 2 or 3 patches on your quilt before you catch up to them!
Here's our unboxing video:

Here's our quick 90 second review:
How big is your party?
Patchwork is for 2 players only.
Will Patchwork collect dust?
If you are like my wife and I and spend most of your time gaming with only 2 people your Patchwork quilt will never need to be laundered. It is easy to set up, takes 30 min or less, and tons of fun!
Is it worth my precious gold?
Like I said before if you spend a lot of time gaming with 2 people this game is definitely worth every penny, it is fun fast and perfect for quick gaming sessions.
How much of a geek do I need to be?
This game is for any type of gamer from uber casual to hardcore just because some times it is fun to kick back and play a simple quick game!
How many fortnights is this adventure?
Patchwork takes 30 min at most, it will go faster the more you play it!